Orange and Cranberry Cupcakes with Orange Frosting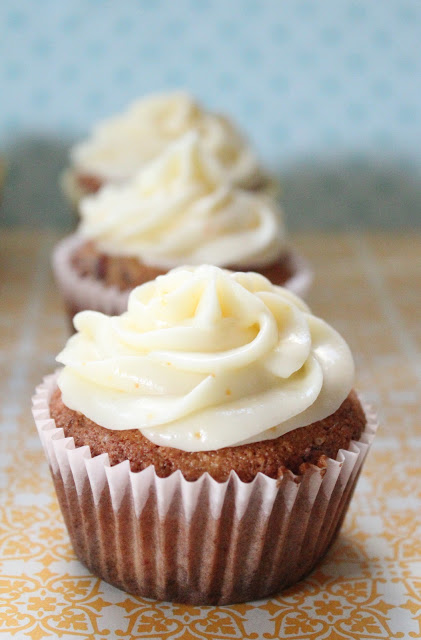 YUM,YUM this is all I can say about these cupcakes…..
First time I have made them and for sure it will not be the last. Next time I plan to put even more orange zest in the frosting as well as making more frosting, which by the way, is addictive. A little frosting goes a long way though thus I guess I'm ok because I ate three cupcakes when I made them, ooopppssss….. that wasn't supposed to happen :-)
I normally don't make frosting with butter but since I was making just a little bit I figured it would be ok. I didn't have enough for all of the cupcakes so if you would like to have frosting for all of them you should double the frosting amounts.
Anyhow, these are just to die for. The orange flavor is just all over these cupcakes. When you bake this your house will smell beautifully.
Enjoy!
This is how they looked before frosting, which you can leave them this way and eat them as well.  I only frosted half of them!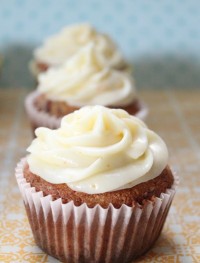 Orange and Cranberry Cupcakes with Orange Frosting
Ingredients:
2 cups whole wheat pastry flour
3/4 cup sugar
1 1/2 teaspoon baking powder
1/2 teaspoon baking soda
1 egg
1/4 cup olive or canola oil
3/4 cup orange juice plus 2 tablespoons
2 teaspoons grated orange zest
1 tablespoon orange extract
12 oz frozen cranberries, thawed, about 2 cups
Frosting
These amounts are sufficient for half of the cupcakes so if you want frosting for all of them double the amounts below
2 tablespoons butter
4 oz reduced fat cream cheese
2 cups powdered sugar
1 teaspoon orange extract
1 teaspoon orange zest
Directions:
Preheat oven to 400F. Line a cupcake pan with cupcake liners.
In a bowl beat egg, oil, juice, orange extract, sugar and zest. Add flour, baking powder and baking soda. Fold in the the cranberries.
Spoon batter into cupcake liners 3/4 of the way. Bake for 15-20 minutes until golden and tester comes out clean. Remove immediately from pan after baking and let cool completely on a wire rack.
For the frosting, mix all of the ingredients and frost cupcakes.