Healthy Triple Chocolate Walnut Cake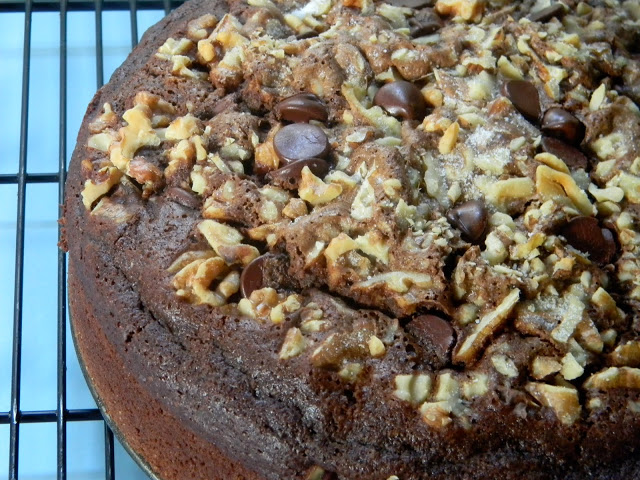 Ok so I am super excited about posting this recipe. One of the mayor reasons being is that I finally came about the perfect triple chocolate cake recipe after trying and experimenting about 8 times with it.
Not only this cake recipe is delicious, moist and with loads of chocolate flavor but it is much healthier than regular versions out there. It is not as sweet, contains more fiber and less fat and the taste still as good.
The triple chocolate comes from using cocoa powder, dark chocolate chips melted into the cake batter, and whole chocolate chips used in the cake and on top of it. Can't get better than that right?
In any event, I really think I can make money with this recipe so you should be glad I am posting it here for you to have :-) If you try it let me know what you think.
Enjoy!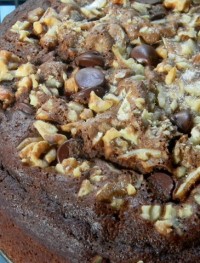 Healthy Triple Chocolate Walnut Cake
Ingredients:
1/2 cup unsweetened cocoa powder
1 cup dark chocolate chips
1/2 cup boiling water
1 cup sugar plus one tablespoon
1/2 cup pumpkin puree
1/4 cup olive oil
2 teaspoons vanilla extract
2 eggs
1 cup whole wheat pastry flour
1 cup oat flour
2 teaspoons baking powder
1/2 teaspoon baking soda
1 cup nonfat milk
1/2 cup chopped walnuts
Directions:
Preheat oven to 350°F. Grease and flour a springform pan.
Combine cocoa, 1/2 cup chocolate chips and water in a pot. Place on the stove at low heat and melt. Set aside. In a bowl combine sugar, vanilla, egg, milk and pumpkin puree. Add flour, baking powder and baking soda to the mixture. Combine.
Stir in the melted chocolate mixture and mix in with batter. Incorporate 1/4 cup dark chocolate chips. Spoon the batter into prepared pan. Sprinkle with chopped walnuts, 1/4 cup dark chocolate chips and 1 tablespoon of sugar.
Bake for 50-60 minutes or until wooden pick inserted in center comes out clean. Cool in pan for at least 15 minutes and remove from pan. Cool completely.