Oatmeal Bar Cookies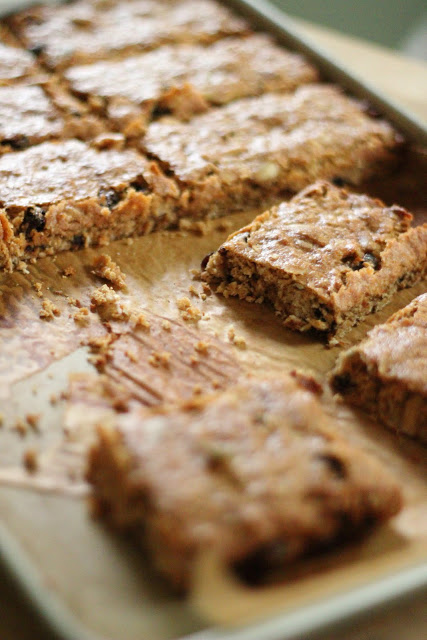 This cookie recipe comes from a friend of mine from back in the day when I was still living in Spain. We were teenagers back then and we both liked baking so we use to experiment and exchange recipes often.
I remember this one as being one of my favorites although the original recipe called for 3-4 sticks of butter and much more sugar than I actually used, not good :-(
I have modified the recipe on this first attempt. Although I remembered the recipe being more crunchy, I still believe the cookie was sweet enough with the sugar I add it. Nevertheless, even though the cookies may not be as crunchy as before, they are still very, very good.
The texture of the bars are sort of spongy in a way, they hold together nicely but most of all they are really good. You can also use any dry fruits and nuts you prefer. My favorite way, I remembered it being with sliced almonds. I didn't have any this time around but next time I will try the bars with the almonds.
Enjoy!!
Here you can see both cookie making stages. Mixing of the ingredients in the bowl and padding down the dough onto the cookie sheet. You want the thickness of the cookie to be around 1/4 to 1/2 inch.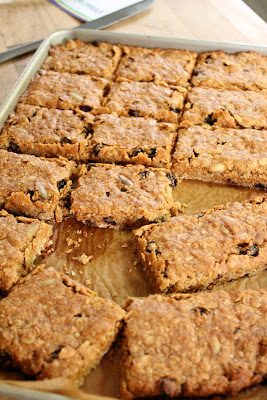 Final result. Really good and perfect with a cup of milk :-)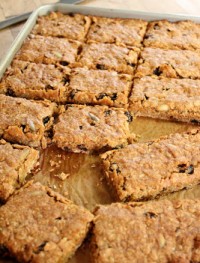 Oatmeal Bar Cookies
Ingredients:
2 cups old fashion oats
1 1/2 cup whole wheat pastry flour
1 stick butter, melted
1/3 cup molasses or honey
3/4 cup brown sugar
2-3 tablespoons milk
1 tsp vanilla
1/3 cup dry fruit
1/3 cup nuts
Directions:
Preheat oven to 375F. Line a cookie sheet with parchment paper.
In a bowl add all of the ingredients and mix well. I do this with my hands :-)
Pad down the dough onto the cookie sheet, about 1/4- to 1/2 thick, and bake for 20-25 min. I did mine for about 23 minutes.
Cool for about 5 minutes and cut while warm. Let cool completely before transferring to a cookie jar.