No bake strawberry cheesecake
These no bake strawberry cheesecakes are not only easy to make but also delicious. They look  very luxurious and are perfect for any gatherings.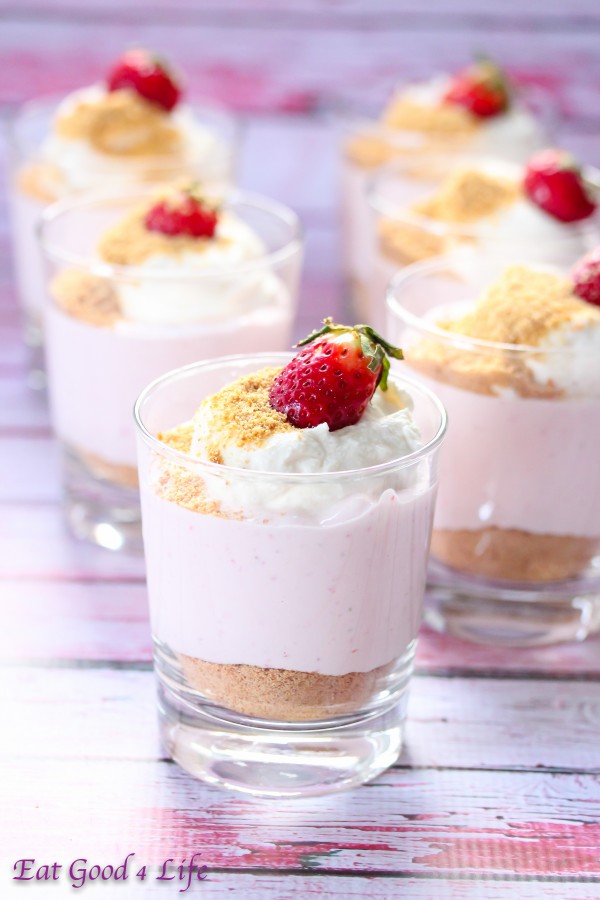 I made this no bake strawberry cheesecakes a couple of days ago. Not only they were super easy to put together but we really enjoyed them. For the base you can add a tablespoon of coconut oil with the graham cracker crumbs but I left the graham cracker crumbs by themselves. I actually like it like that.
I also used organic strawberries. Berries should be organic. It is one of the 12 foods to actually purchase organic. They are a bit more pricy but  worth it. They even taste better.
My strawberry cheesecake layer was not too dense. I use quite a bit of strawberries to make it lighter, which I liked. I don't like the cheesecake layer to thick. If you do, just add less strawberries.
I think you can make these strawberry cheesecakes with other types of fruit if you like. Blueberries, raspberries and peaches would also be great.
Is anyone having a especial dinner or treat for valentine's day? We have been sick with a stomach bug for days so we are not feeling too good. I wish I got the flu instead of the stomach virus…it is so much harder on me.
Anyhow, I wish everyone a great valentine's day.
Enjoy!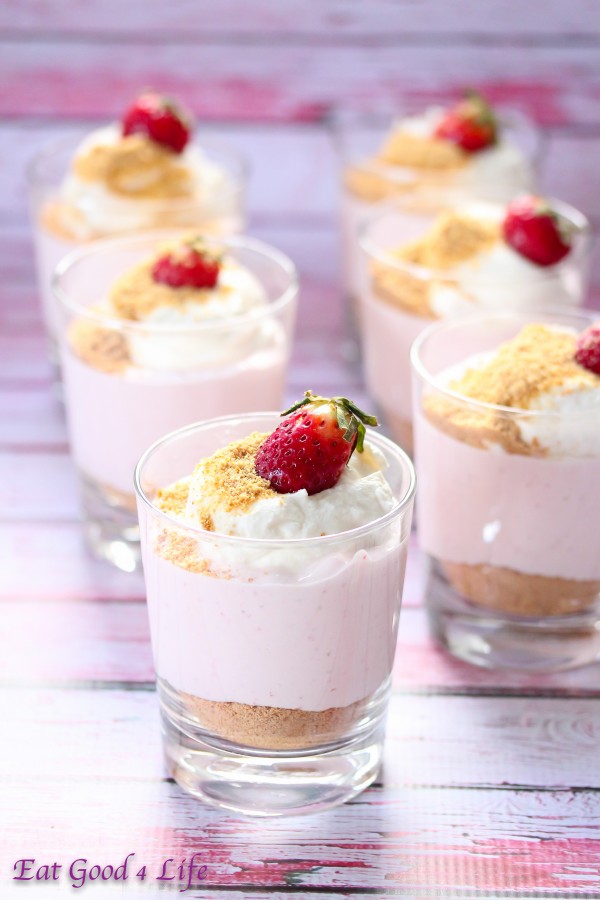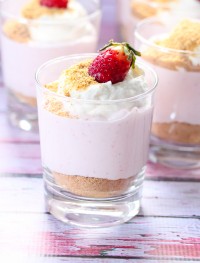 No bake strawberry cheesecake
Yield: 6 servings
Total Time: 15 minutes
Ingredients:
Directions:
In your food processor add the graham crackers and pulse until pulverized. Divide the graham cracker between 6 parfait classes or any other glasses of your choice (I didn't add any butter or coconut oil to the graham crackers but you could if you like, I like my graham crackers without it though)
Add the cream cheese, yogurt, 2 tablespoons of maple syrup, 8 oz of the strawberries and stevia to the food processor and pulse until combine. Divide this mixture between the 6 glasses.
In a medium bowl, with a hand stand mixer, whipped the heavy cream with the 2 tablespoons of maple syrup. Divide the heavy cream between the 6 glasses and decorate with the strawberries. You may sprinkle a little bit of reserved graham crackers over the strawberries if you like.
Place the cheesecakes in the refrigerator and let them cool for at least 2 hours before serving.