No bake pistachio cookies
This is a sponsored conversation written by me on behalf of Wonderful Pistachios. The opinions and text are all mine.
Healthy snacking is what I am all about, specially when it comes to snack at work or in school. I am the master of trying to keep healthy treats and making sure I come up with new recipes that are tasty, easy and are able to keep me going. These no bake pistachio cookies are nothing but the prime example.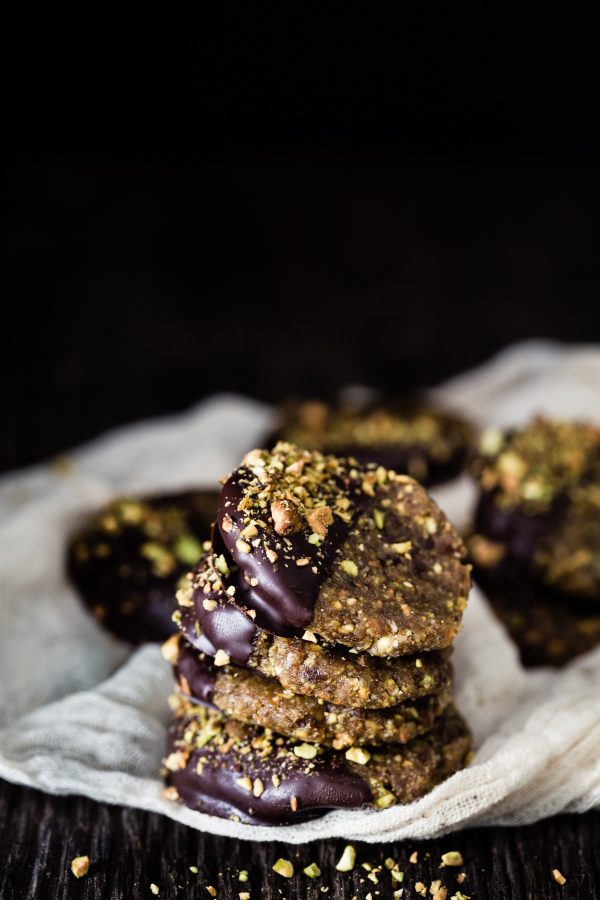 These no bake pistachio cookies not only are extremely easy to make but they are healthy. These are definitely a boost of energy. They are also gluten free and vegan so for those following especial diets this are a great treat.
Nuts are one of my favorite ways to snack because they are full of protein, vitamins and minerals. I don't like to indulge on empty calories so when ever possible nuts are the way to go for me and my family when it comes to snacking. Did you know?
Thirty pistachios are only 100 calories for a snack that offers both crunch and seasoning, making them a satisfying snack choice.
Almost 90% of the fat found in pistachios is unsaturated fat, i.e. the good stuff, making them a better snack choice than popular fried snacks foods like potato chips.
I happen to love Wonderful Pistachios because they are also full of antioxidants. A serving of Wonderful Pistachios provides an alternative to snacks high in added sugars and saturated fat.
Load your work snack drawer with healthy snacks, like Wonderful Pistachios. They're perfect to have when hunger strikes. I also keep them in my kids back pack and my bag to make sure that when ever we get hungry we can have a healthy snack. The little packs are wonderful for this.
Snack mindfully with The Mindful Nut. Wonderful Pistachios are the guru masters of portion control. Cracking each shell may help you slow down and savor the moment. So, sit back, relax, and focus on a healthy you.
I hope you like this amazing no bake pistachio cookies. They are super easy, tasty, healthy and great to have around your work station.
Enjoy!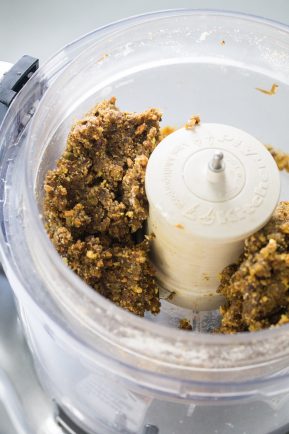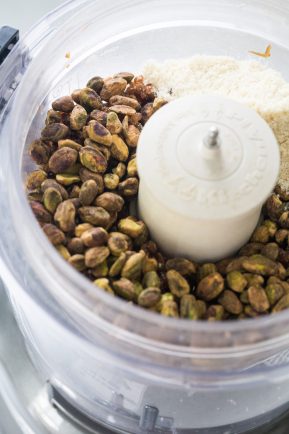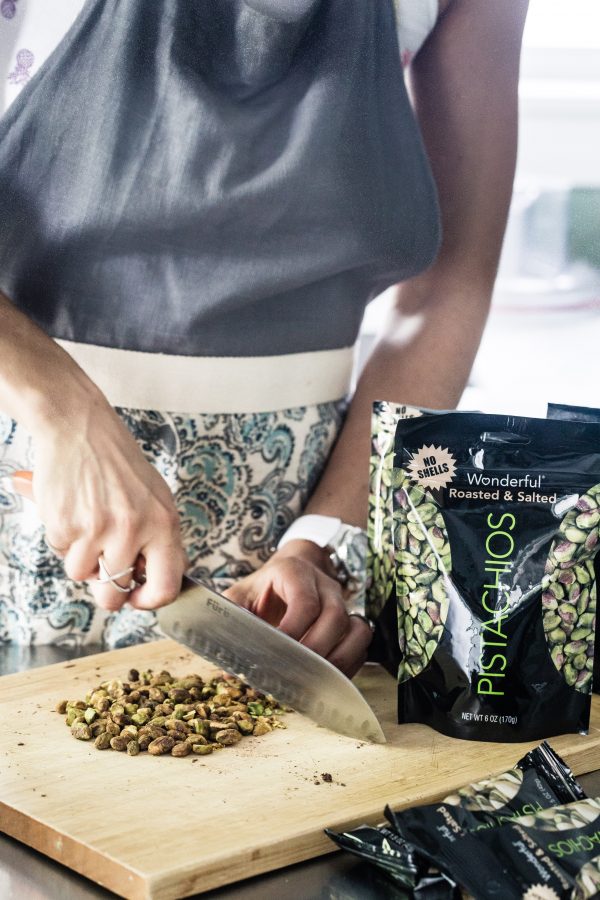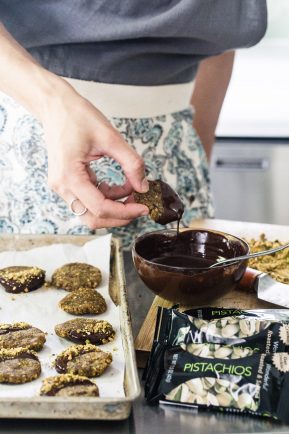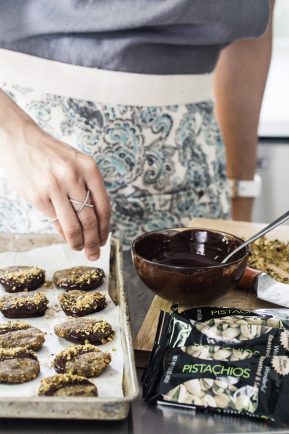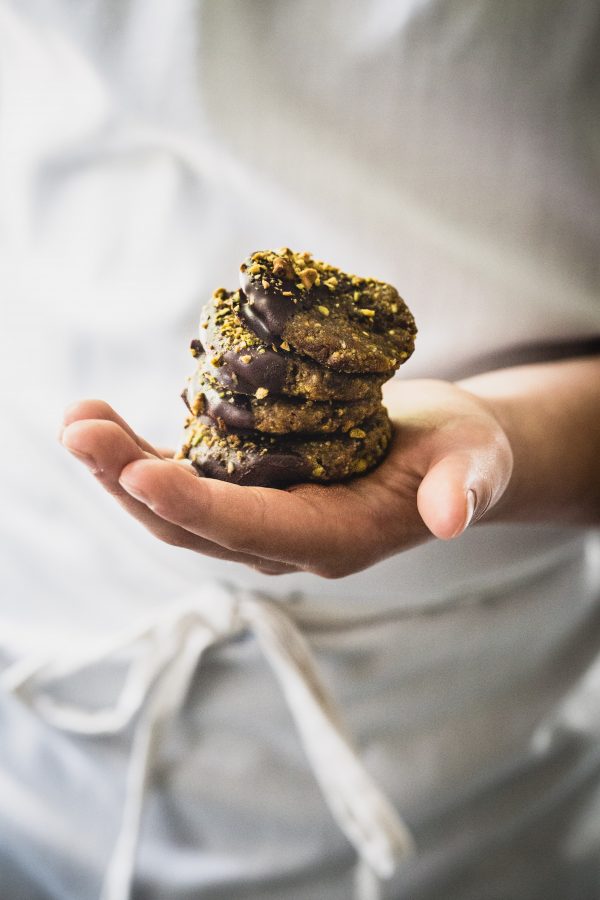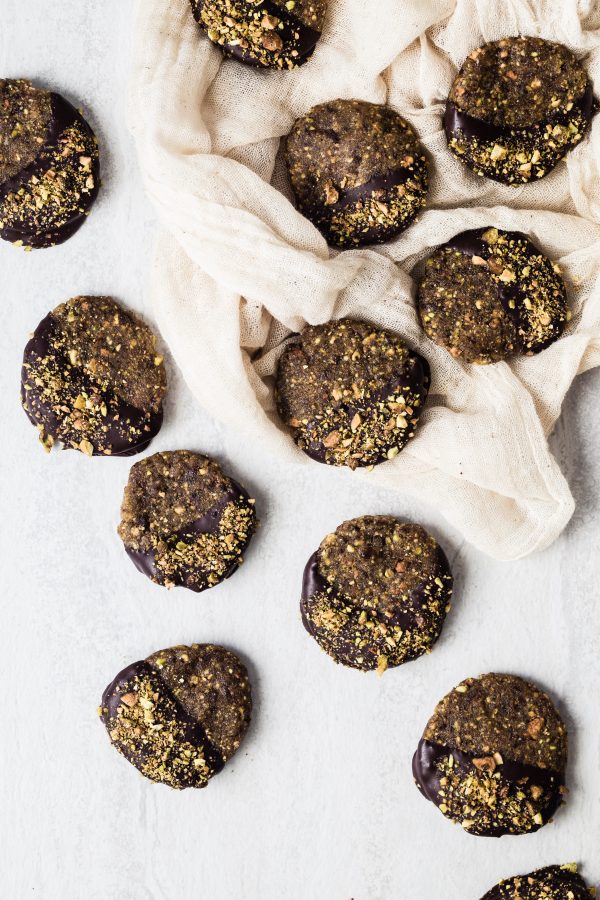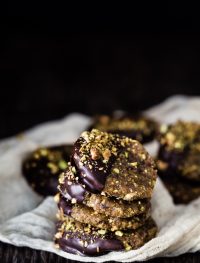 No bake pistachio cookies
Yield: 16 cookies
Total Time: 30 minutes
Ingredients:
Directions:
Line a cookie sheet with unbleached parchment paper and set aside.
Add the dates to your food processor and pulse until it resembles coarse bread crumbs. Add the rest of the ingredients and pulse until the mixture comes together.
Form little round cookies.
Dip each cookie in chocolate and place in the prepared baking sheet. Sprinkle the chocolate with the chopped pistachios. Repeat until you don't have anymore dough.
Place in the freezer for about 30 minutes until the chocolate solidifies. Store cookies in the refrigerator.