No bake gluten free vegan pecan pie
I think this no bake gluten free vegan pecan pie is going to be my last pecan dessert of the year. I mean, I have developed three different pecan pie recipes the past two weeks and I am still making them over and over again. At this time I don't anticipate making anymore new pecan pie recipes this year.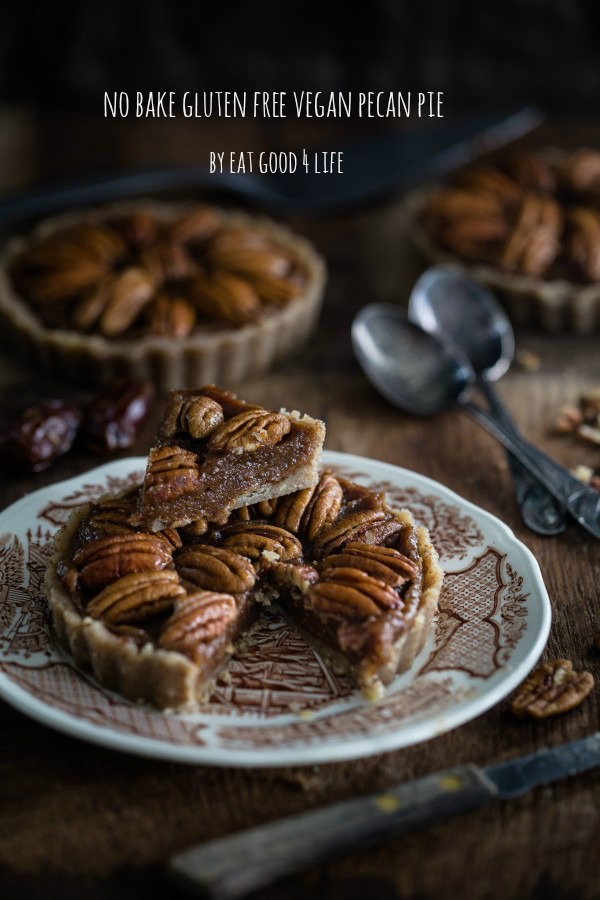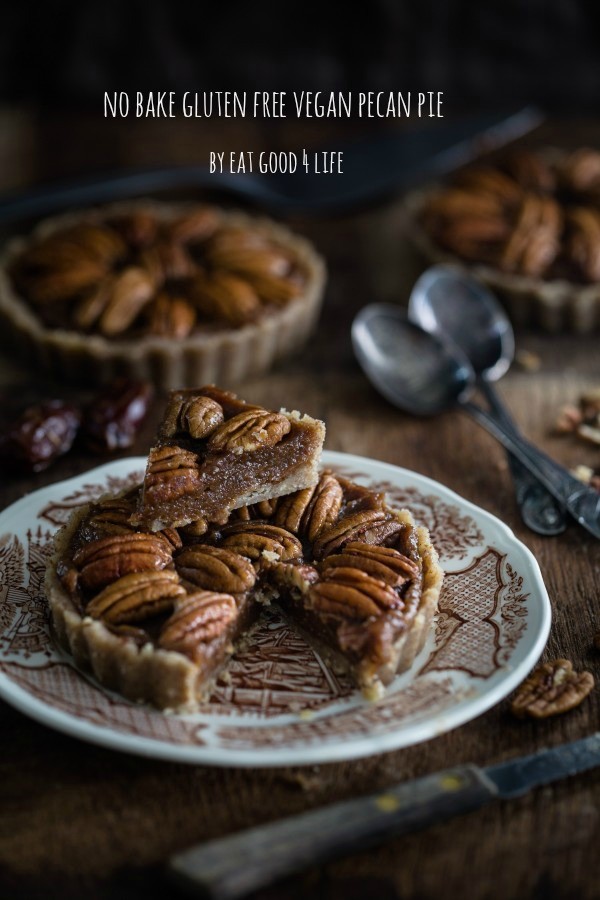 I have three different versions of pecan pie already. While I love this one because it is vegan, gluten free and no bake I think I prefer this other one. Granted this one is healthier but since it is the holidays I really want to go all out with dessert.
For the filling I used bourbon to spice things up a bit. You don't have to. You can simply just add a little bit of vanilla extract instead and you are good to go.
These no bake gluten free vegan pecan pie is best when frozen. Then thaw the pies out for about 20 minutes before serving. I have also kept the pies in the fridge and they are still good. Either way is fine.
I don't think I have been so busy before cooking and baking. The past two weeks I have been nothing but developing recipes and working hard in my kitchen. Don't get me wrong, I love eating, cooking a baking. It is literally my passion, however, sometimes I just need a brake. Very soon…
I was going to post this recipe tomorrow but since the holidays are just around the corner I figured I give you some extra time to gather the ingredients in case you decided you want to make this no bake gluten free vegan pecan pie.
I hope you like this take, it is nothing but super easy, healthier and still delicious.
Enjoy!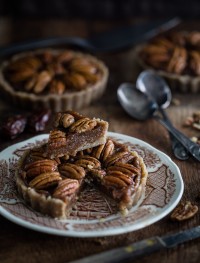 No bake gluten free vegan pecan pie
Yield: 8 servings
Total Time: 20 minutes
Ingredients:
Crust
Filling
2 cups dates
2 tbs bourbon, (or 3 tsp vanilla extract)
1/3-1/2 cup almond milk
Topping
Directions:
In a food processor place the crust ingredients and pulse until the ingredients come together. Press the mixture into 3 tart pans with removable bottom. Set aside.
Place filling ingredients into a food processor and pulse until the mixture is smooth and homogenous. You may have to add more milk. Divide the filling between the three tart pans and smooth the top. Decorate with whole pecans.
Refrigerate for at least 3-4 hours.
NOTE: I place pies in the freezer for 1 hour before I serve. It is easier to unmold this way!