No bake fruit pizza – gluten free and vegan
Is every one ready for the Super Bowl? I am still planing my menu for the day but I have narrowed it down since I have already chosen my dessert, this no bake fruit pizza – gluten free and vegan.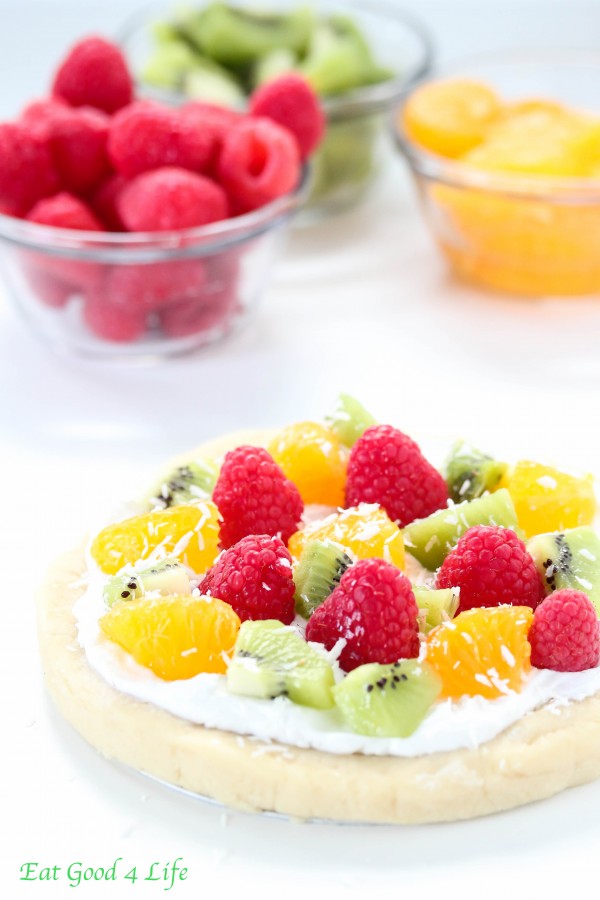 No only this fruit pizza is gluten free and vegan but also no bake which in my book is a winner. I have seen many fruit pizza recipes out there but they all require you bake the cookie base as well as load the topping with sugar, butter and many other unhealthy ingredients. If you like fruit pizza this is a much better alternative for everyone.
The base cookie only has 3 ingredients, almond flour, apple sauce and Truvía® Spoonable. If you like to make it nut free you can use oat flour. Just process your oats in the food processor to obtain 1 cup and that is it. Making your own oat flour is super easy. I never buy store bought oat flour but make my own since it is so easy.
By using Truvia I decreased the sugar content greatly since the only sugar in this recipe comes from the fresh fruit. The entire fruit pizza only has 20 grams of sugar.
Truvia is also running a contest that you may be interested in entering. For more details read below:
#SweetWarmUp Photo Contest Details
Fans can post a snowman-inspired photo via a tab on the Truvia® Facebook page or by using #SweetWarmUp on Twitter or Instagram for the chance to win a Snowman Building prize pack, a Sledding prize pack or a Cozy Up prize pack! You have until 1/30 to enter.
If you enter good luck.
This no bake fruit pizza – gluten free and vegan is to die for. If you are looking for healthier dessert options this is a great contender. Full of healthy fats, fiber, vitamins and minerals.
Enjoy!
Here you can see how the dough looks like. Pat it down in between plastic paper with a spatula onto a 6 1/2 round cake pan with removable bottom and place in the freezer for 30 minutes to make it easier to handle.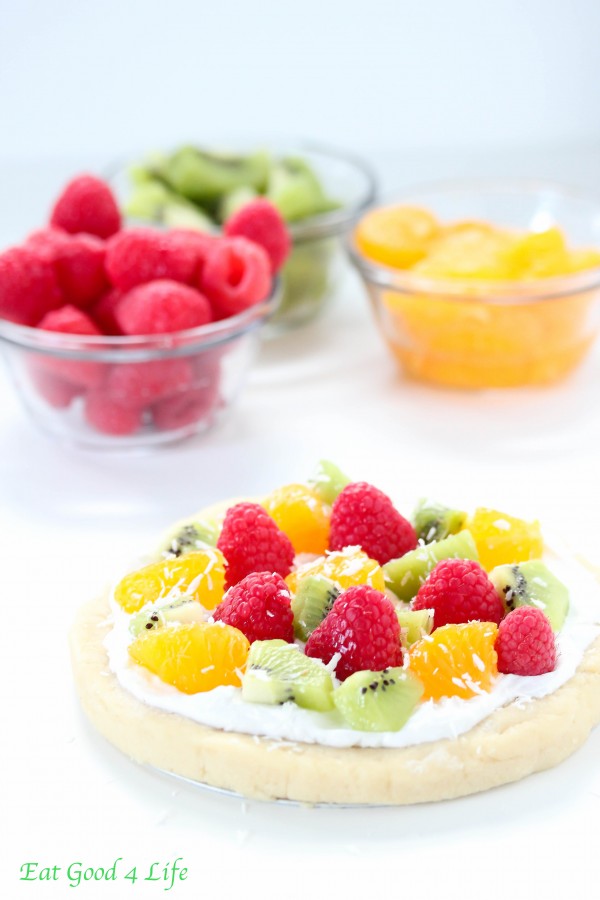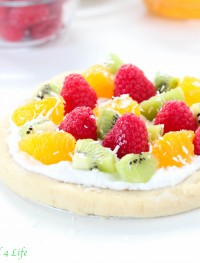 No bake fruit pizza - gluten free and vegan
Yield: 2 cookie pizzas
Total Time: 15 minutes
Ingredients:
Directions:
In a medium mixing bowl and the cookie ingredients and mix until you form a dough.
Place the cookie dough onto a 6 inch round baking pan with removable bottom and press down with a spatula (I used plastic wrap to do this but this is not necessary). Alternatively you can use small tart pans as well. Place in the freezer for 20-30 minutes.
On the meantime mix coconut cream with Truvia and set aside.
Unmold the cookie dough base and spread the coconut cream over it. Arranged chosen fresh fruit over the coconut cream and sprinkle the unsweetened shredded coconut over it. Serve.