No bake chocolate almond cookies
I just made these no bake chocolate almond cookies yesterday and holy smokes, I was so excited I came up with this recipe. I actually used two different types of chocolate and that was just plain genius. If you like chocolate you are going to love this cookie recipe for sure.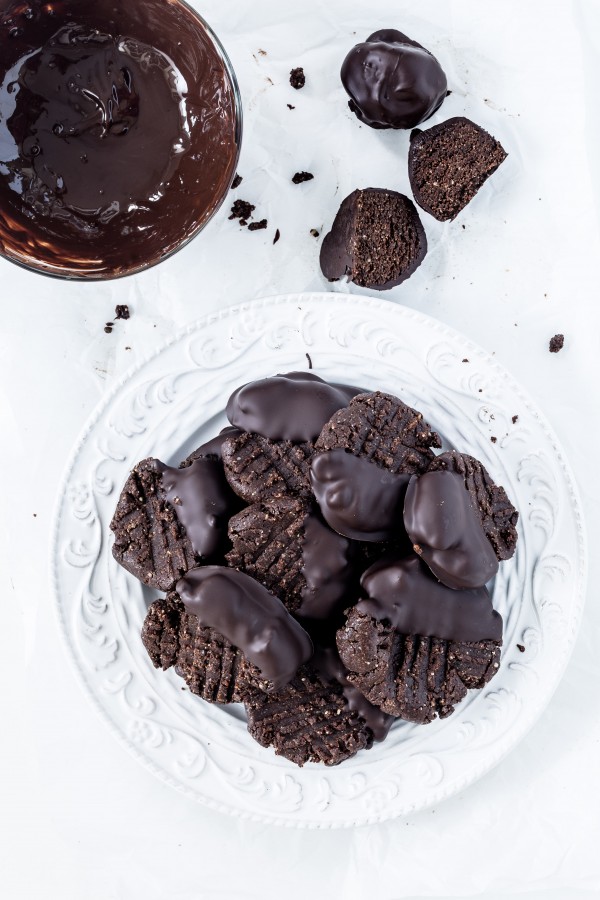 These no bake chocolate almond cookies are also gluten free and vegan. I love making sweets that don't require baking as well as be able to cater to different dietary restrictions for all my friends that follow my blog.
I was also able to use hemp seeds in a way that I haven't before. I have  been wanting to incorporate this ingredient into my sweets for quite some time so yesterday I tried and venture to add it to these cookies. I truly love hemp seeds because they are super healthy and taste great. I actually don't fell guilty about eating these healthy cookies since they have wholesome ingredients and are packed with protein.
One tip I can suggest when making these cookies is that if you find that the batter is somewhat dried and it is not coming together correctly in your food processor just add 1 tablespoon of water at a time. That should do the trick. I didn't have to do with mine but later on I wish I did. They could have been a tad more pliable.
Well there isn't much I can say about these beauties but that you have to make them for yourself. Use any nut butter of your choice, anything goes.
Enjoy!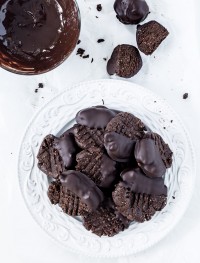 No bake chocolate almond cookies
Yield: 20-22 cookies
Total Time: 20 minutes
Ingredients:
Coating
1 cup dark chocolate chips, vegan if need be
1 tbsp coconut oil
Directions:
Add the hemp seeds to your food processor and pulse until they are almost pulverized. Not need to pulverize them completely. Add the remainder of the ingredients and pulse until the mixture comes together. If it doesn't just add 1 tablespoon of water at a time until it does.
Line a baking sheet with unbleached parchment paper. Make about 20 little balls with the bater and place in the prepared baking sheet. With the back of a fork press each ball to give it a criss cross pattern. Freeze for 10-15 minutes.
Melt the chocolate and coconut oil in a microwave save bowl at 45 seconds intervals until completely melted.
Dip each cookie half way and place back in the tray. Repeat with all the cookies and place back in the freezer for a few minutes until the chocolate solidifies.
Keep cookies refrigerated.