No bake chili brownies – Gluten Free
These no bake chili brownies are healthy, guilt-free, and are the total indulgence without all the hassle!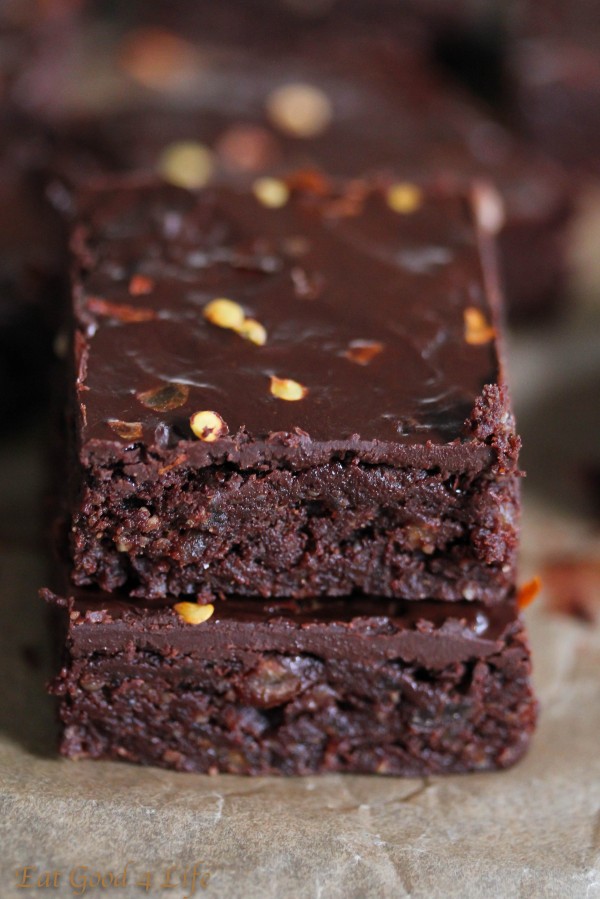 Holly smokes. These are the best No bake chili brownies I have ever made and tasted in my life.
I am amazed at how good these No bake chili brownies were and how simple they were to put together. Literally in took me about 10-15 minutes and just about another 10 minutes to wait for them to set up.
I placed them in the freezer to speed up this process but you can put them in the fridge if you like. Placing them in the freezer will work faster, which is what I wanted.
I am making these No bake chili brownies again soon but I will shape them into truffles and coat them with melted chocolate. They are going to make great truffles indeed.
These No bake chili brownies is truly a super winner recipe. The combinations for these brownies can also be different. I think using different nuts and perhaps other flavors, like orange, will also work well. Even some unsweetened flaked coconut would be great in this.
These brownies are also gluten free and dairy free. Check out my Gluten Free eBook for more never seen recipes which is only $2.00 until Christmas.

The eBook is only $2.00 until Christmas. You can click here to purchase it. If you do, thanks so much for your support. This will help me pay for medical school!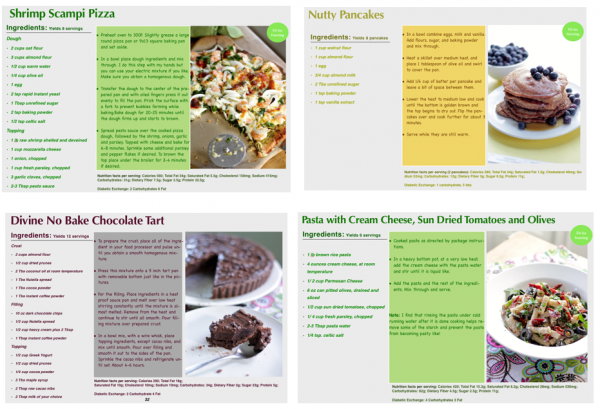 What is in the Eat Good 4 Life, The Gluten Free E-book?
A small guide on Celiac disease with some key resources.
The book contains 4 chapters of brand new recipes which includes breakfast (5), main meals (10), salads (5), and desserts (5)
Nutrition facts with carbohydrates and fat exchanges for each recipe included.
Over 35 pages of recipes and full color photographs.
Recipes that are full proof.
25 gluten-free recipes
The e-book is on PDF format which can be viewed on your computer, iPad and iPhone.
Let me know if you get to try them and if you make any other flavors. I would like to know your results.
Enjoy!
Add the dates in two or three batches so that they can get minced really well. The right picture shows how they mixture will look like after all of the dates have been minced and incorporated.
Once the mixture is ready press it down onto the 8×8 baking pan previously lined with unbleached parchment paper. Pour the ganache over the brownies and sprinkle some red pepper flakes over it. My ganache got a little bit messed up because I forgot to add the maple syrup when I was suppose to mix it in the bowl with the other ingredients. Instead I just poured it over and tried to mix it in with a spatula last minute. As you can see the ganache got a bit lumpy.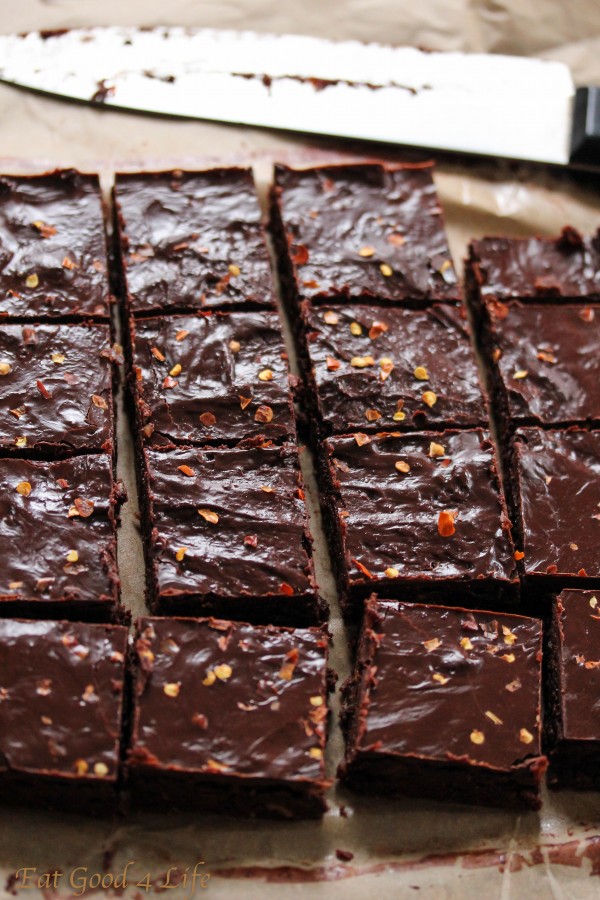 Cut the brownies into squares and store in a cake stand for up to 4-5 days. These are spicy, fudgy and delicous so I hope you get to try them. They are truly sensational. The best no bake fudgy brownies ever!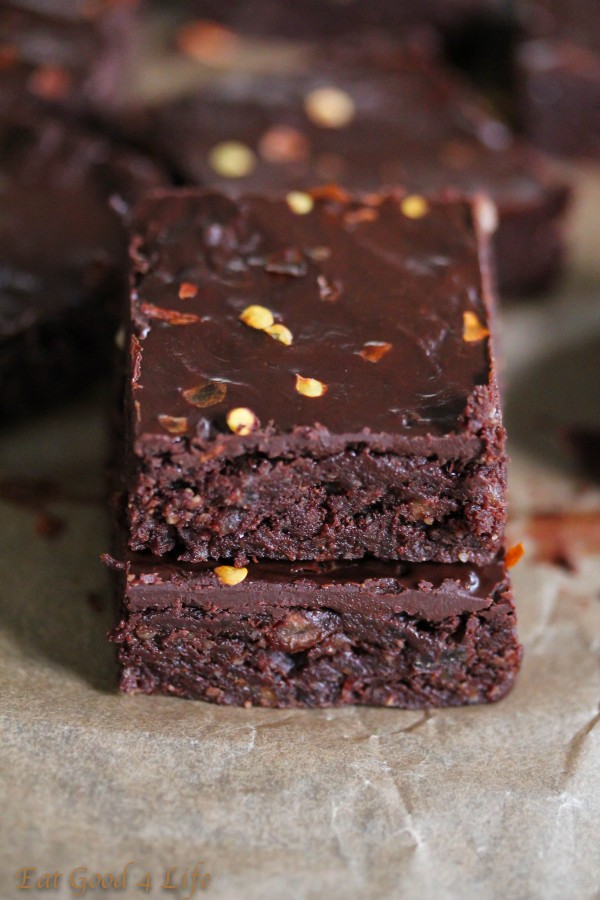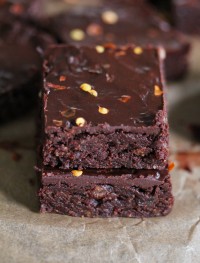 No bake chili brownies- Gluten free
Yield: 16 pieces
Total Time: 15-20 minutes
Ingredients:
2 cups walnuts
2 1/2 cup pitted dates
1 cup cocoa powder
2 tbsp flax seed meal
1 tsp cinnamon
1 tsp chili powder
1/4 tsp Celtic salt
Ganache
1/4 cup coconut oil, melted
1/2 cup cocoa powder
2 tbsp maple syrup
1/2 tsp chili powder
1/2 tsp cinnamon
1 tsp red pepper flakes
Directions:
Line a 8x8 square baking pan with unbleached parchment paper and set aside.
In your food processor add the walnuts, chili powder, flax seed meal and cinnamon and pulse until fine. Add the cocoa powder and pulse for 10 seconds. Add the pitted dates in 2-3 batches. Press the mixture into the pan.
In a small bowl, mix the topping ingredients and pour it over the brownie mixture. Sprinkle the red pepper flakes if using. Place the brownies in the fridge until set or in the freezer  for about 5 minutes. Cut the brownies into squares and store in a cake stand for up to 4-5 days.
NOTE: My dates were really moist. I have seen some dates that are quite dry. If you have dry dates make sure you soak them in hot water for at least 15 minutes. If your mixture is still dry after blending all of the ingredients together in your food processor add 2-4 tbsp of almond milk to help it.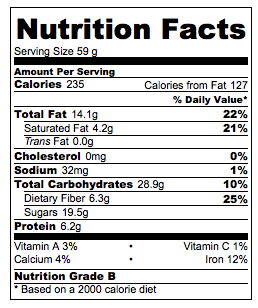 Nutrition facts calculated based on the recipe giving 16 pieces