No bake breakfast bars – Gluten free, vegan
These no bake breakfast bars are to die for. Done in just 15 minutes are gluten free, vegan and great for of the go. A winner healthy recipe.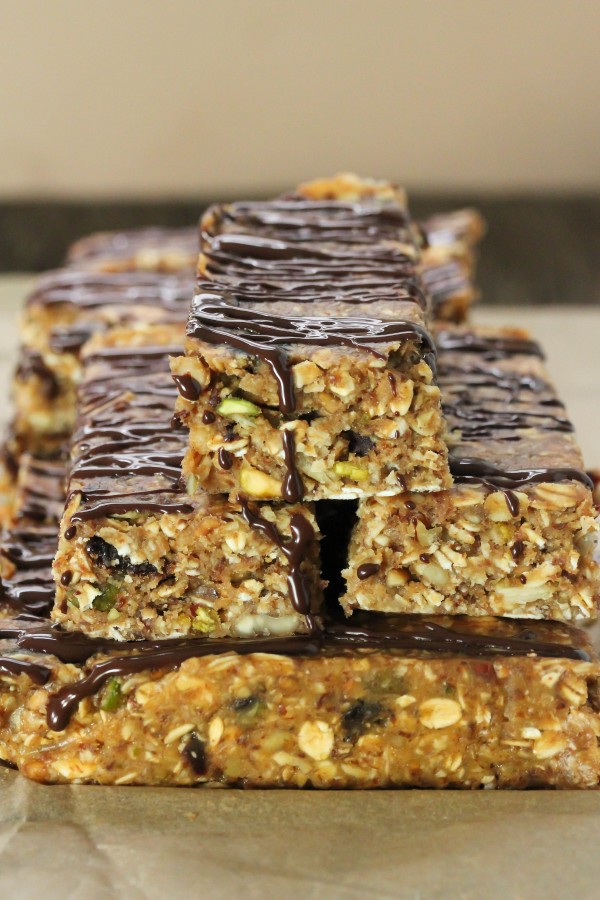 How awesome do this no bake breakfast bars look? My husband loves these and tells me I need to keep making them 24/7. They are quick to make, since you don't have to bake them, and pretty much you just have to add everything in your mixer and mix through.
For this version I didn't add protein powder but I will add it to the next batch I make. Each bar has about 14 grams of protein but my husband would like to have more so that he can stop buying store bought protein bars that are loaded with sugar. I shall do next time I make them for sure.
You can also swap any of the nuts and dried fruit if you like as well as skip the melted chocolate drizzle. The bars aren't that sweet and dark chocolate isn't that sweet either so I figured I made them prettier with the drizzle. It is optional!
On another note, many of you know that I just finished school back in December refreshing some science courses I took when I was in undergraduate school, I think that was almost 20 years ago, ouch!
Well I am in the in the stages of applying for physician assistant school. The applications are a bit insane. I mean, it has taken me for ever to gather all the required materials and complete everything that it is asked for. Such a competitive field as well.
I will know between March and April if I have made it for the interview, so please send positive vibes my way, I really need them. I have worked my behind really hard for the past 8 months so I hope it pays off!!
Anyhow, I leave you with these amazing no bake breakfast bars that are great for on the go, breakfast, as a snack or for when ever you like. I gathered all my ingredients from Nuts.com They have an array of great products, especially when it comes to nuts and dried fruit. One of my favorite places to get my nut ingredients.
For the no bake breakfast bars recipe visit their site and if you make them let me know what you think.
Enjoy!