No bake blueberry chia jam bars
I love making no bake desserts because they take a lot less time to make. These no bake blueberry chia jam bars is one example that I am sure you will like. They are healthy, tasty and easy to make.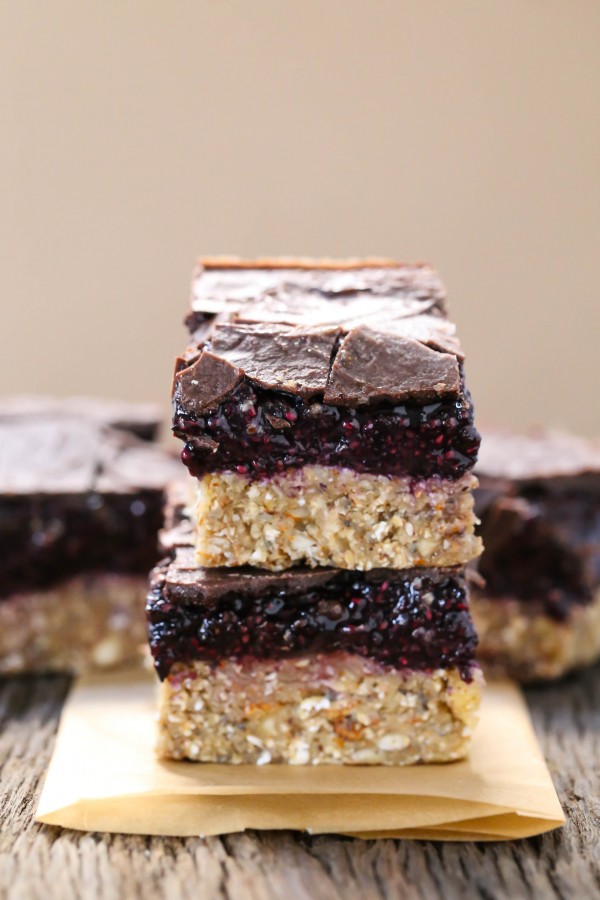 These no bake blueberry chia jam bars are also gluten free and vegan. The blueberry jam is made with chia seeds, a little bit of maple syrup and organic blueberries. While I have used chia seeds for many of my desserts it think most of them are always no bake.
I don't like baking chia seeds or flaxseed meal for the simple reason that the fats, especially Omega 3's, will be broken down and nutrient composition would just no be the same. When using any of these two ingredients I recommend not baking them at all. I have seen a lot of baking recipes in which they do but it is not good. If you really want to get all the nutrients these two ingredients have to offer I suggest having them in their raw state.
For these no bake blueberry chia jam bars you can use any other fruit of your choice as well. Strawberries, as well as mangoes will be perfectly fine. As long as the fruit is pureed to mix in with the chia seeds it should work just fine.
I also keep these no bake blueberry chia jam bars in the freezer and then leave to thaw out for about 20 minutes before eating. I find that they keep their shape better by storing them in the freezer. The batch also makes 8 large slices but they are so big that dividing them into 16 pieces instead is more realistic. Because of the fiber and complex carbohydrates these no bake blueberry chia jam bars will fill you up really quickly.
I hope you get to make these amazing no bake blueberry chia jam bars. For the recipe visit my friends at Nuts.com. Make sure you browse their many products they offer. There is where I get most of my nuts  and dried fruit which I love!
Enjoy!