Gluten Free No bake blackberry Frozen Cheesecake
This is one of my favorite no bake cheesecakes, gluten Free No bake blackberry Frozen Cheesecake. So easy, healthy and delicious.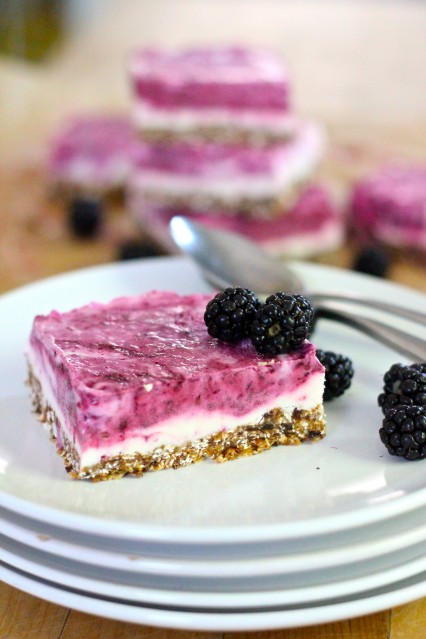 Well well well, here it is, my first live post in my new blog site! Gluten Free No bake blackberry Frozen Cheesecake
I am super thrilled and beyond excited. I have worked really hard to incorporate some better information and with the help of Lindsay, the web designer from Purr, much better features for you to navigate the blog. Do you like it? I do, so I hope you do too.
You have to check out my E-book section. These two books, that I really worked hard on for the past 8 months, have really good recipes so I hope you like them. I am working on a couple more but these will take a few more weeks before I can have them up.
Anyhow, I know it is not summer, or spring time for that matter, but to be honest I am really getting tired of the snow and cold. It is almost April, and in NJ, we are still having snow and really cold weather.
I really want to start making frozen and refreshing treats. I couldn't wait any longer, so I guess you are in luck. This no bake blueberry frozen cheesecake is to die for.
This Gluten Free No bake blackberry Frozen Cheesecake  is really versatile since you can add any other fruit of your choice, so get creative. I think the colors are rather pretty and your kids will really enjoy eating it.
I had actually made another version a while back, a lemonade version, that was also very good. I think I liked this one better because the consistency was more of my taste. Either way, they were both good.
On another note, I think I am going to be taking a few days brake from the blog world, a much needed rest. I have worked really hard the past 6 weeks so me and my family will be going on a mini vacation up in the Tennessee mountains for 2 weeks. I will be back with new goodies to share with you at the beginning of April, so stay tuned for those.
I hope you like the new site and features. See you back in 2 weeks or so
Enjoy!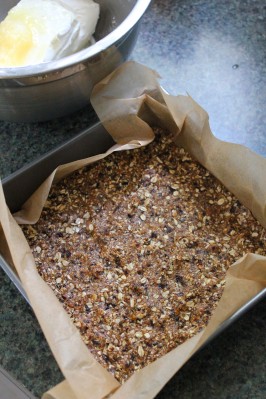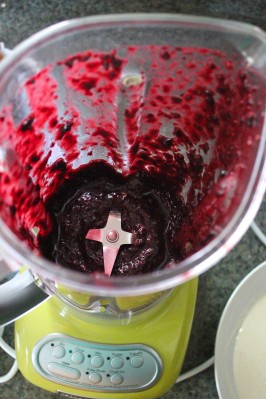 Here you can see the prepared crust. I used a 8×8 baking pan previously lined with parchment paper. Also, you can see the puree blackberries. I used my blender to do this.
Half the cream cheese mixture and add the blackberries to one half of it. Swirl for a few strokes obtaining a marble effect.
…and here you can see the final result after freezing the cheesecake for a few hours. You may have to thaw out the cheesecake for 10-15 minutes before being able to cut through it!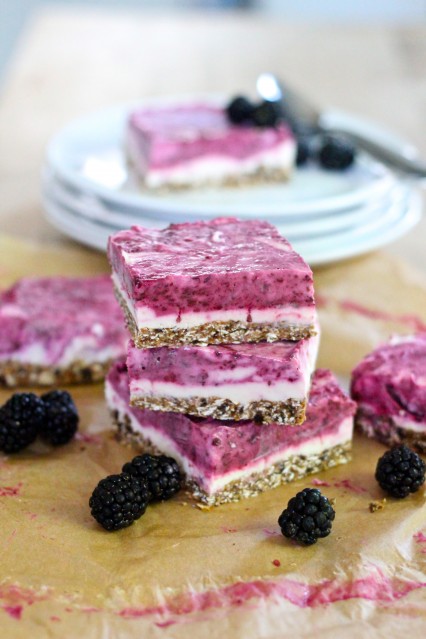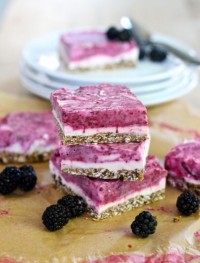 No bake blackberry Frozen Cheesecake
Yield: 10 servings
Total Time: 30 minutes
Ingredients:
Crust
Filling
2 8oz 1/3 less fat cream cheese
6 oz fresh organic blackberries
1/4 cup honey
3/4 cup frozen lemonade concentrate, thawed
1 tablespoon agar powder, or 1 Tbsp unflavored gelatin
Directions:
Line 8x8 square pan with parchment paper. This will allow you to release the cheesecake when it is set.
Place oats in the food processor and pulse for 10 seconds or so. Add the remainder of the ingredients and pulse until mixture comes together. About 1-2 minutes.
Press the crust mixture down onto the prepared pan and place in the fridge while you work on the filling.
Place the agar powder (or gelatin) and lemonade in a small sauce pan and heat for about 1 minute, just to dissolve the powder. In a bowl whip the cream cheese and honey. To this mixture add the lemonade with the agar powder already dissolved and mix through. Divide this mixture in half. Add the puree blackberries to one half of the mixture. Fold just until you get a marble effect like in the pictures.
Pour the white cream cheese filling over the crust followed by the blackberry one. Freeze for about 3-4 hours.
Before serving, run a knife over the edge of the cheesecake to loosen it up and place the cheesecake on a pretty plate. You may need about 20 minutes to bring the cheesecake to room temperature to be able to cut it through.
Store cheesecake in the freezer and thaw out about 20-30 minutes before serving.