Mushroom, Thyme and Sun Dried Tomato Pasta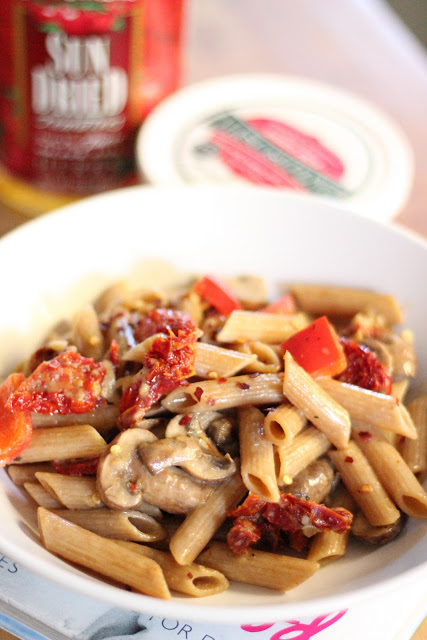 Here you have another one of our favorite pastas. Although this one has the Mascarpone cheese, which tends to be quite fattening after dividing the recipe to 5, 6 servings it is all not that bad.
This recipe it is also very simple and fast to put together. It will be done literally in 20-25 minutes. The powdered thyme gives this dish a unique flavor so I highly recommend it, don't omit it.
On any event if you try this recipe you will not be disappointed.
Enjoy!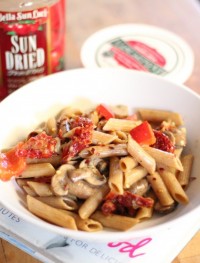 Mushroom, Thyme and Sun Dried Tomato Pasta
Ingredients:
1 1/2 lb whole wheat penne, You can add just 1 lb pasta, I normally cook extra for my family
1 1/2 lb mushrooms, sliced
2 medium red peppers. chopped
4-6 oz sun dried tomatoes, chopped
4 tablespoons olive oil
2-4 garlic cloves, chopped
2 teaspoons powdered thyme
8 oz mascarpone cheese
2-4 oz grated Parmesan cheese
Salt and pepper to taste
Directions:
Cooked the penne. Meanwhile heat the olive oil in a pan. Add the mushrooms, peppers and garlic and cook for about 5-8 minutes.
Add the cheeses, sun dried tomatoes and thyme and cook for an additional 2 minutes. Seasoned to taste and add the cooked penne.
TIP: I add pepper flakes to the individual plates as well as some extra Parmesan cheese.