mushroom ragout
I love any type of vegetables. This mushroom ragout is an example of an easy, delicious and tasty recipe so I hope you get to make it soon.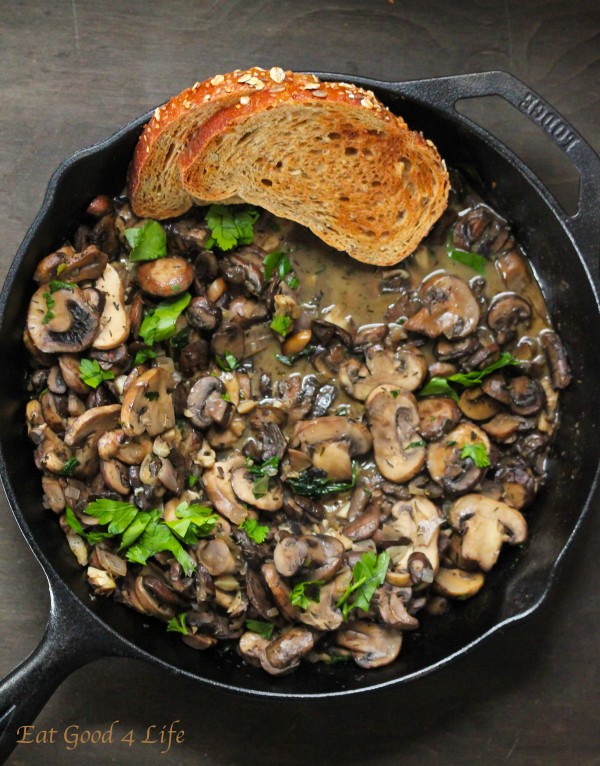 This mushroom ragout recipe is long due. I actually made it a while back but with all of the other good recipes I have been making lately this recipe kind of was left on the back burner. Not because it is a bad recipe but because the other recipes where too good to wait to post.
I used my new cast iron skillet for this recipe. I really love this piece of equipment. I want to experiment a lot further with this pan because I have heard that the possibilities are endless when it comes to using a cast iron to cook with. Do you have any favorite cast iron skillet you can share? Please let me know, I would love to have your recipe!
Anyhow, there is a lot of sauce that this mushroom ragout generates. I used whole grain bread that I toasted that was great with the sauce. I also cooked some quinoa and served it with it to make it more of a complete meal. It was delicious. The sauce is what really made this recipe. It is fantastic.
I think this recipe could also go great with some whole wheat pasta. Any type of grain would go perfect with this mushroom ragout, so choose which ever one you prefer.
Let me know if you get to try this recipe. It is super tasty, saucy, healthy and extremely simple to put together.
Enjoy!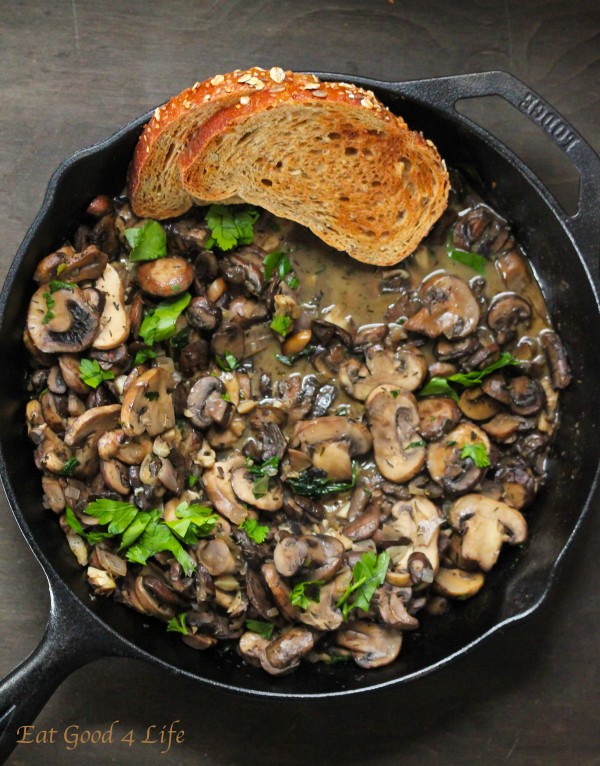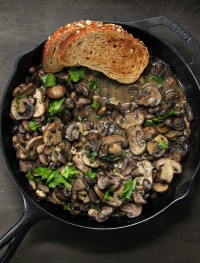 mushroom ragout
Yield: 4 servings
Total Time: 15 minutes
Ingredients:
2 lbs assorted mushrooms, sliced, I used portobellos
2 tbsp extra virgin olive oil
1 tbsp dried thyme
3 shallots, chopped
5 garlic cloves, chopped
1/2 cup dry white wine, I used Chardonay
1/2 cup vegetable stock
1 tsp celtic salt
3 tbsp butter, omit for vegans
1/3 cup fresh parsley, chopped
Directions:
In a large cast iron skillet, over medium to high heat, place the olive oil followed by mushrooms and thyme. Cook stirring occasionally for 8-10 minutes or until the mushrooms are almost cooked. Add the shallots and garlic and cook for 2 minutes until the shallots have soften.
Add the wine and let it reduced by half. Add the vegetable stock, salt and parsley and let it simmer for about 4 more minutes, or until the sauce reduces slightly. Turn the heat off. Add the butter and more chopped parsley if desired and serve while still warm with toasted whole grain or any other whole grain of your choice such as quinoa, brown rice, pasta etc.
Recipe source from here