Mushroom and asparagus marsala pasta
Believe it or not pasta is one of the main dinner ingredients I use through out the week. Whether it is gluten free or whole wheat my kids love having pasta so making up different pasta recipe versions is a must for us to not get bored of pasta. This mushroom and asparagus marsala pasta was a great success. Instead of using chicken the pasta was great just with the veggies.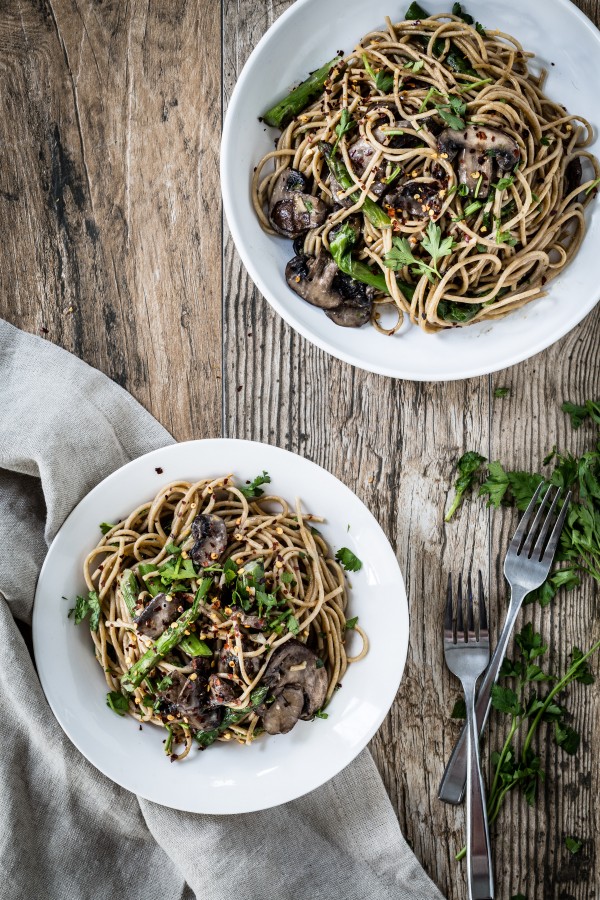 I know this is a typical recipe that uses chicken but since we hardly ever eat chicken I figured I just make it with the veggies instead. This mushroom and asparagus marsala pasta turned out great and while you can use chicken I thought just with the veggies was perfect.
What is your favorite pasta recipe? I am making another one tomorrow. This one will include meat, which we eat very sparingly. I would say perhaps once a month since I am the cook at home and I am not to fond of it.
With all the sweets and cakes that I have been eating lately, making savory dishes is going to be my theme for the following days. Surely I won't stop eating sweets but I will be making just very few in the next weeks to come.
Well, I hope you like this mushroom and asparagus marsala pasta, you can use any type of pasta you like. It will also take just about 20 minutes to make so it is perfect for any quick dinner recipe you are looking for.
Enjoy!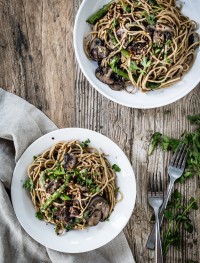 Mushroom and asparagus marsala pasta
Yield: 4 servings
Total Time: 20 minutes
Ingredients:
16 oz whole wheat spaghetti
20 oz sliced mushrooms
12 oz asparagus, chopped
4 garlic cloves, minced
1/3 cup marsala wine, or dry white wine
2-3 tbs butter, or 1/4 cup heavy cream
3 tbs olive oil
1/2 tsp celtic salt
Pinch crushed pepper
Parsley
Directions:
Cook pasta according to package instructions.
In a saute pan add the olive oil and mushrooms and stir. Add the asparagus, garlic and salt. Stir for about 5 minutes until the veggies are soft. Add the wine and let it reduced for about 2-3 minutes. Add the butter and stir.
Turn the heat off and add the cooked pasta. Combine and serve. Sprinkle some pepper flakes and parlsey if desired.