Mixed berry and almond breakfast oatmeal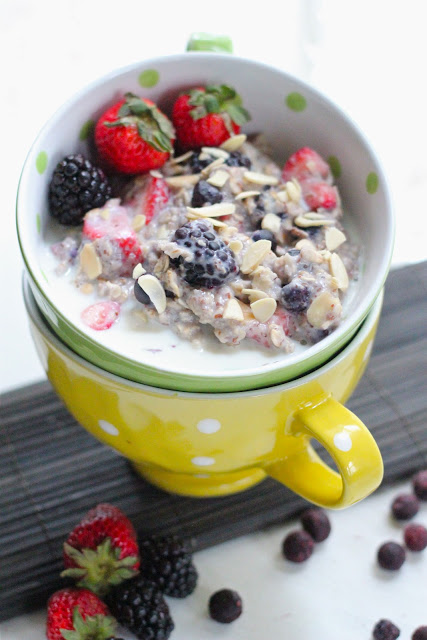 Wow…..I think you can guess by now that I am on a oatmeal fixation right? I mean in the past 2-3 weeks I have posted 4 variations of breakfast oatmeal and I think this one won't be the last. A peanut butter and jelly as well as a peanut butter and banana is on my mind right now, so stay tuned for those variations in the future :-)
I don't want to bored you with so much oatmeal  but I just find it to be such a convenient and healthy breakfast I can't stop making it every other day!!
Berry season is here and with this comes using this beautiful and nutritious fruits for what ever I can. Besides making smoothies and ice pops, which berries work really good for that, I want to find ways in which I can incorporate these types of fruits. Incorporating these in a berry and almond oatmeal version I thought it could be good.
Anyhow, I hope you get to try this one as well. It is a great way to start your day!!
Enjoy!!
Here you can see the before and after of this oatmeal version. The left picture shows you all of the ingredients except the berries being cooked away. The right picture was when the oatmeal was done and I added the berries about 30 seconds before I turned off the heat.
The sliced almonds really make this breakfast oatmeal especial. They give this a really nice crunch and flavor that complements the berries really well.
I always buy organic berries. They are more expensive, but they taste much better and do not contained a bunch of pesticides. This is one of the foods you want to invest more money in and get organic. If you can include organic berries in your budget go for it. You will not be sorry!!
I think I can make infinite versions of oatmeal at this point. So far I have made 4 different ones, here they are in case you want to check them out. I don't know which one is my favorite, because they are all really different and yummy and the same time.
Carrot cake oatmeal
Dark chocolate and peanut butter oatmeal
Apple pie oatmeal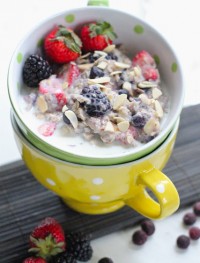 Mixed berry and almond breakfast oatmeal
Ingredients:
2 1/4 cups old fashioned oats
2 1/2 cups almond milk, soy milk, cow's milk will also work
3/4 cups coconut milk, if you don't have any use milk of choice
1/4 cup honey
1/4 cup flax seed meal, optional, wheat germ or oat bran will also work well
2 cups mixed organic berries, any of your choice will work
1 teaspoon vanilla extract
1/4 cup sliced almonds
Directions:
Place all ingredients, except berries, in a heavy saucepan and cook over medium to high heat, stirring frequently until it boils. Reduce heat and simmer for 5-10 minutes, or until milk has been absorbed and the oats have softened.
Add in the berries and mix them through.
Served with extra almonds and extra milk if desired.
I have not tried making this in a microwave but I am sure it will also work well as long as you stir in between.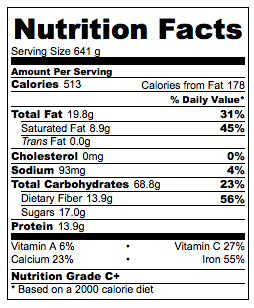 Nutrition facts calculated based on the recipe giving 5 servings. This is high in manganese.