Melon, prosciutto and cheese salad
I love making salads over the summer. This melon, prosciutto and cheese salad combines fruit, dairy and meat that may seem a bit odd but yet delicious!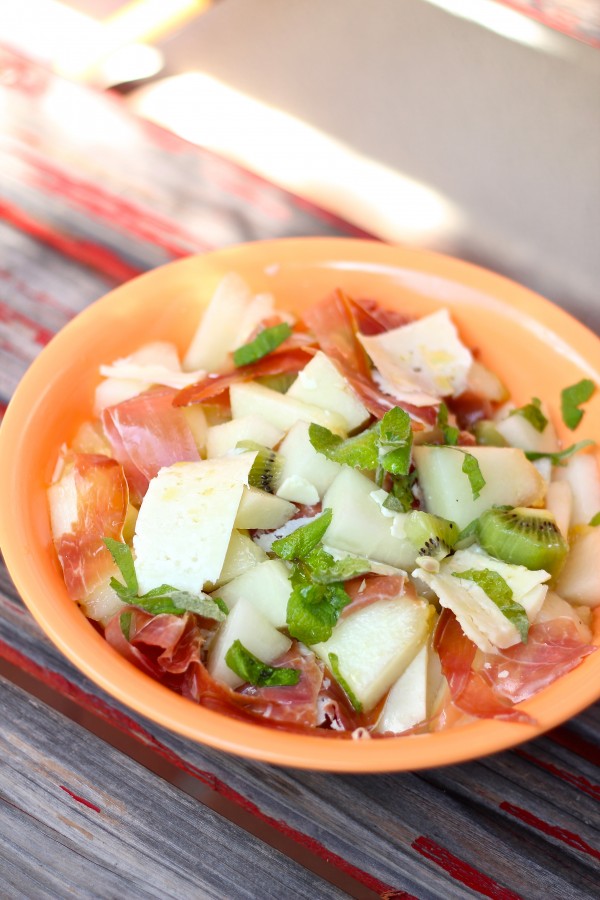 I am in down South Spain until July 12th and the heat is pretty intense. We are in a small town in the Cordoba region called Moriles, visiting family and friends and having a lot of fun. The food is outrageous and the kids are having a blast. The only down side is that we don't have internet where we are staying and it is starting to become a real challenge.
Anyhow, because of the heat, baking is pretty much out of the question and cooking needs to be super quick. Salads are very predominant in the Andalucia region so I figured I post this recipe that it is very refreshing and easy to put together. This melon, prosciutto and cheese salad is just perfect for the hot weather we are having!
You can omit the kiwi if you like, I love kiwi so I just added a some. Also, take note that this salad needs to be eaten immediately. Do not let it sit or keep leftovers, the prosciutto and cheese becomes soggy and nasty!
You can substitute any of the ingredients,. You can use feta cheese instead of hard cheese, or maybe add other type of fruits. I think instead of using kiwi water melon maybe good as well. Either way, you can make this exact version or make your own. If you need a refreshing, quick and healthy salad, look no further. You will love this one.
OK so now, the winners of both of my eBooks. For those that have won, email me so that I can send you the links so that you can download both the eBooks and save it to your computer and mobile device.
These are the winners:
Bianca Tang ( comment #31)
Angie@angie's recipes (comment #19)
Heidi@foododdles  (comment #35)
Marisha (comment #26)

On another note, since it has been quite hard to stay connected to the internet since we don't have it where we are staying, I might take a few days before my next post. It is starting to become a real challenge, so even when trying my best, a few extra days between posts make take place.
For now, here you have this refreshing salad that I hope you like.
Stay safe and enjoy!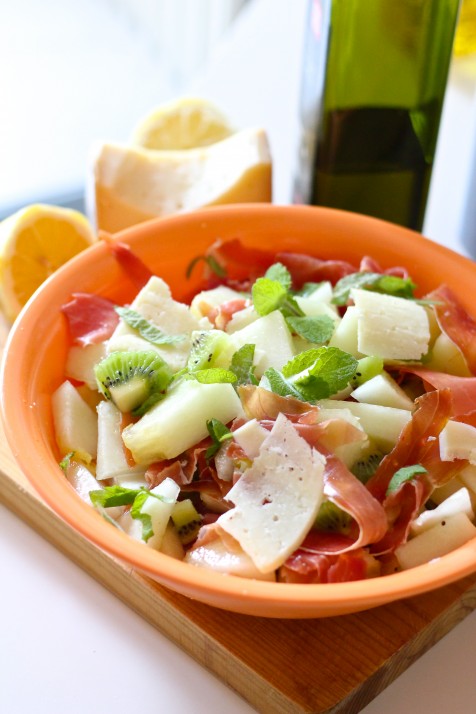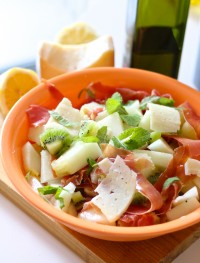 Melon, prosciutto and cheese salad
Yield: 4-5 servings
Total Time: 15 minutes
Ingredients:
Half a melon, chopped
4 oz of prosciutto, sliced
3-4 slices, 4oz, hard cheese, I used Manchego
.5 oz fresh mint, chopped
3 Tbsp extra virgin olive oil
1 lemon, juice
2 kiwis, chopped, optional
Directions:
In a large bowl mix all of the ingredients and serve immediately.
Don't reserve any leftovers. The prosciutto and cheese wilts and the salad losses its appeal.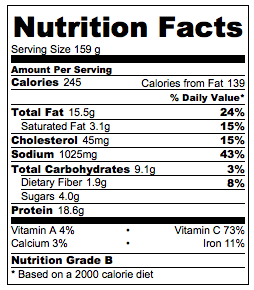 Nutrition facts calculated based on the recipe giving 4 servings.