lunchbox recipes
This is my first time posting lunchbox recipes and I know it will not be my last. I don't know why I waited so long. Maybe perhaps because I didn't have the right lunchbox!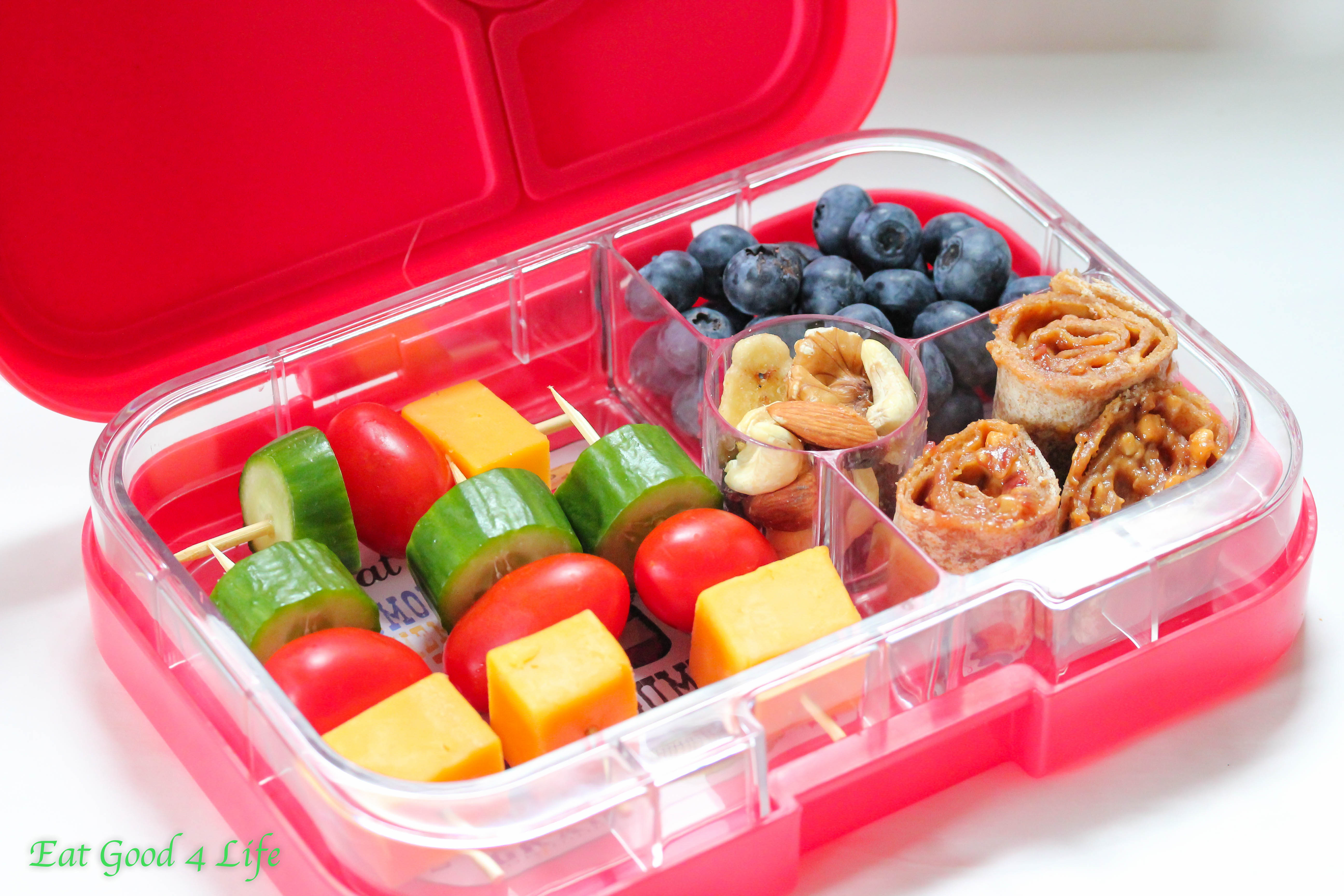 I love this Yumbox lunchbox. What I love the most about these lunchboxes is that they are BPA-free, phthalates-free, leakproof and simple to pack. The tray is also removable for easy cleaning which is important to me. After a few times using this box you will appreciate that feature. To learn more about this awesome Yumbox and be able to purchase it click this link.
My 4 year old loves her Yumbox. All her food is packed neatly and easy to access.
For some of us, I know it is not school season just yet but my kids are currently attending summer camp and with that it involves packing lunch.
I always keep my lunchbox recipes simple, nutritious and somewhat colorful. This way it is more appealing to my kids when it is time to eat their lunch. Which kid doesn't like peanut butter and jelly? My version was actually using whole wheat tortillas instead of regular bread. This way I was able to roll it up and fit it in the Yumbox much better.
I also made a nut trial mix, which my kids love. Nuts are healthy, high in protein, minerals and healthy fats.
Of course I added some fruit to their lunch. This time around was organic blueberries. They love any kind of berries so I make sure I always add some because I know they will get eaten.
Packing an assortment of veggie skewers is always a fun way for my kids to eat their lunch. Likely for me both my kids like cheese so I tend to make cheese and tomato skewers quite often, only this time I added some cucumbers.
The sky is the limit when it comes to preparing lunch for the little ones but this Yumbox is the perfect vessel to pack their goodies.
Giveaway CLOSED
Yumbox has provided ONE Yumbox for an Eat Good 4 Life reader. To enter just comment below and let me know who you would use the Yumbox for.
Rules
Anyone that lives in the US can enter.
Entries must be submitted by Monday August 11th 12am EST.
One winner will be randomly chosen and will have 48 hours to respond to my email or another winner will be chosen.
Good luck!
Giveaway is now closed. The winner is Angela comment #113 :-)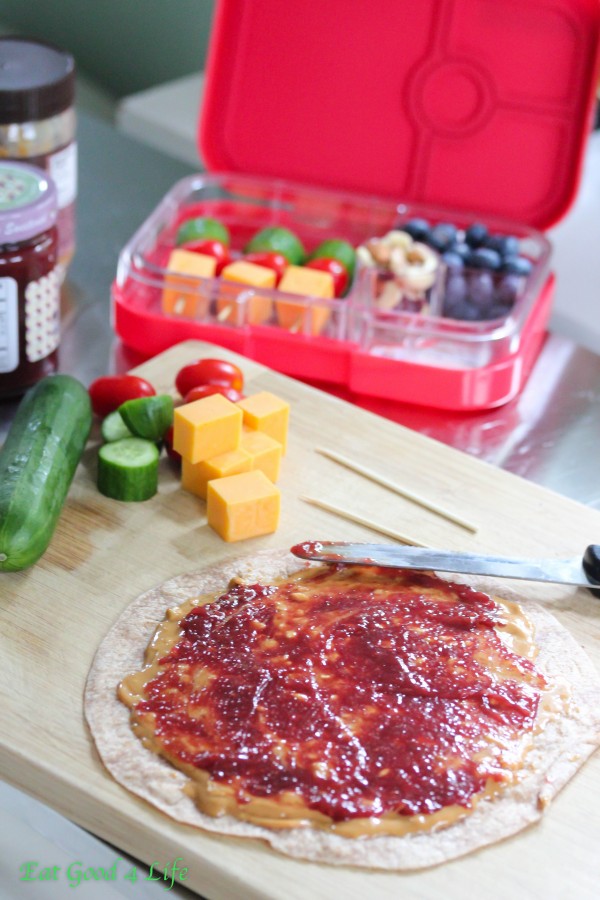 For the whole wheat tortillas just spread the peanut butter followed by the jelly and roll it up tightly. Cut into small pieces and place it in the Yumbox. A word of advice is to spread the peanut butter and jelly at least 2 inches away from the edge. I didn't and my mixture come out while I was rolling the tortillas. No biggie but I created a bit of a mess!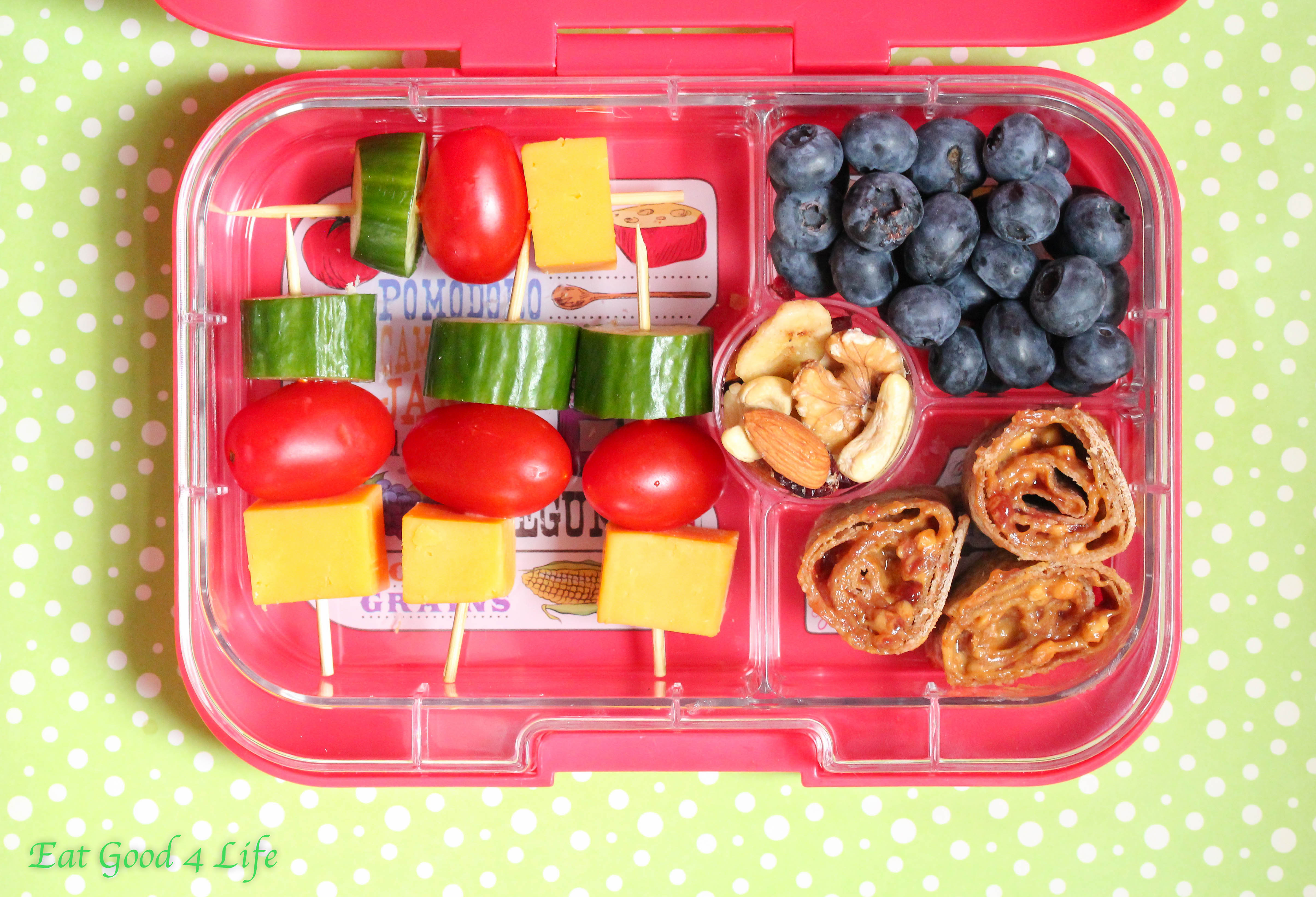 Disclaimer: This post is sponsored by Yumbox. This post contains affiliate links. Yumbox provided me with their product to write this review and all opinions are my own. I speak from personal experience. The end :-)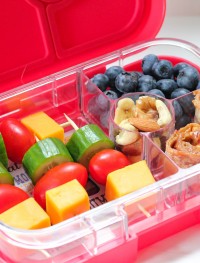 lunchbox recipes
Miryam's original recipes
Yield: 1 tray
Total Time: 10 minutes
Ingredients:
Veggie Skewers
2 oz cheddar cheese, cubed
1 small cucumber
4 cherry tomatoes
4 3 inch skewers
Peanut butter and jelly roll-ups
1 whole wheat tortilla
1-2 tbs organic peanut butter
1 jelly, any flavor
Trail-mix
2-3 cashews
2-3 almonds
2-3 walnuts
2-3 dried bananas or dried fruit
1/3 cup chopped fruit of choice
Directions:
For the veggie skewers, thread the cheese, tomato and cucumber onto the skewers and place on the biggest section of the Yumbox tray.
For the peanut butter and jelly roll-ups place the peanut butter onto the tortilla and spread at least 2 inches away from the edge. Add the jelly and spread over the peanut butter. Roll the tortilla and cut into small disks. Place on your lunchbox.
For the trail mix just mix all the nuts and place in the lunchbox followed by the blueberries. Their lunch is ready to go!