Linguine with Shrimp, and Baby Portabellos in Wine Sauce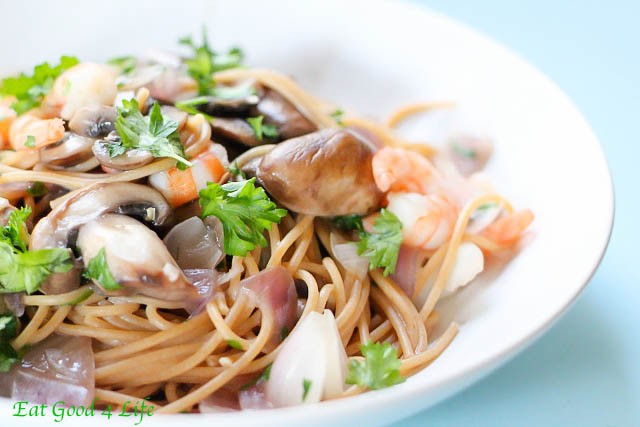 I find myself posting a lot of rice and pasta dishes. It just happens to be that we eat a lot of pasta and rice dishes, sorry for the meat and poultry lovers out there, or for those that think they should be on a carb free diet. Very, very, very bad for you I must add. Carbs should make at least 50% of your total diet.
Anyhow, this pasta recipe is very tasty. I love the white wine sauce in it. The baby portobello and shrimp adds a nice touch. The only thing to top this dish is to add a good Asiago or any other freshly grated cheese with perhaps a crusty piece of bread to soak in the goodness of the sauce.
However you may want to serve this pasta, it is good either way. If you love white wine you have to try this one and like most of my recipes, this one will be done in no time. Your sauce will be done as the pasta boils.
By the way there is only two days for thanksgiving. I have not prepared anything, as my menu does not need any prepping :-), love that. I am making chicken cacciatore, spinach and artichoke dip and the pie I posted a couple of days ago, wild blueberry and apple pie. All dishes pretty simple. Will post the recipes this week or the following.
My husband's family came down to NJ from TN for the holidays. They really don't care for turkey, lucky for me, so I can pretty much make whatever I like and they will be contempt, GOT TO LOVE THAT!
Well, enjoy this pasta recipe and happy thanksgiving to all of my readers, followers and friends :-)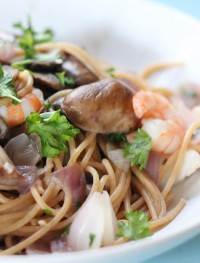 Linguine with Shrimp, and Baby Portabellos in Wine Sauce
Ingredients:
1lb, 1 package, whole wheat linguine
8 oz baby portobello mushrooms, you can use any other type
3 tablespoons olive oil
1 red onion, chopped
3 garlic cloves, chopped
1 lb large shrimp, I use frozen and thaw them before use
1/3 to 1/2 cup white wine
1 cup of water
1-2 teaspoons of cornstarch
Salt to taste
Parsley, chopped
Directions:
Cook pasta according to package instructions. While pasta cooks, in a large skillet add oil,  garlic, mushrooms and onions. Cook for about 5-7 minutes.
When the mushrooms release their moisture add the wine, water previously mixed with the cornstarch, and shrimp. Heat through for a couple of minutes until sauce thickens a bit.
Add pasta, parsley and salt to taste. Sprinkle with cheese if you like. Enjoy