Lime and strawberry cream pospsicles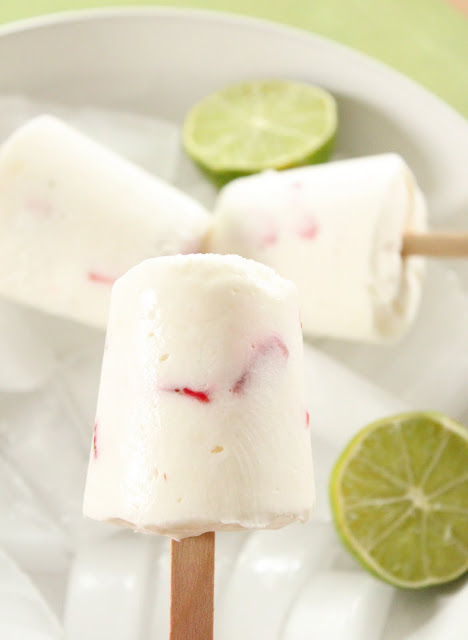 We loved the raspberries and cream Popsicles we made a few days ago and since they are already gone we figured we try other variations. This version was lime and strawberries and to be honest we don't know which one we liked best. Both were just simply sensational!!!
I would say that these are super easy to make and you can pretty much whip  your own version. Like also said before, you can even add any liquor or booze of your liking!
Next time, well I don't know, I might just do that, the sky is the limit but for now we will be content with this refreshing simple version…..
Enjoy!
Left picture depicts Popsicles just before being place in the freezer. As you can see the Popsicles sticks hold on just fine!!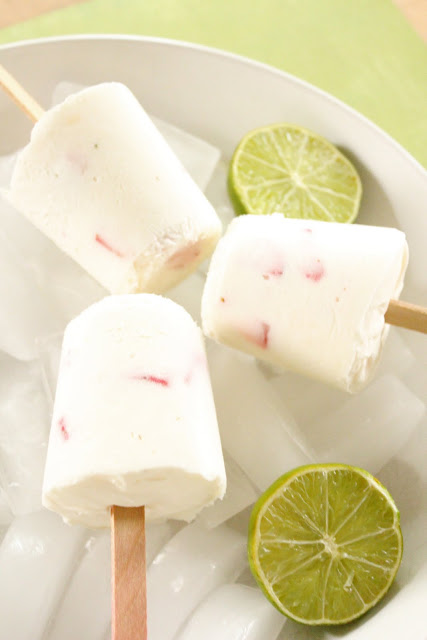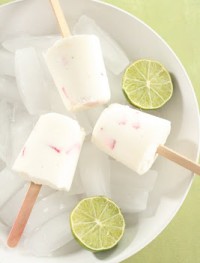 Lime and strawberry cream pospsicles
Ingredients:
1 cup heavy cream
1 cup low fat Greek yogurt (I used organic)
1/2 cup unrefined sugar (honey would work as well)
1 cup fresh strawberries, chopped
2-3 limes, juice
Directions:
In a bowl whip heavy cream and sugar until soft peaks form. Fold in yogurt, juice and strawberries.
Snip the top edge of the Dixie cups with scissors for easy peeling. Fill Dixie cups all the the way with the whipped mixture.
Place a pop stick in the middle of each Popsicle and freeze 4-5 hours before serving.
Note: I find that I don't have to freeze Popsicles before inserting Popsicle stick. The whipped cream is strong enough to hold the stick in place :-).