Lentil soup
Do you have a lentil soup recipe you love? Either way this one is going to became one of your favorite lentil recipes. It is healthy, delicious and so unique.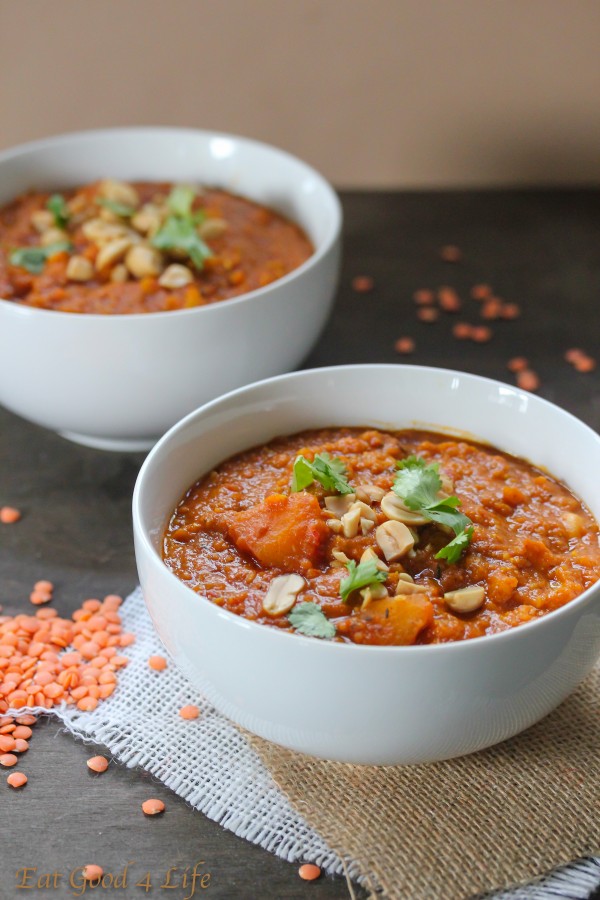 I am so glad I tried this recipe and so glad I triple the batch when I did. I couldn't get enough of this lentil soup. As far as I am concern, this is the best lentil soup I have ever made and tasted.
I haven't made that many soups lately. I have like three or four soup recipes that I really like so I keep making those same ones over and over. I have a Thai soup recipe that I love which I have to post soon. I have to catch up on my posting.
This is the firs time I used red lentils. I have used brown and yellow in the past but it was my first time with red ones. They are called red lentils but they actually look more like orange to me.
I found these lentils to cook faster. I also found them a bit smaller than other ones. Maybe I am wrong but I just found mine to be slighter little in size.
I am sure you should be able to find red lentils at your grocery store. I have seen them in a couple of my local grocery stores. They are a little bit more expensive but I think worth every penny. The ones I used where Bob's Red Mill.
The weather is perfect for soup. If you make this one you could also freeze it for future consumption. I know I will since  I am going to make  it again very soon.
Enjoy!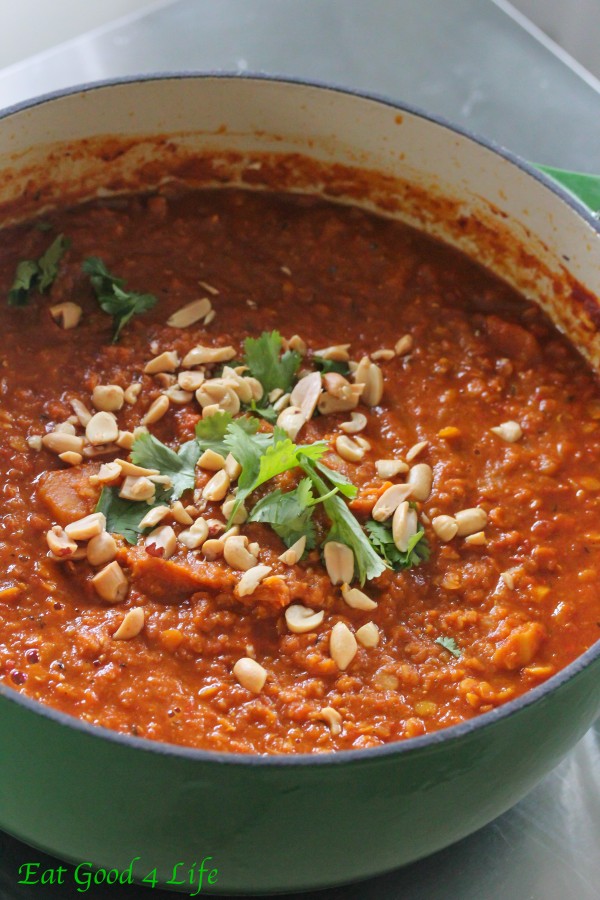 This is one of my favorite soups ever. Next time I am going to make more so that I can freeze some of it. You really need to try this lentil soup. It is truly sensational.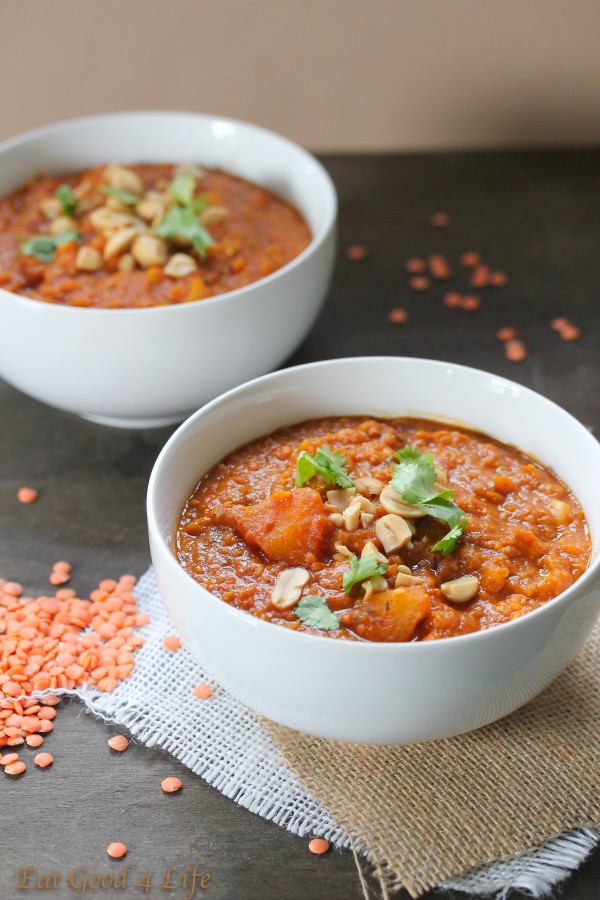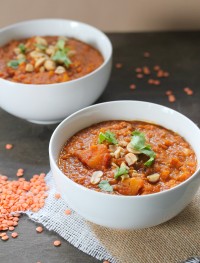 Lentil soup
Yield: 8 servings
Total Time: 40 minutes
Ingredients:
1 1/2 cup red lentils
1 14oz  can coconut cream, or coconut milk
2 tbs olive oil
4 carrots, chopped
1 onion, chopped
3 garlic cloves, minced
4 apples, peeled and chopped
20 oz crushed tomatoes
3 tsp cumin powder
2 tbsp curry powder
1 tsp paprika
1 tsp cinnamon
1 tsp thyme
2 tsp turmeric
1/2 tsp cardamon
1 tsp celtic salt
1/3 cup cup peanuts, chopped
1/4 cup fresh cilantro, chopped
Directions:
In your 5 qt dutch oven, or any large pot, over medium to high heat add the carrots, and onions. Cook for about 5 minutes. Add the garlic and cook for 1 minute or until fragrant. Add the chopped apples with the spices and salt and combine.
Add the crushed tomatoes, coconut cream, lentils and 5 cups of water. Combine well and bring it to a boil. Turn the heat down to medium-low and simmer uncovered for 20-30 minutes or until the lentil become soft stirring occasionally.
You may need 1-2 more cups of water as the lentils cook down. Once the lentils are cooked turn the heat off and with an immersion blender, puree 50% of the soup leaving some chunks. You can alternatively use a blender to do this step however with an immersion blender is much easier.
Serve with chopped peanuts and chopped cilantro. You can freeze this soup for future consumption.
Recipe adapted by Wanderlust Kitchen