Lemon pasta with shrimp and broccoli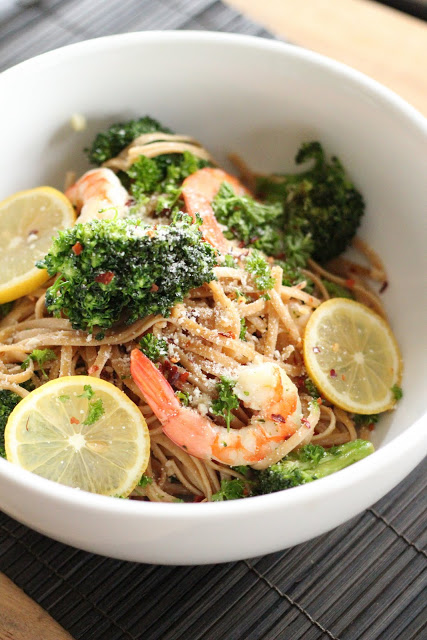 We just had this for lunch yesterday. Super easy, super tasty, super versatile. This is simply my kind of dish, easy and refreshing.
I have never had lemon with pasta and I really enjoyed it. I think next time I will put even more lemon in it, as I really liked it. You can also add any other veggies you may like, any veggies would work really good.
By the way today I made my first attempt for dulce the leche cheesecake, half way there ;-)
Enjoy!!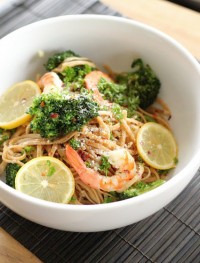 Lemon pasta with shrimp and broccoli
Ingredients:
1 box, 13 oz whole wheat linguine or spaghetti
5-8 tablespoons olive oil
4 cloves garlic, minced,
1 pound large shrimp, I used precooked, thawed and previously dried shrimp
Fresh parsley, chopped
1 lemon, zest grated
2-3 cups fresh broccoli
1/4 cup freshly squeezed lemon juice, 2 lemons
1/4 lemon, thinly sliced in half-rounds
1 teaspoon hot red pepper flakes, optional
Grated Parmesan cheese, optional
Salt to taste
Directions:
Cook pasta for 8 to 10 minutes, or according to the directions on the package.
Meanwhile, in heavy pan, add olive oil over medium-low heat. Add broccoli and cook for 3-4 minutes. Add the garlic. Saute for 1 minute. Add the shrimp, salt, and saute for about 2 minutes, just until shrimp warms through.
Turn heat off and add the parsley, lemon zest, lemon juice, lemon slices, and red pepper flakes. Toss to combine.
When the pasta is done, drain the cooked linguine and then put it back in the pot. Immediately add the shrimp and sauce, toss well, and serve.