Kale stuffed portobello mushrooms
These kale stuffed portobello mushrooms are literally just stuffed with kale and cheese. I have seen many variations but these are quicker and simpler to make. They are gluten free and if you want to keep them vegan you can use vegan cheese.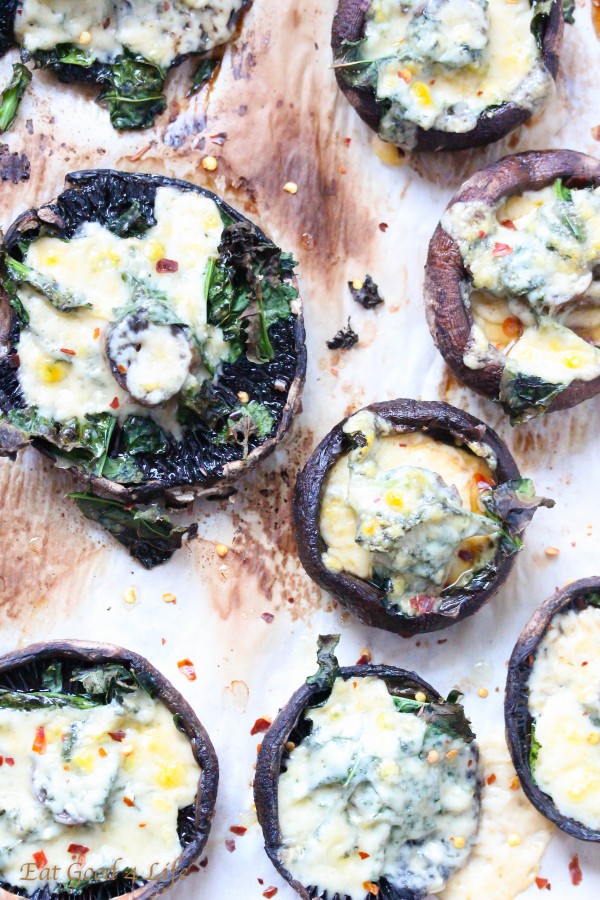 I have seen many different variations of stuffed portobello mushrooms but quite frankly, right now, I haven't got the time to stuffed them any further and get elaborate with the filling. Between school, work, fixing my entire house thanks to the flood and my kids, my time is quite limited when it comes to cooking and baking so I need to make super quick recipes and meals.
My friends keep asking me how on earth it is that I am able to do it all…the truth… a lot of planning. My husband calls me the planner!
I mean, I don't go to the grocery store more than once a week, and if I am lucky my husband will go for me. I don't cook elaborate meals, well maybe just when it comes to baking once in while, and most importantly, I just don't waste my time whatever it is that I am doing. It is hard but true.
I will be honest, it is a bit stressful. I think at some point, hopefully soon, this pace is going to have to slow down. I am waiting for my house to get fixed and be done with my cooking book. Until then I have no choice but to keep going.
Anyhow, enough of that. These kale stuffed portobello mushrooms are super easy to put together. If you like to get more into the recipe you can stuffed them with different toppings. I have actually thought of adding sun dried tomatoes and feta cheese next time I make them, I think that combo will be good!
Well, I was suppose to post the chili truffles but since everyone asked to post this recipe first I did. I will post the truffle recipe this weekend since Thursday I have an awesome slow cooker Moroccan chicken that I hope you like.
Enjoy!
Here you can see the mushrooms right after I baked them for 8-10 minutes. When they are done stuffed them with fresh kale and place a slice of cheese over each mushroom. This is not pretty so just do as best you can. The cheese will get gooey and messy all around and the kale may come out of the mushrooms, which is fine with me!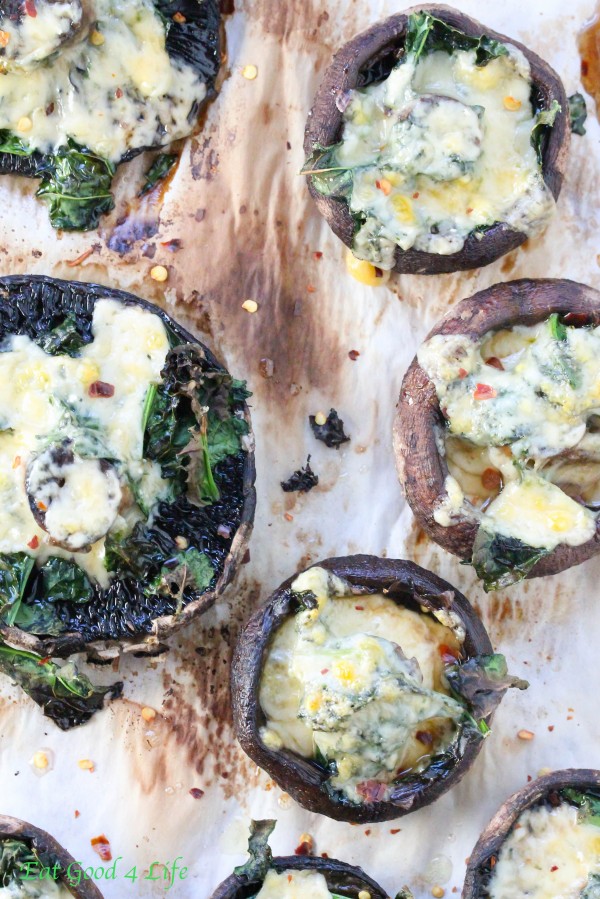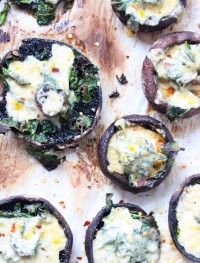 Kale stuffed portobello mushrooms
Yield: 4 servings
Total Time: 20 minutes
Ingredients:
8 large portobello mushrooms
6 oz fresh kale
8 sliced of preferred cheese
2 tbsp extra virgin olive oil
Directions:
Preheat your oven to 375 F.
Place mushrooms, bottom side up, in a baking sheet. Drizzle the olive oil over the portobello mushrooms. Bake for 10 minutes. Take the mushrooms out and add fresh kale and a slice of cheese to each one.
Bake for another 2-3 minutes or until the cheese is melted and bubbles. You can also use your broiler. I did for the last minute to brown the tops a little bit.
Note: You can also add some feta cheese and sun dried tomatoes with the kale.