kale goat cheese pizza
I am in love with kale lately and this kale goat cheese pizza is the best thing I have came up with in a long time.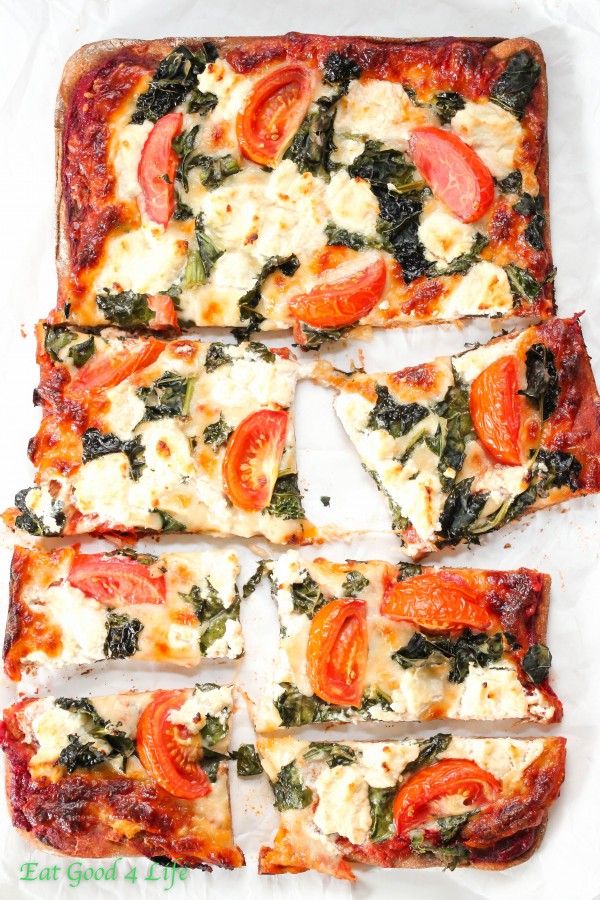 At last a new post…boy is school kicking my behind…I hardly got time to breath these days!!
This is the first time I have used fresh kale and fresh tomatoes to make pizza, and oh boy, for sure it is not going to be my last. I just love how this kale goat cheese pizza turned out. My kids even loved it.
I actually used my normal baking cookie sheets instead of the pizza stone and the dough turn out perfect if not better. I was really pleased with the results to say the least.
I normally get my pizza dough already made from Trader Joes as they have whole wheat pizza dough in the cheese section. You can also make your own but I have found out that this is a much quicker method for me nowadays that I am so busy.
There are endless variations for making pizza and for sure I am going to start experimenting much more. My kids love pizza so I am going to take advantage and loaded up with veggies and get creative with it.
Well I hope you like this kale goat cheese pizza. It is nothing but delicious and super tasty.
Enjoy!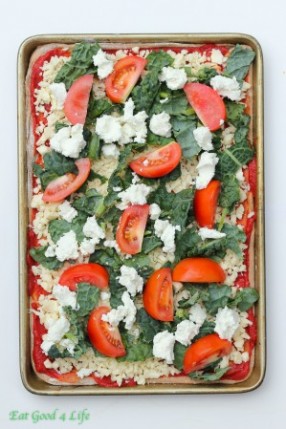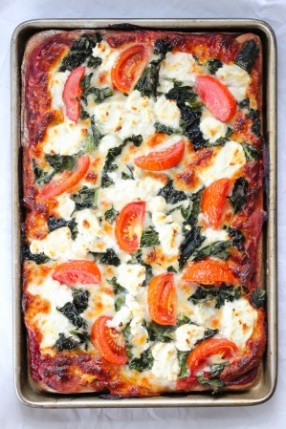 This is the before and after baking the pizza. My took about 20 minutes. After 15 minutes just keep an eye on it. Baking time might be slightly different for you depending on the oven.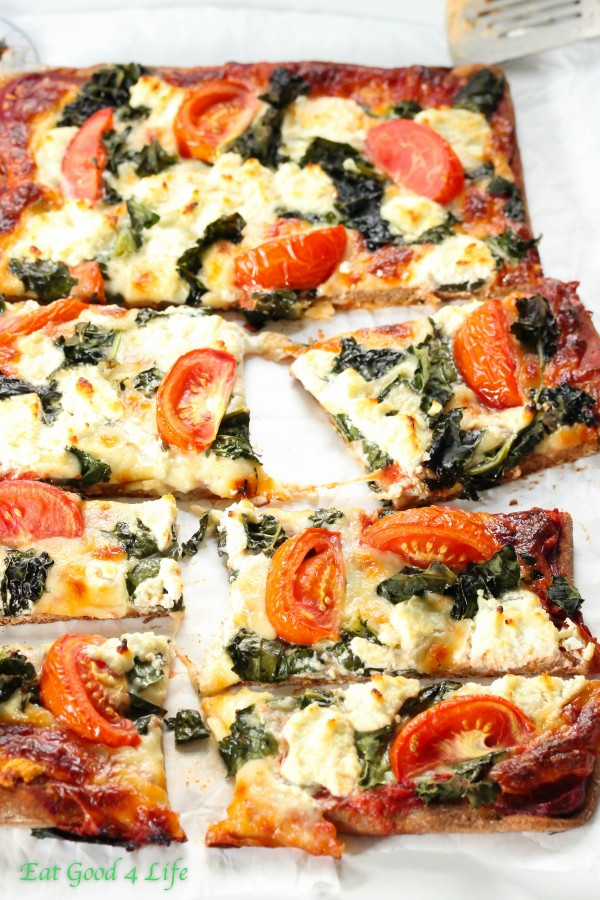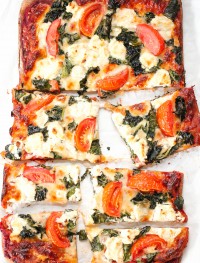 kale goat cheese pizza
Yield: 12 slices
Total Time: 25 minutes
Ingredients:
3 cups fresh kale, chopped
5 oz goat cheese
2-3 tomatoes, quartered
2 lbs mozzarella cheese, shredded
2 prepared whole wheat pizza dough, or store bought
1 lb tomato sauce, any favorite kind
Directions:
Preheat your oven to 400F.
On a flat surface, like your kitchen counter, place some whole wheat flour to prevent the dough from sticking. Roll out your pizza dough with a rolling pin in a rectangular shape and place the pizza dough onto the the rectangular baking cookie sheet making sure you reach the edges. My cookie sheet dimensions were 16.5 x 11.38 x 1 inches. Repeat this with the second pizza dough.
Divide the sauce among the two pizzas making sure to spread the sauce to the edges. Divide the shredded mozzarella cheese between the two pizzas and top with the chopped kale and tomatoes followed by the goat cheese.
Bake the pizzas in the preheated oven for 16-18 minutes. When baked, top the pizzas with some chopped red pepper flakes if desired.