Kale cauliflower salad
Even though yesterday was Thanksgiving, which involves plenty of eating, my family and I did pretty good. I just made a kale salad, veggie rice spring rolls, a chicken recipe and my favorite bourbon pecan bars. Not too bad I thought so having this kale cauliflower salad the following day was just perfect!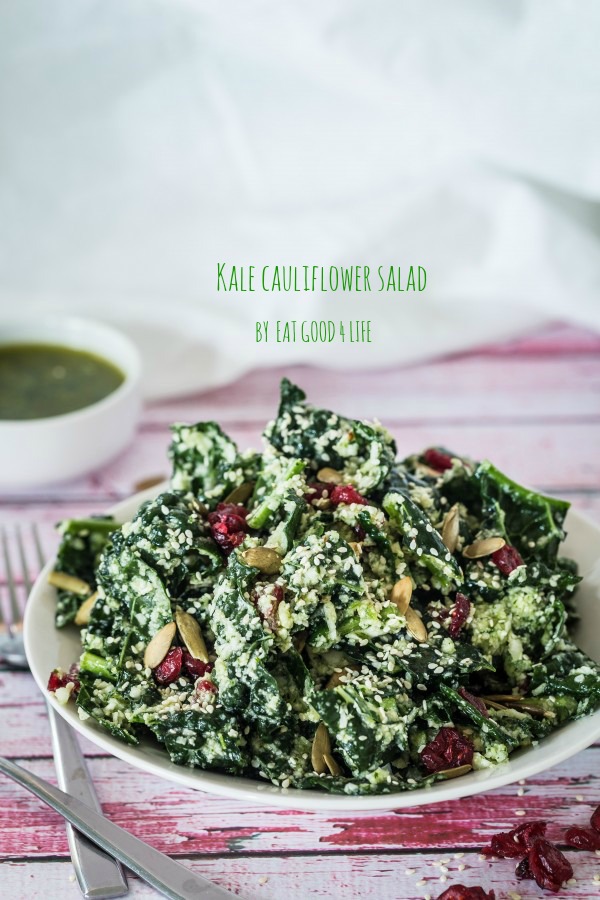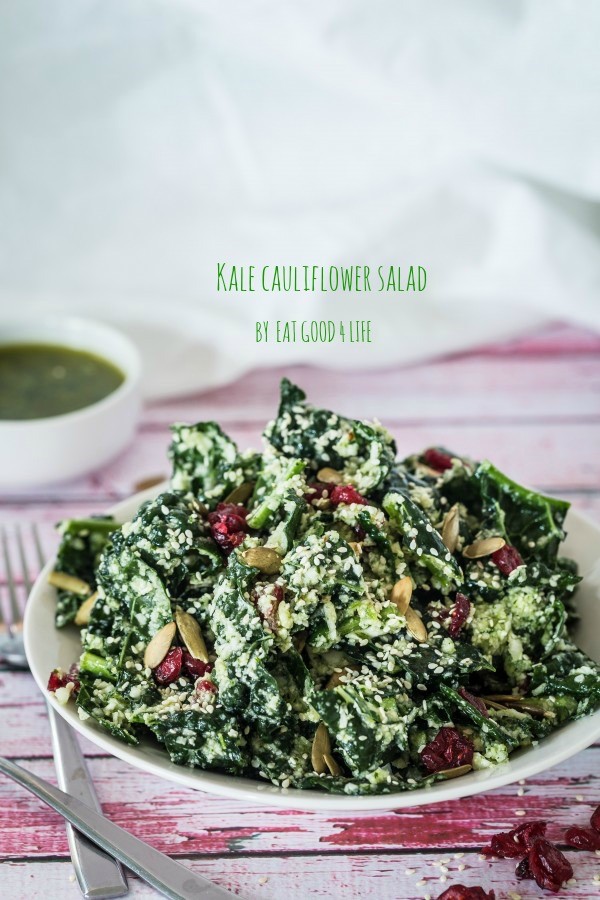 I have actually make this kale cauliflower salad twice this week. I made double the batch for salad dressing so it really only took me 10 minutes to put it together. It is just so delicious!
I love kale and lucky for me it is readily available where I live. I minced the cauliflower in my food processor and made it into cauliflower rice, or more like, pulverized cauliflower. I have done the same thing with broccoli before. They both work really good when it comes to use it for salads.
The mixture of kale and cauliflower using this cauliflower rice method was nothing but superb. Even my kids liked it.
For the salad dressing you can pretty much use anything you like. I decided to make a cilantro parmesan dressing this time around to change things up a bit but any type of dressing will work.
I hope you had fun with friends and family this Thanksgiving. Christmas is right around the corner so I will try to make some healthier Christmas recipes for you this year. Stay tuned…
Enjoy!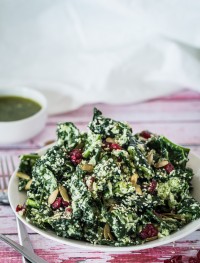 Kale cauliflower salad
Yield: 6 servings
Total Time: 15 minutes
Ingredients:
10 oz fresh kale
1 head of fresh cauliflower
1/3 cup dried cranberries
1/4 cup pumpkin seeds
2 tbsp sesame seeds
Salad Dressing
Directions:
Cut cauliflower head into small chunks and place it in your food processor. Pulse until the cauliflower is pulverized. In a large bowl add the fresh kale, pulverized cauliflower, cranberries, pumpkin seeds and sesame seeds and set aside.
Add salad dressing ingredients to your food processor and pulse until you obtain a homogenous liquid mixture. Taste and adjust to taste. Transfer mixture to a salad dressing shaker or any other jar of your choice. Pour dressing over the kale and toss to combine. Allow the salad to sit for at least 15-20 minutes to make sure the kale softens.
NOTE: Once the cauliflower is pulverized you can cook it in the microwave for 3 minutes if you like. I didn't.