Kahlua and Dark Chocolate Fudge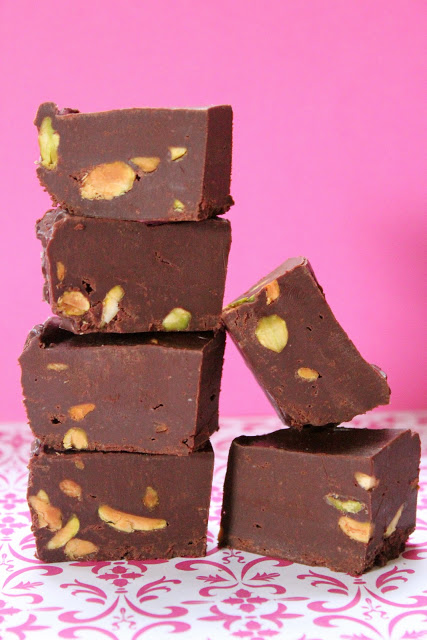 Right before Christmas I made Irish cream and pistachio fudge which made it to my Christmas goodie bag. It was a real success so I figured I had to make another batch. We didn't get to enjoy the Irish cream batch because I had to give it all away to family and friends so we really had to have it again. This time I made it with dark chocolate and a different type of liquor.
The Irish cream fudge used white chocolate which is the chocolate that is highest in fat and sugar so the texture was slightly different nevertheless the dark chocolate and Kahlua fudge was also fantastic.
You can use another type of liquor, nuts or even use bittersweet chocolate if you prefer. You can get creative and make your own version. I am pretty much using the Irish cream and pistachio fudge as my master recipe.
Anyhow if you get to make this I hope you enjoy it!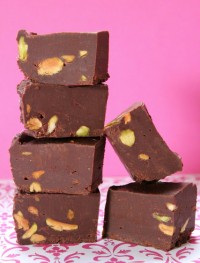 Kahlua and Dark Chocolate Fudge
Ingredients:
36 oz dark chocolate chips, I always use the Ghirardelli brand, 3 bags
1 can sweetened condensed milk, I use organic
1/2 cup Kahlua liquor plus 3-4 tablespoons
1/3-1/2 cup raw pistachios
Directions:
Line a 8x8 square baking pan with tin foil and lightly grease it.
In a medium sauce pan, on low heat, combine all of the ingredients except pistachios. Stir constantly until chocolate has almost melted.
Turn off heat and continue stirring until chocolate is completely melted. Add pistachios and pour evenly into prepared pan. Let cool until set, remove foil and cut into small squares.
I store the fudge in an air tight container for up to two weeks.
NOTE: You can use baking bars instead of chocolate chips as the content of fat and sugar is different and you will obtain a better result. The only downside is that they are more expensive since you will need 36 ounces. For me the chocolate chips worked fine :-)