Jamie's food revolution blog of the month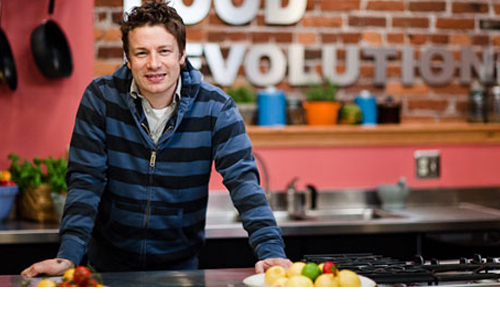 Hi there!!
For those that follow and visit my blog on a regular basis I just wanted to let you know that my blog Eat Good 4 Life has made it on the Jamie's Food Revolution cite as one of the food blogs of the month. 
I am extremely honored, happy, grateful, surprise, excited and the list goes on…
For having the blog up and running for just 5 months it is quite an accomplishment, or at least it is for me, since I have very little spare time to dedicate to things that I love. Parents out there know what I am talking about :-), especially for those with newborns like in my case.
Anyhow, I have been following Jamie for the longest time. Not just since he came over to the US for his food revolution campaign, but prior when he was in the food network. He is pretty much one of my idols :-)
I have come to learn that the new season of Jamie's Food Revolution will start filming in LA at the beginning of next year. I really can't wait to see the new season. Hopefully him and his team will get to accomplish great things on the west coast and spread the word for healthy eating at schools all around the US and the world .
You go Jamie!
Mentioned:
Article at GLAMOUR magazine for my Spinach and Strawberry smoothie.
Article on CNN for National Chocolate Parfait Day with my Peanut Butter and Chocolate Parfait.