Jamie Oliver's tray baked salmon with veggies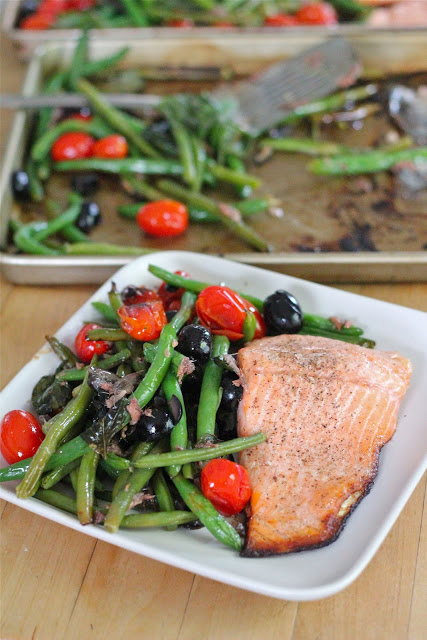 Do you want to make something that is easy, nutritious, and super tasty? Look no further….this is the very famous Jamie Oliver's tray baked salmon that takes no time to put together and is always a super hit.
I find that a lot of people don't like anchovies. However, in this dish the anchovies disintegrate and give the veggie mixture a nice salty taste, like as though you are using a really high quality salt or something!! Try it at least once and you would see what I mean. My kids ate it so I guess the anchovy taste couldn't be that bad!!
Jamie Oliver is my ultimate favorite chef in the entire world. Not only because of his super cute accent, and outgoing personality, but because of his easy and versatile style in the kitchen. I love the fact that he concentrates on cooking simple, tasty and healthy dishes that can be recreated by anyone. No fancy techniques, equipment or ingredients of any kind, my kind of cooking!!
…and lets not forget what he has been trying to do here for the longest time. He started his healthy food journey in the U.K and ventured to try it here in the US. Where a better place than here really? After all, the US, believe it or not, EAT THE CHEAPEST FOOD IN THE WORLD. This is a fact. I am not making this up!!
Anyhow, let me end it here because I could go on forever talking about this subject.
This fish recipe is one of my ultimate favorite meals. It is tasty, simple and super nutritious so I hope you get to try it sometime soon.
Enjoy!!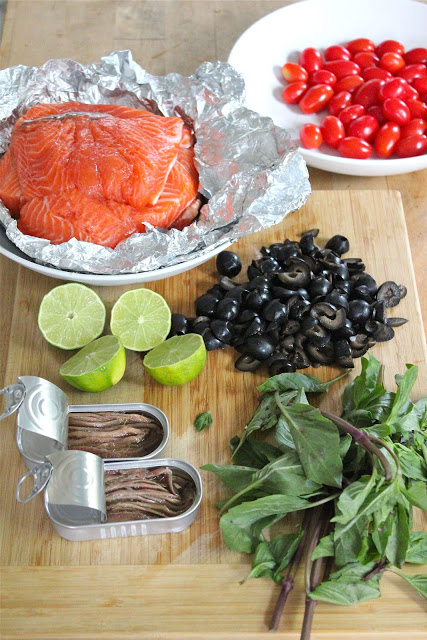 Here you can see some of the ingredients that were ready. The beans were being steamed on a pot :-) but you get the point right? I actually used Thai basil which is what I had on had.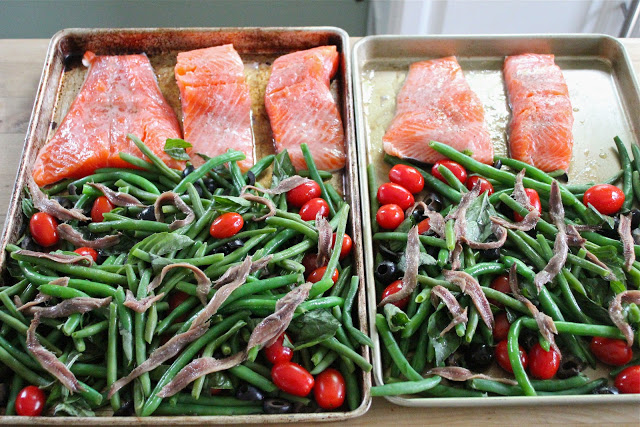 So you put all of the ingredients in a baking tray and you are good to go. Next time I will use foil paper to wrap the baking trays in with, this way I won't have to clean all of the mess. It really got messy!!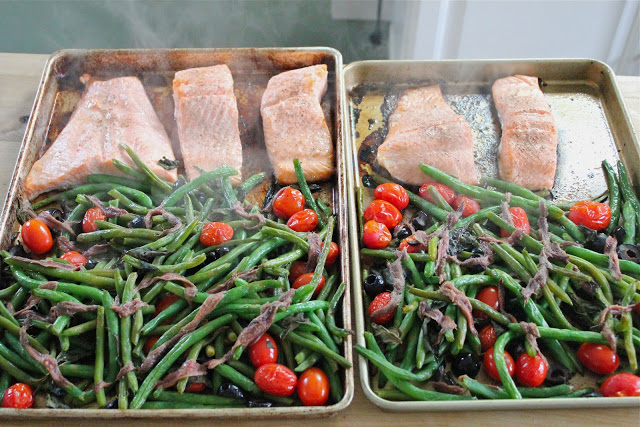 ….and here you can see the final result. In just about 12 baking minutes I had a super duper dinner for 5 people.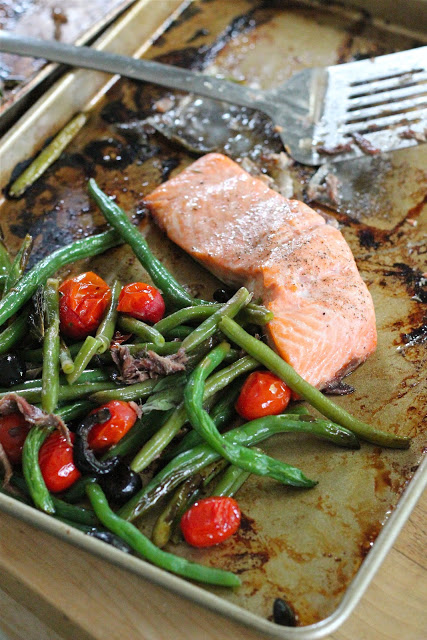 This is one of my favorite fish recipes ever. Why haven't I posted this before? NO IDEA, but now I have :-) and you should truly give it a go because this is just sensational.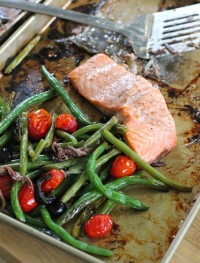 Jamie Oliver's tray baked salmond with veggies
Ingredients:
1 lb fresh green beans
10 oz small cherry tomatoes
6 oz can black olives, chopped
4 tablespoons olive oil
2 2 oz cans anchovy fillets
5 thick salmon fillet steaks, with or without skin
2 lemons
1 handful fresh basil.
Directions:
Preheat oven to 500F. Tail the green beans, blanch them until tender in boiling water, and drain. Put them a large mixing bowl with the cherry tomatoes, basil and the olives. Toss in the olive oil.
Give the salmon fillets a quick wash and pat dry with kitchen paper towels. Place salmon at one end of a roasting tray or baking pan. Squeeze the juice of 1/2 a lemon over the fillets on both sides and season with salt and pepper. Drizzle a little olive oil over the top.
Toss the green bean mixture on the other end of the tray. Lay the anchovies over the green beans. Roast in the preheated oven for 12-15 minutes. Remove from the oven and serve with lemon quarters.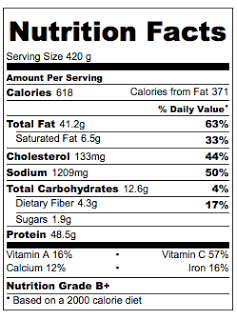 Nutrition facts calculated based on the recipe giving 5 servings. This is high in selenium, niacin, vitamin B12, and B6