Jalapeno and Cheese Corn Bread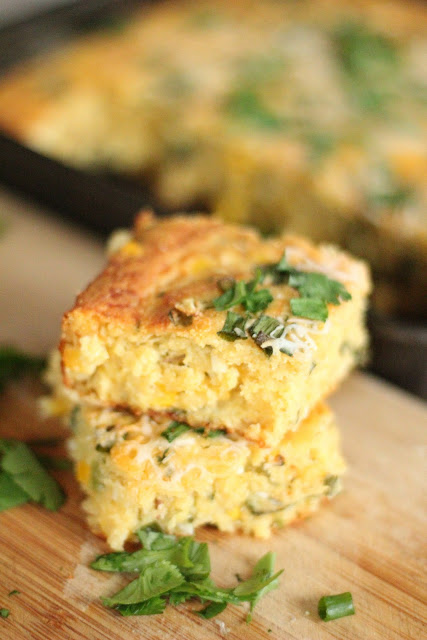 I have never made corn bread before and for sure it will not be the last. I actually turned this bread into something really awesome, as I have tried other corn breads and found them to be very plain and tasteless.
This is, I guess, not your typical corn bread but nevertheless I think it is better!!
My husband really likes it and he is from the south so I guess that means something.
Once again you can omit or replace any ingredient you like and make your own cornbread combination. Like me, I was suppose to use the jalapenos, but in the last minute I decided to omit since my son wouldn't have eaten the corn bread due to being spicy :-(
Enjoy!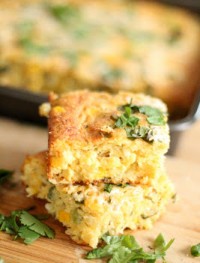 Jalapeno and Cheese Corn Bread
Ingredients:
1 1/4 cups stone ground yellow corn meal
1/2 cup whole wheat pastry flour
1 tablespoon baking powder
1 teaspoon salt
1/4 cup scallions, chopped, reserve 1 tablespoon for sprinkling
1/4 cup fresh cilantro, chopped
2-3 jalapeno, chopped
2 small garlic clove, peeled and finely minced
1 cup corn kernels, I get mine in a can
1 cup plain yogurt
1/4 cup low fat milk
1 egg
1/4 - 1/2 cup shredded sharp cheddar cheese, plus 2 tbsp
1/4 cup olive oil
Directions:
Preheat oven to 350F. Grease and flour a 8x8 inch square pan.
In a mixing bowl, with a wire whisk, mix egg, milk, yogurt, and olive oil. Add cheese, corn, jalapenos, garlic, coriander and combine.
Add flour, corn meal, baking powder and salt and combine with rubber spatula. Pour mixture into prepared pan and sprinkle with half the chopped scallions.
Bake for 35-40 minutes. Last 5 minutes of baking sprinkle remaining cheddar cheese and extra scallions over the top of the corn bread and place back in the oven.