Individual Oreo cheecakes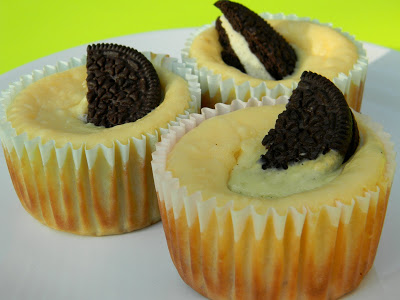 So yesterday I experimented with my old cheesecake recipe. We love Oreo cookies, the healthy version of Oreo cookies that is, from Trader Joe's. So what I did was instead of making the casual big cheesecake I opted for little individual ones. I like this better. For this version there is no crust mixing or anything since I use an Oreo for the crust.
For the cheese I used low fat cream cheese, even though they say not to switch to low fat version when it comes to cheesecake, it worked well for us. For the eggs we always use organic, much better taste and better for you since they do not have the hormones and antibiotics they like to give chickens :-). Hope you try this recipe, it is not hard to do at all.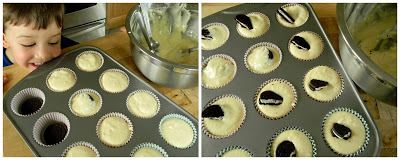 This is how the batter looks like before placing in the oven. Make sure that the cheese and eggs are at room temperature so that when whisking they combine easily. You can have half of the Oreo cookie as decoration before you bake or not. It is up to you, or maybe you can come up with something else :-)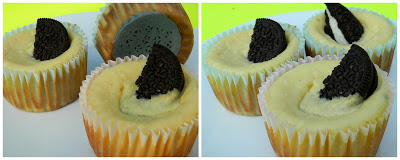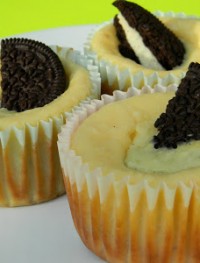 Individual Oreo cheecakes
Ingredients:
For the crust
18- 26 oreo cookies, trans fat free
For the filling
24 ounces, 3 packages of reduced fat cream cheese
1 cup of sugar
1 tablespoon of vanilla extract
3 eggs
Directions:
Heat oven to 325°F. Place muffins covers in a muffin pan. Place one oreo cookie on each muffin liner. This will work as the crust for each individual cheesecake.In large bowl beat cream cheese until smooth. Beat in the sugar and vanilla and at low speed incorporate the eggs. Blend until smooth.Pour batter into each individual muffin pan.
Cut oreos in half and decorate each individual cheesecake with them like in the picture. Bake at 325F for 30 to 40 minutes or until set. Turn oven off and and open oven door at least 4 inches. Let cheesecakes set in the oven for about 15 minutes. Remove from oven and transfer cheesecakes to a wire rack to cool before placing in the fridge. Refrigerate for at least 4 hours