Whole Wheat Blueberry Crumble Cake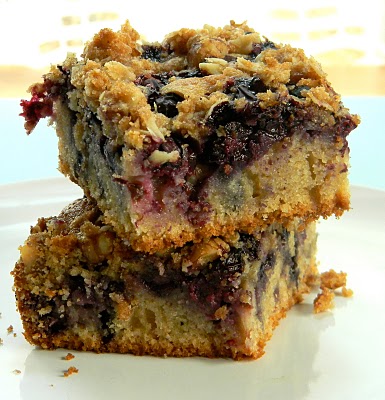 I just made this crumble cake for the first time. A keeper. I was not sure if it would be good because the batter was kind of liquidy but after baking it it turned out perfect. With ice cream is even better. You can also use different nuts and fruit topping for this cake. Very easy and a little bit better for you with the whole wheat flour. I am sure you could modify the recipe and use other type of flours such oat and barley as well.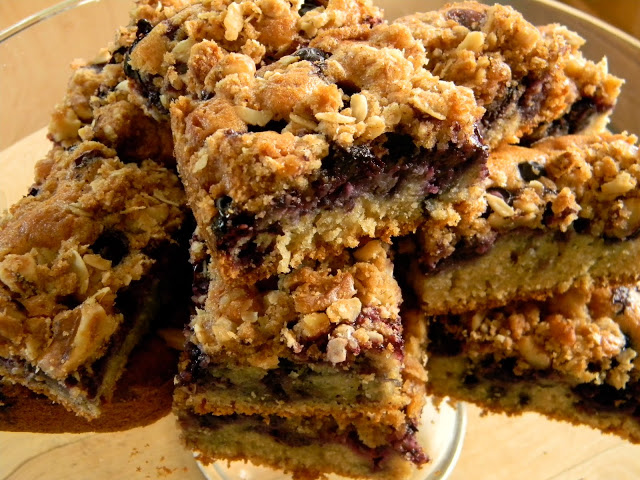 This is how the cake looked like after taking it out of the oven.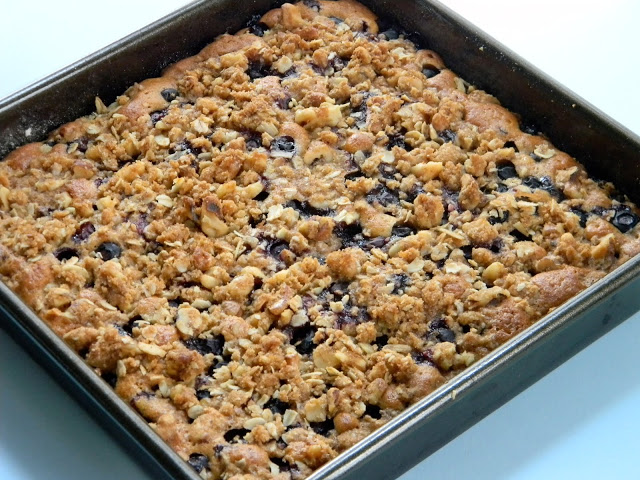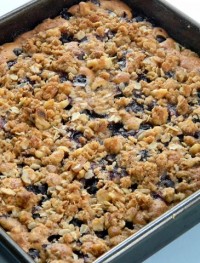 Whole wheat blueberry crumble
Ingredients:
Topping
2 tablespoons of unsalted butter
1/4 cup brown sugar
1/4 cup chopped walnuts
1/4 cup old fashion oats
1 cup fresh blueberries
Batter
1 egg
1/4 cup olive oil
1/2 cup sugar
1 cup fat free milk
1 teaspoon vanilla extract
1 1/2 cup whole wheat pastry flour
1/2 teaspoon baking powder
1/4 teaspoon baking soda
Pinch of nutmeg
Pinch of cinnamon
Directions:
Preheat oven to 350F. Grease and flour dust an 8 inch square baking pan. In a bowl mix topping ingredients except blueberries and set aside.
In another bowl mix egg, oil, vanilla, milk and sugar. Beat until combined. I use a regular whisk. Add flour, baking soda, baking powder, nutmeg and cinnamon. Beat until combine. Pour batter into prepared pan and spread evenly. Scatter fresh blueberries over the top and sprinkle topping over the berries. Bake for 45-55 minutes. Transfer to a wire rack and cool for 15 minutes. Cut into squares and serve. Enjoy
TIP: Adding cinnamon to the crumble topping (like one of my followers suggested) makes a nice flavor addition to this recipe so if you like cinnamon I highly suggest adding it :-)
Thanks for the comment Patti!