Honey Cream Caramels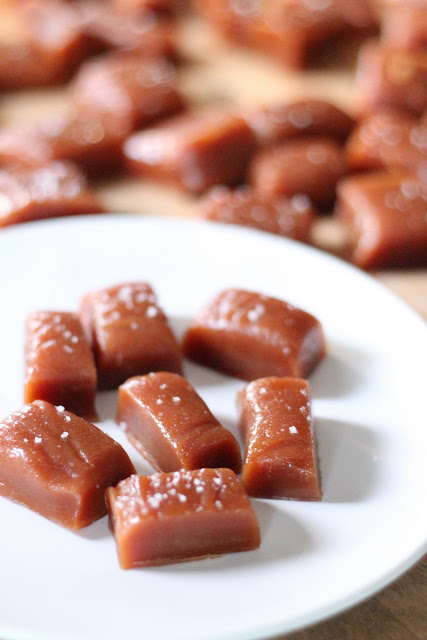 Here is the recipe I promised yesterday. I have never made caramels before, well besides trying last week without a candy thermometer, crazy right?
Well I just made these and the end result was superb. I just cooked it over the firm stage for a few minutes because my daughter feel asleep while I was in the middle of the caramel making and couldn't get to it sooner :-(. Nevertheless we are enjoying them.
The honey hint flavor in these caramels its just unbelievable, I love them. I am going to make them again but next time I am going to try them with chocolate instead of honey. Will see how that goes.
When you make the caramels you are going to need a lot of patients. I doubled the recipe so for me it took even longer to reach the desired firm ball stage, worth the time though. Just make sure you attend the mixture from time to time and that you also stir it from time to time.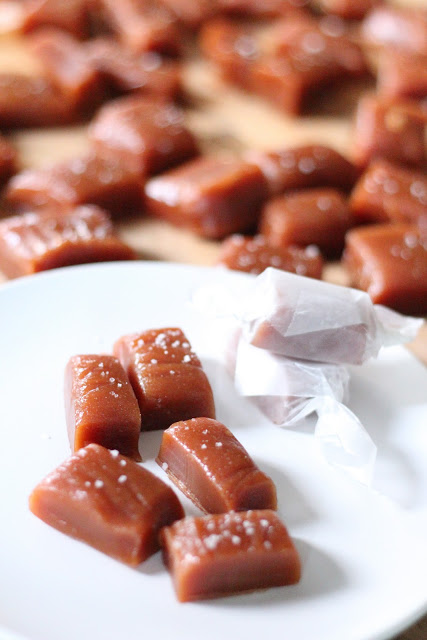 Here you can see that I wrapped some of the caramels with wax paper. They will last about 2 weeks stored on an air tight container.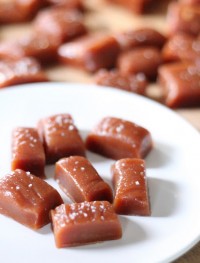 Honey Cream Caramels
Ingredients:
Ingredients:
2 cups heavy cream
1/2 cup honey
2 1/3 cup sugar
3/4 cup light corn syrup
1 tablespoon butter
1 teaspoon vanilla extract
1/2 teaspoon fleur de sel (optional)
Directions:
Line and butter with parchment paper a square pan and set aside.
In a large pan over medium heat combine all ingredients except the vanilla. Cook stirring occasionally until mixture reaches 250F (firm ball stage).
Remove from heat and stir in vanilla. Pour caramel into the prepared pan and set aside. After 30 minutes have gone by sprinkle some fleur the sel if using.
When firm loosen the edges of the pan with a buttered knife and peel of parchment paper. Turn onto a clean surface and cut into squares. ( I used both a pizza cutter and a knife). Wrap each square in wax paper. Keep them on an air tight container.