Honey and Lemon Scones: Round 2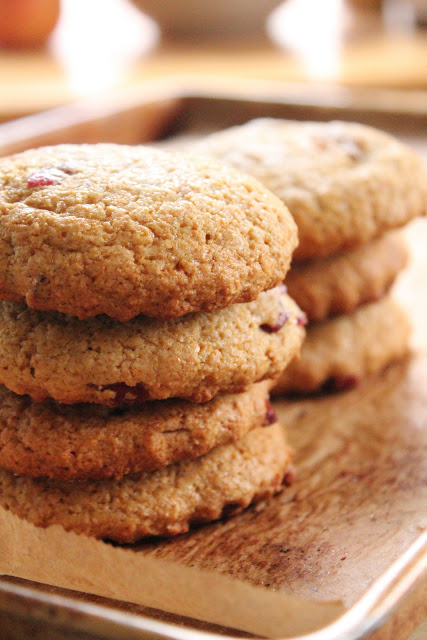 This is my second time making scones without using my ultimate UK recipe. I want to really get another scone recipe that is totally different from my old one :-)
Anyhow, I actually liked this scone recipe better than the whole wheat cranberry scones I made a while back. This one held better, and also tasted better. The lemon and honey really gave it that unique and refreshing taste that I like.
However, what was the problem? Well as you can see these scones look rather flat, scones are suppose to be thicker and to tell you the truth I just simple didn't roll out the dough thick enough, how annoying because I was really expecting the scones to rise :-(
Anyhow, round 3 I hope to get it right. I really don't know why scones are posing such a challenge, they are suppose to be simple right? I will just have to say that if you try this recipe, which is very tasty, just make sure you roll out the dough much thinker than I did
I am determined to get this right so stay tuned :-)
Enjoy!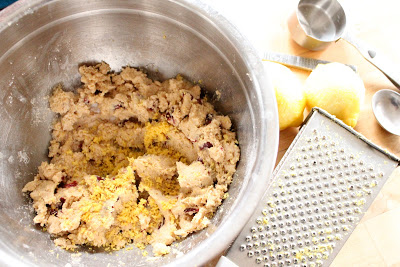 Here you can appreciate the dough mixed up and just about to mix in the lemon zest.
Here you can appreciate the roll up dough which in my opinion I rolled out to thin!!
My son helped with the mixing of the dough. He loves baking, I guess that is a good thing :-)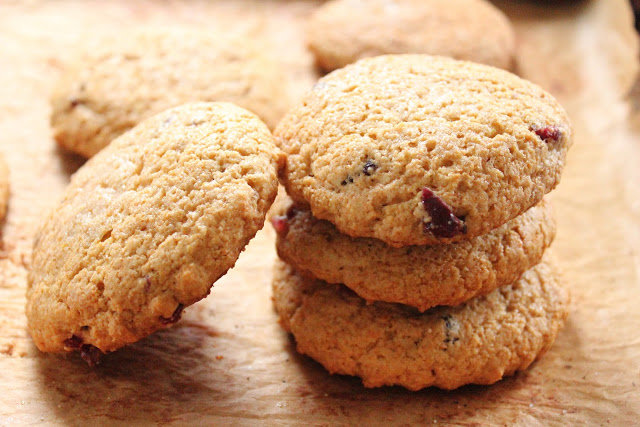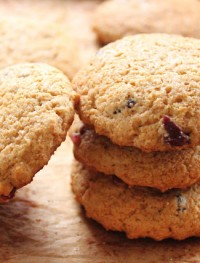 Honey and Lemon Scones: Round 2
Ingredients:
1 1/2 cups  whole wheat pastry flour
1/3 cup low fat milk
6 tablespoons butter, cold
4 tablespoons honey
4 tablespoons sugar
2 teaspoon baking powder
1/2 teaspoon baking soda
Zest of two lemons
1/4 cup dry cranberries
Topping:
3 tablespoons low fat milk
2 tablespoons sugar
Directions:
Preheat oven to 425 F. Prepare baking pans with parchment paper.
Using your fingers mix together dry ingredients with the butter until it resembles fine breadcrumbs.
Add milk, honey, zest and cranberries. Blend together. Shape into a round or square and cut into desired shapes using cookie cutters or a knife. (Make sure that you roll the dough thick enough, I didn't)
Brush each scone with milk and sprinkle with sugar. (If you don't have a brush you can use your fingers, I have done that before)
Place on baking sheets and bake for 13-15 minutes or until golden brown.