Homemade Mango fruit roll-ups
I have never made my own fruit roll-ups but after making my own Mango fruit roll-ups I know this will not be my last time.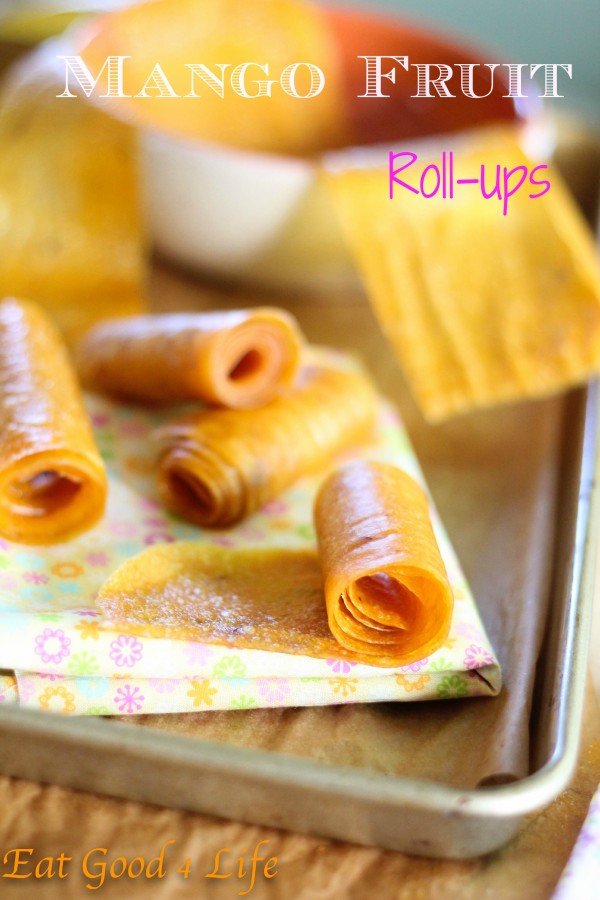 This is the first time I have made mango fruit roll-ups. While my first time was a total disaster the second time around it was much better. I think I still have much to improve but at least the second time I was able to be roll the mango up and store it.
The first time around I made these Mango fruit roll-ups, even though I baked the Mango for almost 4 hours, it was still wet at some places and over dehydrated at others. Don't get me wrong, they were yummy, but I was not able to roll them up or anything.
If you are going to make these fruit roll-ups there are two important pieces of information I found that helped me on my second batch.
Make sure that the mangoes you use are not too ripe and juicy. Dehydration is the process of removing water so essentially that is what you are doing while baking the mango at low temperature. The more water you have in your fruit the longer it will take. You want the mangoes sort of ripe, but not too ripe :-)
Make sure you spread the fruit purée evenly throughout the baking sheet. You want to be able to have the fruit dehydrated equally all over. If you have thicker parts those will take longer to dehydrate while others will sort of become too crispy and unable to roll-up.
Times my vary in dehydrating your samples. The thicker it is the longer it will take. Mine took about 3 1/2 hours and I had them spread sort of thin.
OK, these are essentially my tips for making these mango fruit roll-ups. If I would have known them my first time around I think they would have come out fine. I guess is just trial and error.
My job making the mango puree was extremely easy with my new Blendtec blender. I must say that this is a really powerful piece of equipment. This blender works exceedingly well, it is easy to use, and easy to clean up. It has become indispensable in my kitchen and I think it will be in yours too.
With this blender I can make  any type of smoothies, whole juices, soups, nut milks, dressings, nut butters, sauces, salsas, dips, you name it. Each and every time I get a wonderful, creamy consistency, which lower end blenders just can ever deliver. One important feature I like with this blender is that you can walk away, and as the Blendtec blender will turn off automatically, you don't have to worry about it. Isn't that great?
Thanks to Blendtec I'm giving away one Designer Series Blendtec Blender and a bonus Twister jar (worth over $570.00) to one lucky Eat Good 4 Life reader.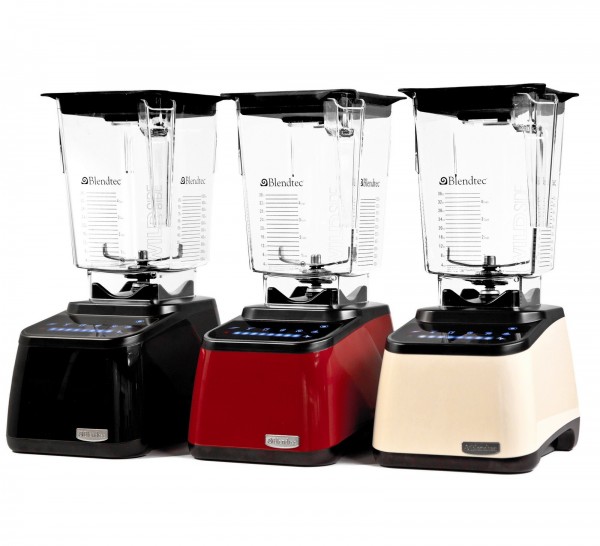 This blender together with the twister jar is worth over $570. The power of this machine its just insane. You will be able to blend anything on this in no time. The one and only blender you will ever need!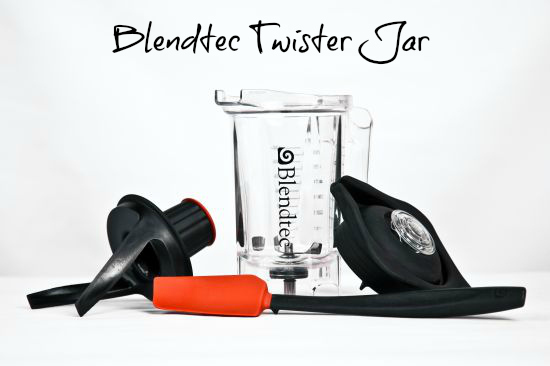 The twister jar is magnificent. It works great with thick, dense ingredients to be redirected into the center of the jar, allowing the blades to fully incorporate all the ingredients.  If you make nut butters this tool will be indispensable in your kitchen.
To enter the giveaway: CLOSED
You can do any or all of the following additional entries for a total of four entries. Just be sure to leave a separate comment for each entry. If you already do either one of the following, the entries still count!
Rules: CLOSED
Anyone that lives in the US can enter.
Entries must be submitted by Sunday, Sept 15th 12:00pm EST.
A winner will be randomly chosen.
The winner will have 48 hours to respond to my email or another winner will be chosen.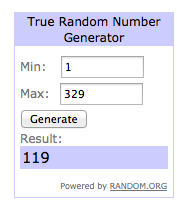 THE WINNER IS AMBER CAPPS-PLEASE EMAIL ME :-) Congratulations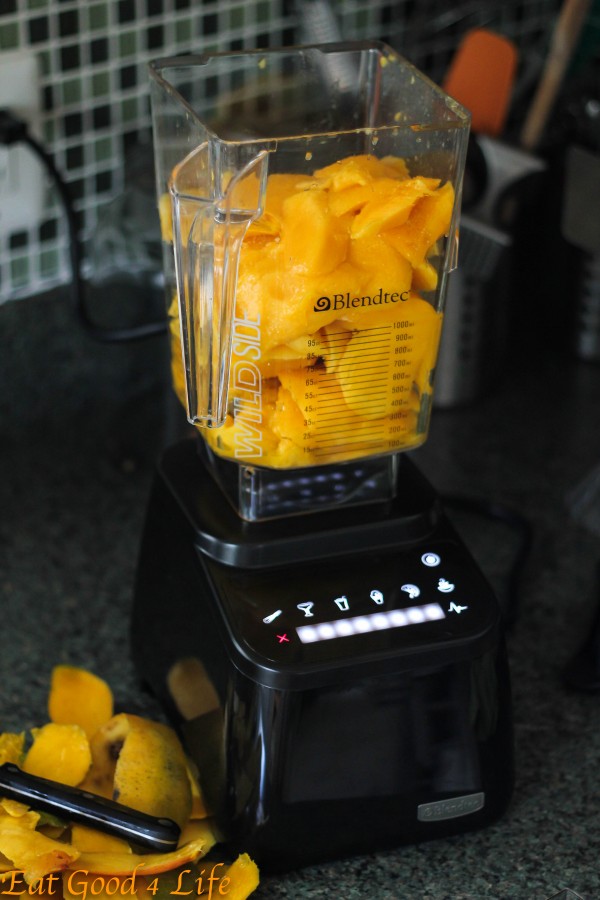 Add your ingredients to the blender and pulse until smooth. With this blender you need just about 5 seconds. The power of this machine is a whopping 1560 Watts of power. It is no joke :-)
Here you can see the mango puree. Just make sure you spread it evenly and not too thick. The thicker it is the longer it will take to dehydrate.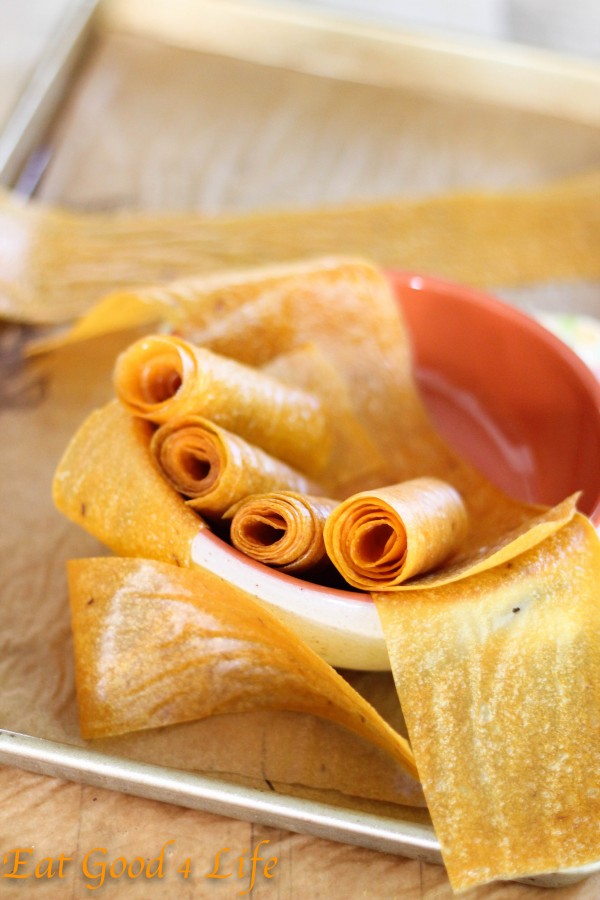 Disclaimer: This post is sponsored by Blendtec. This post contains affiliate links. Blendtec provided me with their Blendtec designer series to write this review and all opinions are my own. I speak from personal experience. The end :-)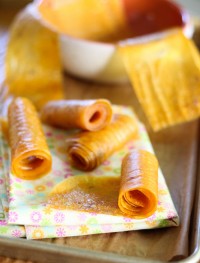 Homemade mango fruit roll-ups
Yield: 10-12 roll-ups
Total Time: 3-4 hours
Ingredients:
4 large fresh mangoes, chopped
Directions:
Preheat oven to 175 F. Line two baking sheets with unbleached parchment paper.
Purée the mango in a blender until smooth and divide the purée between the two baking sheets. With a angled spatula, spread the mango purée as flat and as evenly as possible.
Bake the mango purée for 3 to 4 hours. I baked mine for about 3 1/2 hours.
The fruit roll-ups will be done when the mango purée is dry to the touch and pliable.  Peel off the parchment paper. Cut the sheets into long strips and roll them up. You can store them in an air tight container for up to one week.
Recipe source Just a Taste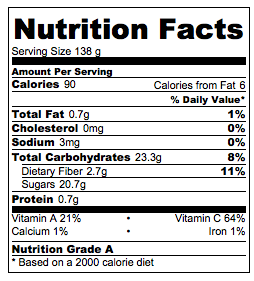 Nutrition facts calculated based on the recipe giving 6 servings. 1 serving = 2 roll-ups