Healthy peanut butter and Oreo ice cream.
I am just simply blown away at this Healthy peanut butter and Oreo ice cream. I can't believe how easy and delicious this ice cream actually tastes.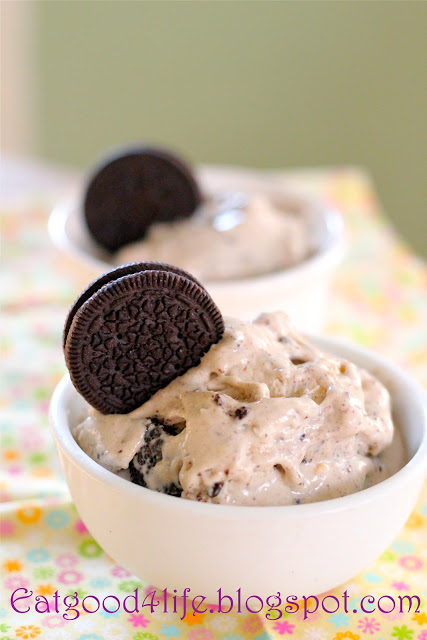 Ladies and gentlemen…drum roll please!!
This is the easiest, quickest, healthiest, and most awesome ice cream you will ever make, hands down!!
This is so easy, your kids could make it. The only thing you need is a food processor and you are on your way to this amazing treat. Just in case I have not said it enough, I really CAN'T live without my food processor!!
A few things to keep in mind when making this treat:
1. You will have to move the bananas 2 to 3 times in between since they are rock hard.
2. It will take about 3-4 minutes to get the desired consistency.
3. A little bit of the milk may get out of the food processor while is on.
It did on mine, but then again, I have a cheap food processor from Walmart so you may
not experience this.
4. You may add as many Oreos as you wish.
…and if you don't like the banana flavor that much, you can add some cocoa powder and chocolate extract to the mix!!

…or, how about a vanilla version? Vanilla Oreos, vanilla extract or even some of a vanilla bean!!
Anyhow, my Oreo cookies were from TJoe's, which don't have trans fats, however, they are quite sweet, remember, a little goes a long way!!
I have made other variations of this dessert that are also quite sensational. You will have to wait for those though. They are included in my e-book that I will release soon.
Well, no need to elaborate further. This is just a fantastic ice cream treat that you would have to try for yourself.
Here you can see the sort of middle product of the bananas being pureed plus the end product. It will take about 3-4 minutes in your food processor and you will have to stir the bananas in between.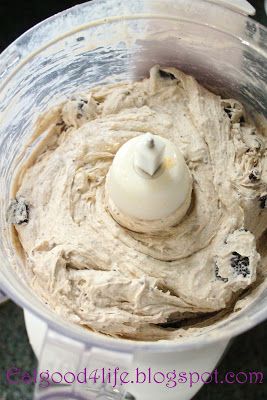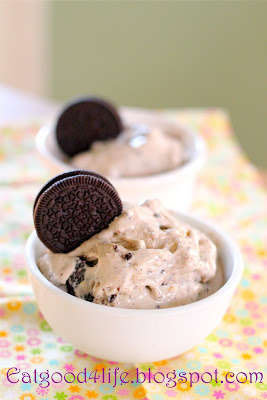 …and the end result. Just divine!! I have seen banana soft serve ice cream all over the internet but never cared to try it before. I am so glad I did. This is just GENIUS!!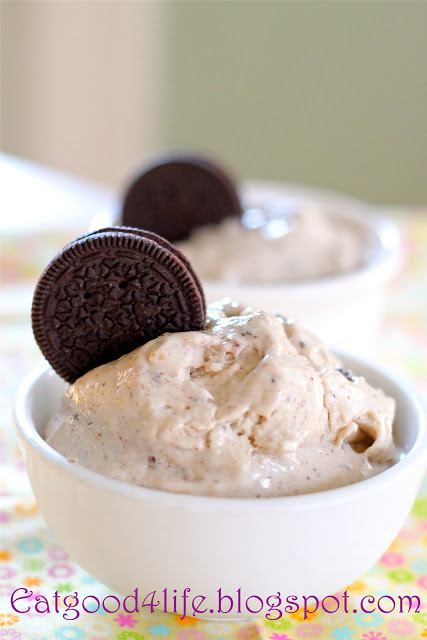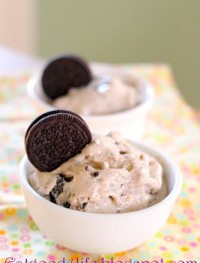 Healthy peanut butter and Oreo ice cream.
Yield: 4 servings
Total Time: 10 minutes
Ingredients:
3 bananas, ripe, frozen and cut into chunks
1/4 cup unsweetened soy milk + 1 tablespoon
2-3 tbs organic peanut butter
4-6 Oreos, be careful with the trans fats Oreo versions out there.
1 tsp cocoa powder, optional
1 tsp chocolate extract, optional
Directions:
In a food processor, add the chopped bananas, soy milk and peanut butter. If using the cocoa powder and chocolate extract you can add them here.
Blend and stop in between to move the bananas around as they may get stuck and stay in one side of the blender as they are rock hard!!
Pulse until you have a smooth consistency, like in the picture, and add the Oreos. Pulse for another 30 seconds or so. If you like Oreo chunks don't pulse for too long after adding the cookies.
Serve in pretty little glasses.
If you have any left over you can freeze and thaw for about 10 minutes before serving.
Recipe source chocolate and carrots
NOTE: You can use any other cookies of your choice.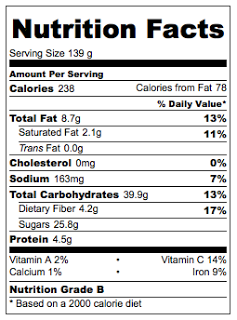 Nutrition facts calculated based on the recipe giving 4 servings.