Healthy cookie dough footballs
Football season is just upon us and these healthy cookie dough footballs are just perfect for fun football nights. My husband is a huge football fan, after all, he used to play college football. From time to time I get to make football theme food and today this is what I came up with.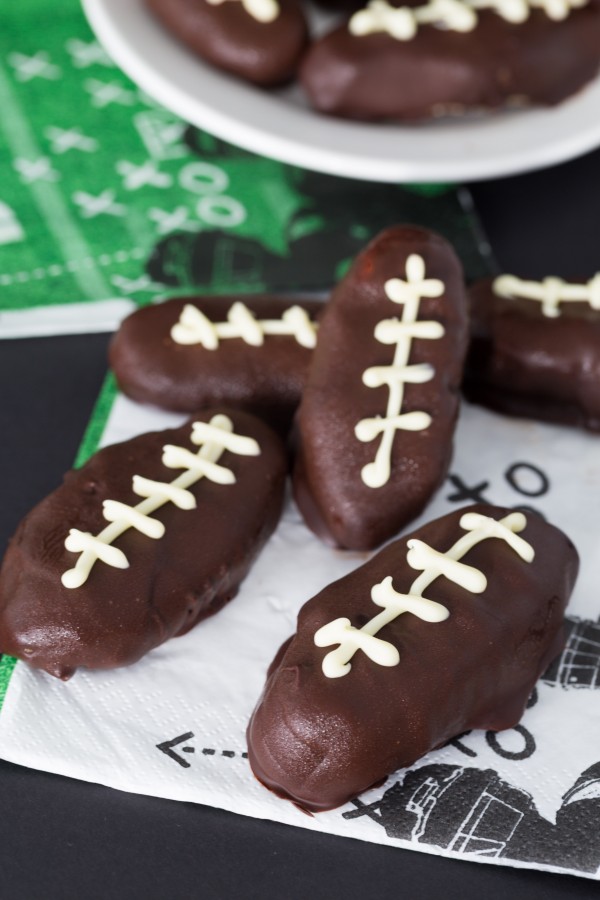 I am not much of a football fan myself but once in a while I will watch a game. I mean, don't ask me about any of the rules or anything but I will watch and enjoy myself watching with the boys. As a matter of fact, about 3 weeks ago, I actually went to my first tailgating party. It was a lot of fun but of course what I enjoyed the most was the food!
These healthy cookie dough footballs would have been perfect for that, as no one brought dessert. Not only these are gluten and dairy-free but these are actually good for you.
For these healthy cookie dough footballs I used unsweetened almond milk mostly because it is very neutral in flavor, has no added sugar, it is Non-GMO, and has no artificial colors, or flavors.
If you are a regular visitor of Eat Good 4 Life you pretty much know that most of my recipes are vegetarian, gluten-free and some vegan. These little things almost resemble that. Not bad at all!
If you would like to see more recipes that are meatless and dairy-free, especially for Monday football nights, visit Silk's page. There is also a giveaway so make sure you check that out too.
For this particular recipe, while you can use regular chocolate, I opted for using a vegan brand for those concerned with dairy. Also, the base of these healthy cookie dough footballs are made from chickpeas. I must say, these taste nothing like chickpeas, and no one will ever know there are chickpeas in here so trust me on this and give them a go. They are just plain delicious!
I hope you like this little creation. The perfect healthy dessert for Monday night football that it is gluten and dairy-free.
Enjoy!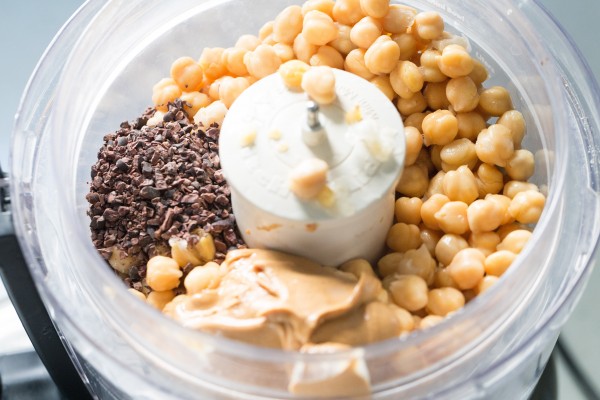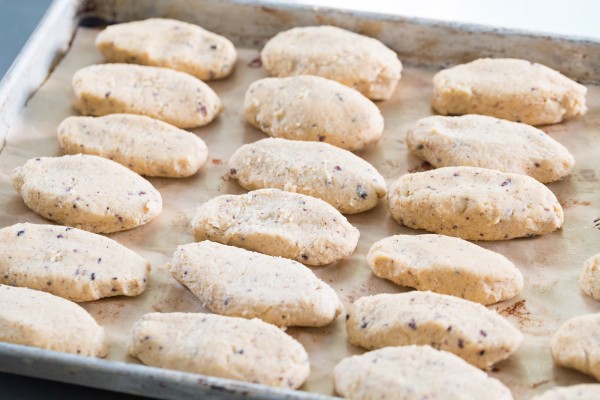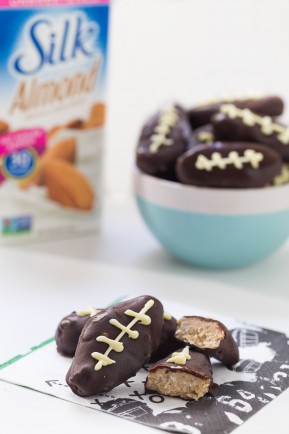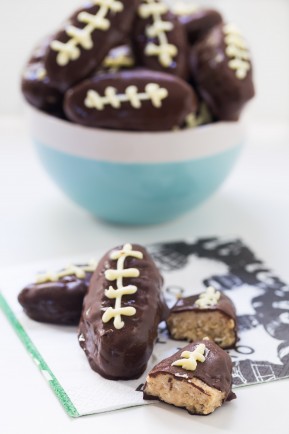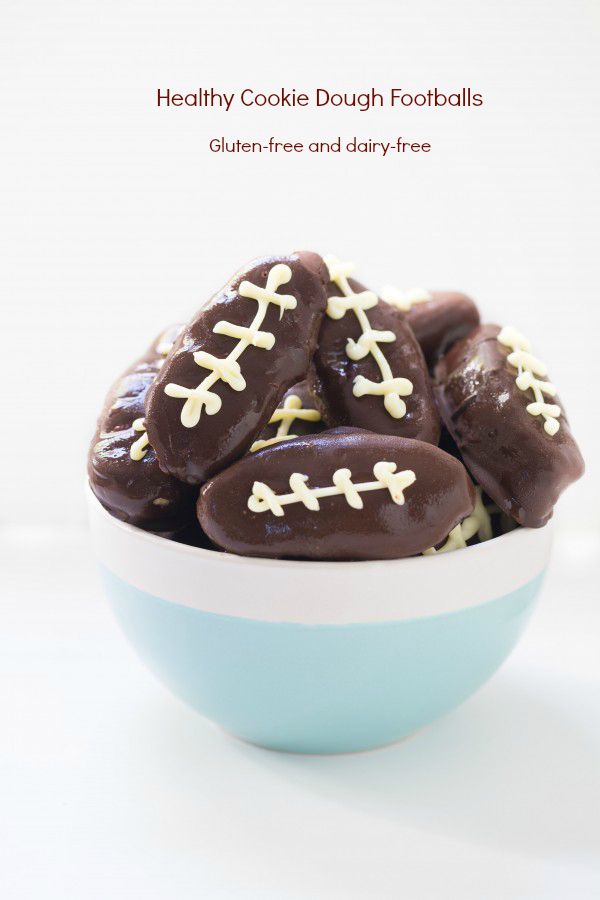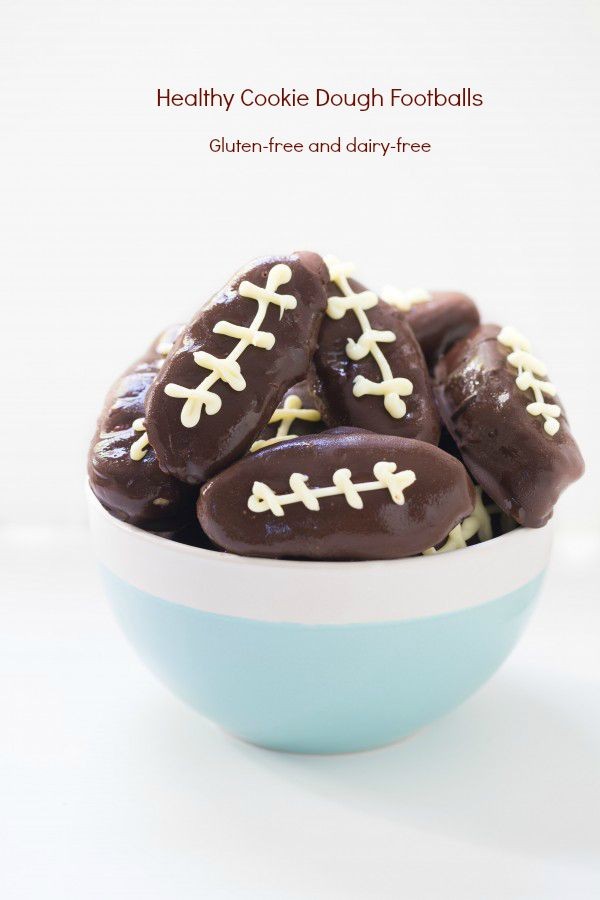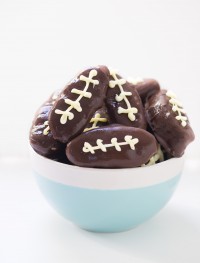 Healthy cookie dough footballs
Yield: 30-36 footballs
Total Time: 40 minutes
Ingredients:
Directions:
In your food processor place all the ingredients except the shredded coconut. Pulse until the mixture comes together.
Transfer mixture to a mixing bowl and add the shredded coconut. Mix with a spatula. If the mixture is to wet to form into oval shaped balls add an extra 1/2 cup of almond flour.
With your hands, form oval shape footballs and place on a parchment lined cookie sheet. Place in the freezer for 30 minutes. On the meantime, melt the dark chocolate and coconut oil in a microwave save bowl at 30 second intervals until completely melted.
Place one cookie dough football at a time into the melted chocolate and coat completely ( I do this step with a couple of forks) Transfer footballs to the prepared cookie sheet. Once all the cookie dough pieces are coated with chocolate place them back in the freezer for 10 minutes.
Melt the white chocolate and pipe onto the footballs to create a string. Keep footballs refrigerated.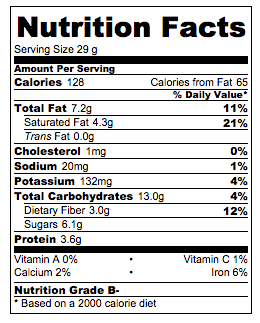 This conversation is sponsored by Silk. The opinions and text are all mine.