Healthier Halloween chocolate graveyard
Halloween is just around the corner and with that comes making Halloween treats for the kids. This Healthier Halloween chocolate graveyard was just perfect for the occasion and my kids thought it was the coolest thing ever. They couldn't even tell what secret ingredient was in it so a win win for me!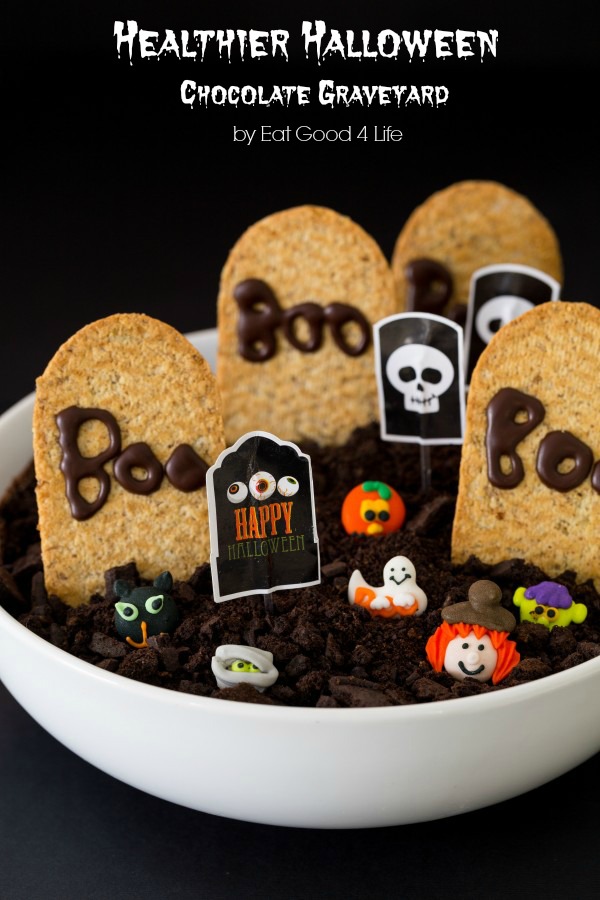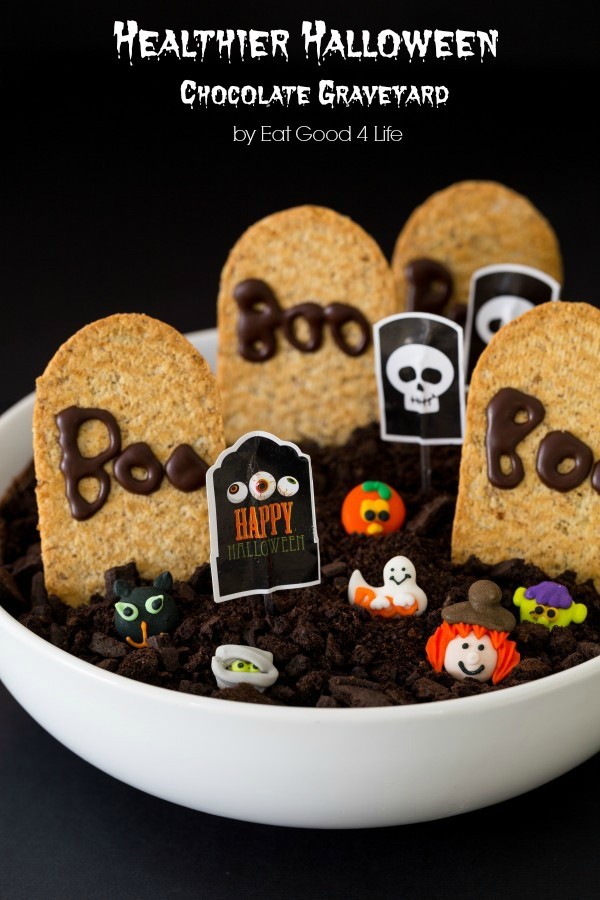 I want to make other Halloween treats, or at least one more before the end of the month and before it is too late. I think it is also going to be a chocolate theme dessert so stay tuned.
This healthier Halloween chocolate graveyard was made with tofu. You can make it with avocado if you don't like tofu but since this tastes nothing like tofu we didn't mind at all. With tofu the consistency of the dip is a bit thicker. I have tried it with avocado as well and the consistency is smoother.
Each are equally goo so choose which ever you like best.
An important note about making this recipe: Make sure that you drain the tofu. Just place the tofu in a plate. Place folded paper towels and a heavy book over the tofu and let it sit for 20 minutes. Water will drain to the plate.
I also used Oreo cookies you can get a Trader Joe's. These don't have trans fats and since they are too sweet for my liking I actually removed the filling.
As far as the candy to use to decorate the graveyard with you can use anything you like. I found these sugar Halloween decorations at the store so I thought they would look cute.
This Healthier Halloween chocolate graveyard is pretty simple to make. If you want to wow your kids or want to make something with them this Halloween this is the perfect recipe.
Enjoy!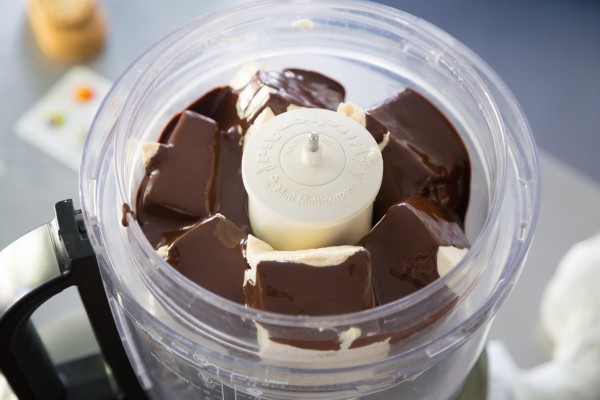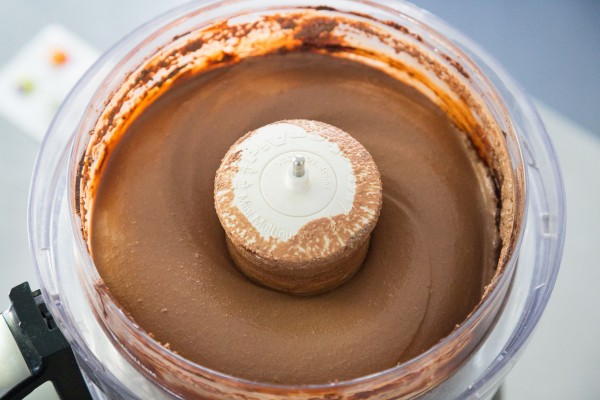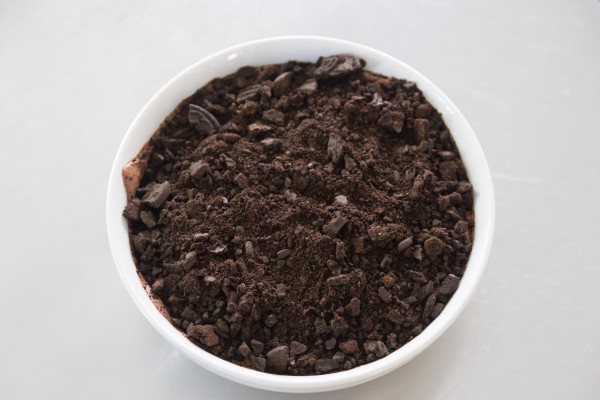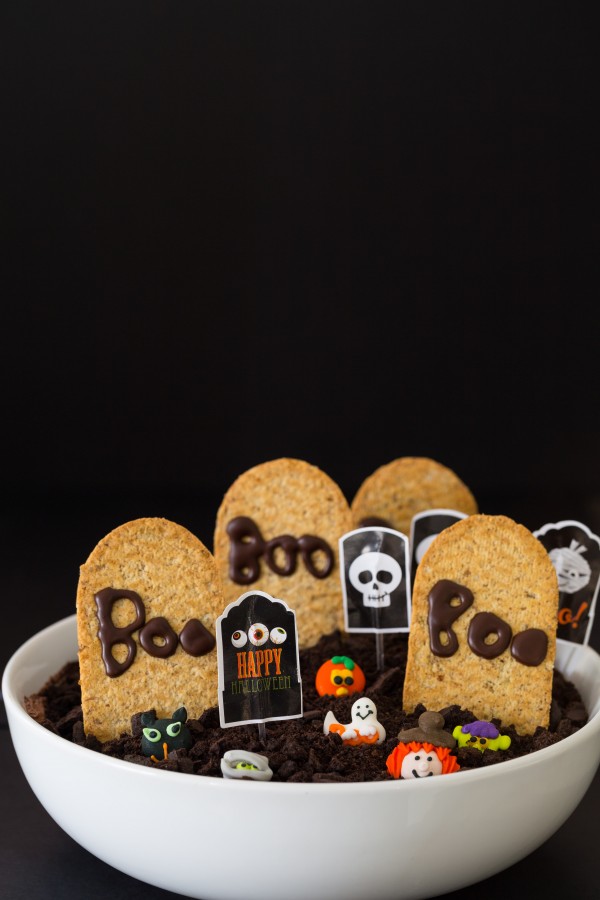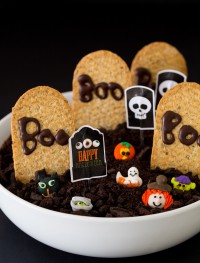 Healthier Halloween chocolate graveyard
Yield: 8 servings
Total Time: 20 minutes
Ingredients:
For the Dip
To Decorate
10 chocolate cream sandwich cookies, crushed, I didn't use the filling
8 oval cookies, I used belvita oat cookies
More extra cookies, pretzels, graham crackers, apples etc for serving
Directions:
In a save microwave bowl place the dark chocolate and coconut oil. Melt at 30 seconds intervals.
Add drained tofu, melted chocolate (save 2 tablespoons), vanilla extract and maple syrup to your food processor. Pulse until the ingredients come together stopping in between to scrap down the sides. Transfer dip to a serving dish and smooth top with a spatula.
Spread crushed chocolate cookies over the top of dip. (I placed the chocolate cookies in a zip log bag and crush with a rolling pin)
Place the extra 2 tablespooons melted chocolate in a zip log bag. With scissors, make a tiny cut at one of the bottom corners. Pipe the chocolate onto the oat cookies and write RIP, BOO or what ever you like. Let it sit for 5 minutes until the chocolate sets.
Scatter Halloween sugar decorations and pixs to top the dip. Serve with extra cookies, graham crackers, sliced apples or pretzels.