Healthier cranberry crumble bars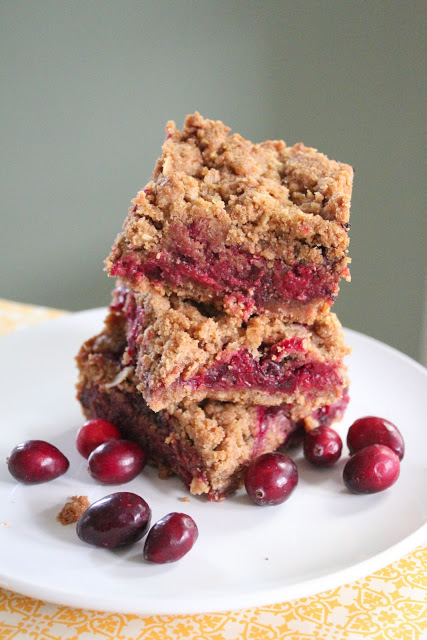 I am back after not having my computer for a few days…….a bit of a frustrating time……..none the less I still was able to bake away :-)
I made these cranberry crumble bars and let me tell you, they were sensational. I actually had not used fresh cranberries before. My husband brought a bag from the store the other day and told me to bake something with them, so I did……and so glad I did.
I was so glad I baked these cranberry crumb bars that I sent him back to the store to get 3 more bags. I really loved the tart taste with the sweetness of the crumble…..
I am already planing on making a cranberry pie with the remainder of the cranberries…I am so excited. Until then….
Enjoy!!
Pictures of the cranberry filling and the crumble dough. The pictures are a bit off since I took them at night…need to get a more powerful flash :-)
You can make these bars with any fruit filling you desire really. With cranberries it worked beautifully :-)
These cranberry crumb bars are awesome. I hope you try them :-)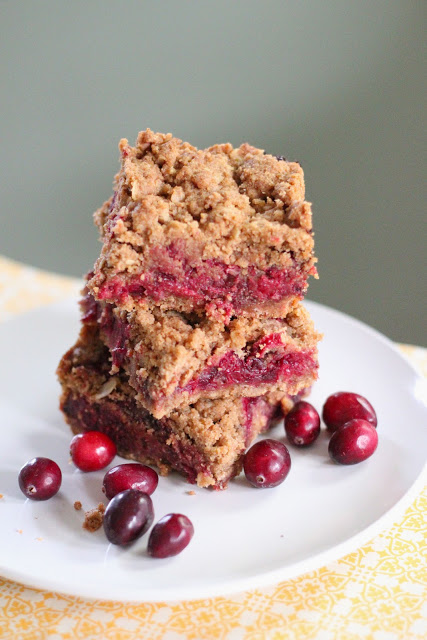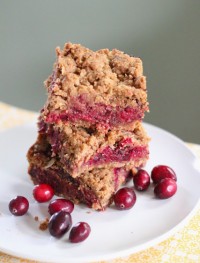 Healthier cranberry crumble bars
Ingredients:
Directions:
Preheat the oven to 375 degrees F. Butter and flour a 8.5×8.5 inch square pan (this is what I used but you can use any other larger size you may have). In a large mixing bowl mix the filling ingredients and set aside.
In another bowl mix together sugar, oats, flours, cinnamon and baking powder. Add the butter, vanilla and oil and mix until the texture resembles coarse breadcrumbs. Dough will come together just like in the picture.
Pat half of the dough into the prepared pan. Place reserved half aside. Sprinkle the cranberry mixture evenly over the dough in the pan.
Bake for 45-50 minutes, or until top is a light golden brown. Cool completely on wire rack then transfer to the refrigerator to chill before cutting into squares. Store in an airtight container in the refrigerator.
Inspired by: Good life eats