Harissa moroccan meatballs
These Harissa moroccan meatballs are amazing. I am not much of a meat eater but these are just plain sensational.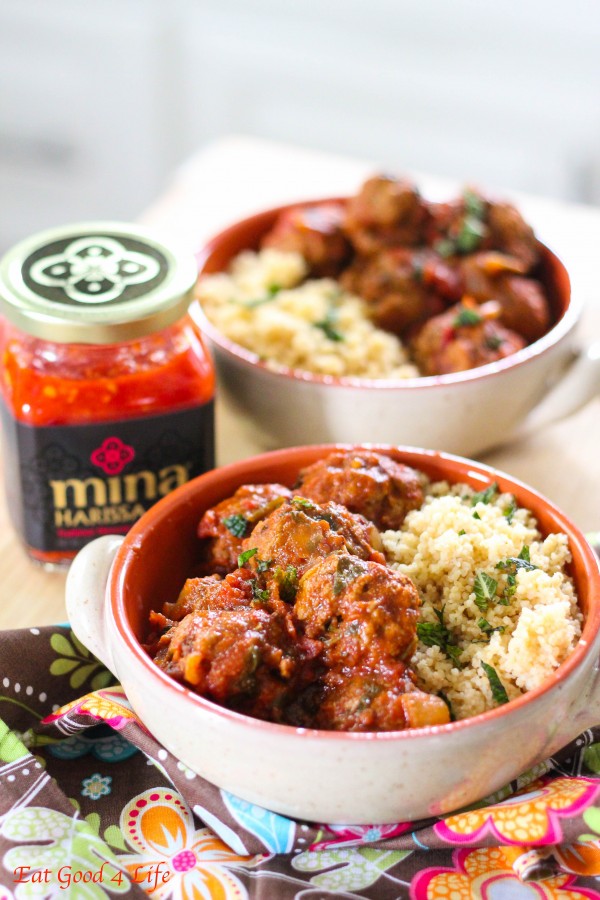 I have never tried Mina Harissa red pepper sauce before and I am so glad I did. This sauce is the bomb. Not only because it tastes awesome but because the ingredients are all natural in this. I have tried many prepared spicy sauces similar to this before but they all included a preservative or two.
For sure, this Mina Harissa sauce it is going to be my to go spicy red sauce from now on. I just have to make sure I hide it in the fridge some where to make sure my husband doesn't eat it all!
There are many different types of Mina Harissa sauces that also vary on the degree of heat. If you like your food just mildly spicy they also make mild pepper sauces so you will for sure find one that you like.
For this recipe I used Mina Harissa spicy red pepper sauce in both the meatballs and the sauce. If you like it spicy, like we do, use it on both. If you like it mild just use it for the sauce. Either way, it is really good.
I have a couple of other Moroccan recipes in my blog. While we enjoy Asian food a lot, and cook plenty of it, I am really attracted to many other different cuisines, Moroccan being one of them. I am going to try to start incorporating more different dishes, as I think many of you enjoy them!
These Harissa moroccan meatballs will freeze very well. If you like, when you make this recipe, you can make a little bit more than what the recipe calls for and have for future consumption. I didn't double my batch this time around but next time I will. This is a great comfort food recipe to have more than once so making more sounds like a plan!
I paired the meatballs with some whole wheat couscous. The combo was just perfect. I also used some chopped fresh mint to sprinkle over the meatballs because I run out of cilantro. It was a nice distinct flavor that came from it. It is not essential to this dish so if you want to omit it you can. I thought it complimented the dish though.
Well let me know if you try these Harissa moroccan meatballs. If you are a meat eater, and like spicy food, you will love this dish.
Enjoy!
This Mina Harissa red pepper sauce is truly fantastic. Natural and tasty above it all! You can use in many other different dishes. I know I will.
Once the sauce is ready, still over medium heat, add the meatballs to the dutch pan and cook covered for about 10-15 minutes. Take the lid off and cook further for another 5 minutes or so. The top meatball picture shows the meat uncooked, the bottom one shows the meatballs already cooked. It was super yummy paired with some whole wheat couscous.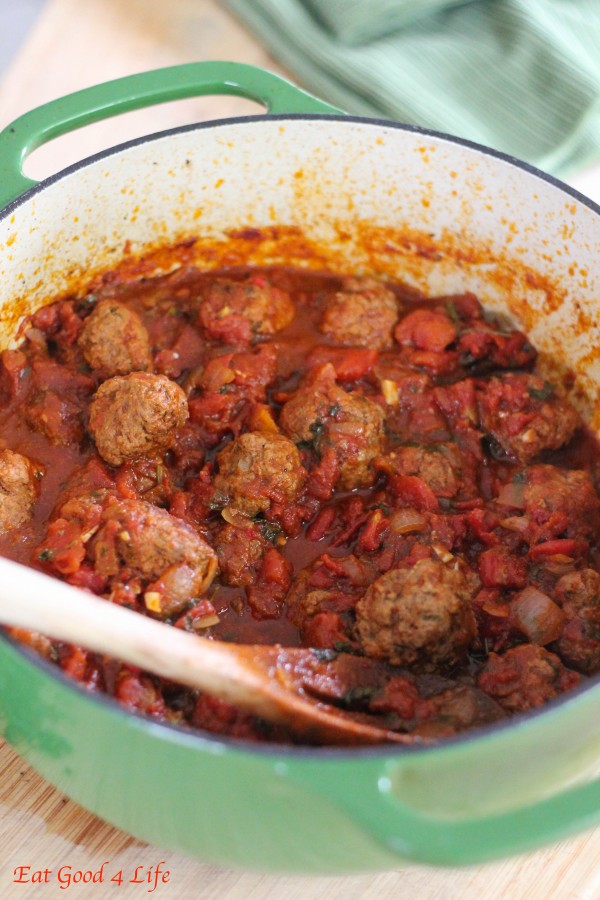 Disclaimer: This post is sponsored by Mina Harissa and it contains affiliate links. All opinions are 100% my own. Mina Harissa compensated me for the time spent developing and photographing this recipe. My sponsors help make this blog possible. The end :-)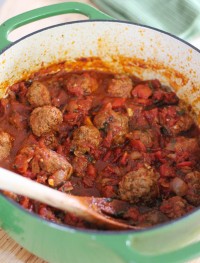 Harissa moroccan meatballs
Yield: 4-6 servings
Total Time: 35 minutes
Ingredients:
For the meatballs:
2 lbs organic ground beef
2 tbsp Mina Harrisa
1/4 cup onion, chopped
1 tsp celtic salt
2 tsp cumin powder
2 tsp cinnamon powder
2 tsp cilantro
1 tbsp fresh parsley, chopped, you can also use cilantro
For the sauce:
1 lb canned chopped tomatoes
1 fresh tomato, chopped
2 tbsp Mina Harrisa
1 onion, chopped
2 tbsp olive oil
3 garlic cloves, chopped
2 tsp cumin powder
2 tsps paprika
1 oz fresh cilantro, chopped
1 tsp celtic salt
1 tbsp fresh mint, chopped, optional
2 cups dried whole wheat couscous
Directions:
In a large bowl, with your clean hands, mix the meatball ingredients and make equal size meatballs.
On a dutch oven, over medium to high heat, heat  2 tablespoons of oil and add the meatballs. Brown them, and remove to a plate. Set aside. This should be a short process as you just want to brown the meatballs not cook them all the way through.
Add the chopped onion to the pan and cook for about 2 minutes. Add the garlic and cook further for about 30 seconds or just until fragrant. Add the fresh tomato, salt, spices and fresh herbs. Give it a stir and add the chopped tomatoes and Harissa sauce.
Add the meatballs and cooked covered for about 10-15 minutes. Take the lid off and cook further for another 5 minutes. If using, prinkle some mint over the meatballs and serve.
I actually paired it with some simple and plain whole wheat couscous.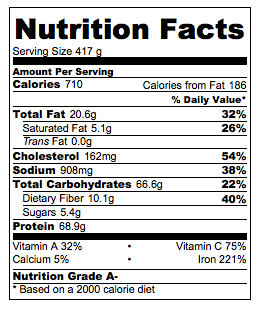 Nutrition facts calculated based on the recipe giving 5 servings. Calculations also include the couscous.