Harissa beef burgers
It has been a long time since I made a burger. My family were really pleased with these Harissa beef burgers to say the least. They were juicy, tasty and super easy to prepare.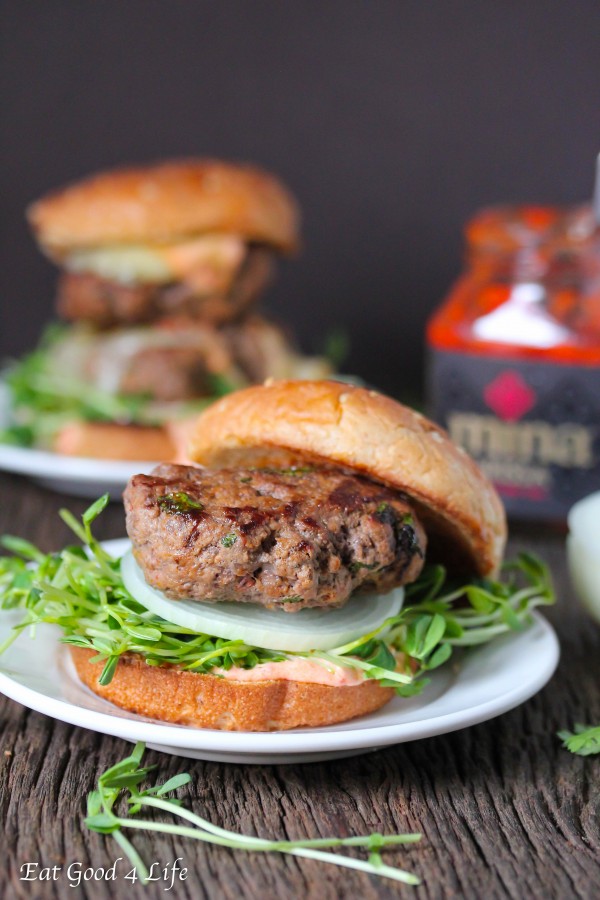 I was afraid that my kids would reject these burgers because of the spiciness of Mina Harissa, however, they didn't even mentioned a thing. They devoured these burgers in no time. It wasn't that spicy at all because I only added two tablespoons to the burger mixture. If you like it extra spicy I suggest you add more!
My husband really appreciated the burgers. It don't cook meat too often so when I do he really enjoys it. I mean he ate two of the burgers so I am sure they were of his liking! I think he even poured half the Harissa jar sauce over his burgers. He likes his food extra spicy!
What I love most about Mina Harissa is the fact that is made with natural ingredients. No preservatives, colorants or weird ingredients which is right up my alley being a dietitian.
When you get to make these Harissa beef burgers there isn't an specific way of serving them. I used bean sprouts, tons of onions and cheese but you can use sliced tomatoes or any other toppings of your choice.
Mina Harissa has also provided me with 3 Mina Harissa packs for three Eat Good 4 Life readers.
To enter the GIVEAWAY:
Comment in the section below and let me know how you would use Mina Harissa in your recipes.
I will pick 3 winners on Monday Nov 6th.
I hope you enter. This Mina Harissa spicy sauce is out of this world!
Enjoy!
Here you can see the beef mixture. Just mix everything with your clean hands. Form 4 patties and on a non-stick skillet cook the burgers for 3-4 minutes on each side. Serve with the Harissa Mayo and any desired toppings.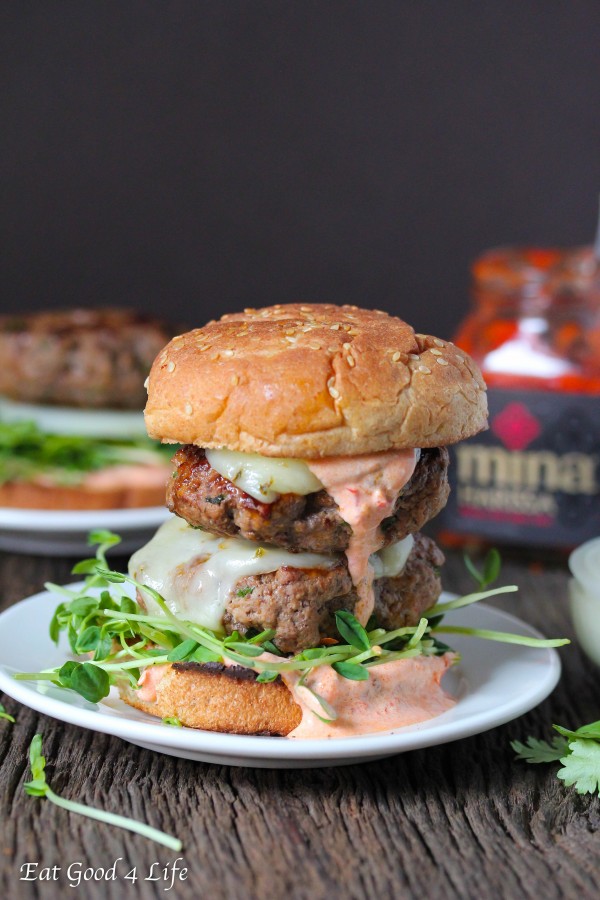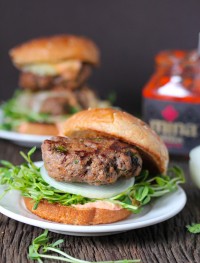 Harissa beef burgers
Yield: 4 burgers
Total Time: 20 minutes
Ingredients:
1 lb ground grass fed beef
2 tbsp Mina Harissa
1 tsp cumin powder
1/2 tsp himalayan salt
1/2 tsp garlic powder
1/4 cup fresh chopped cilantro
Harissa Mayo
1/4 cup mayonnaise
2 tbsp Mina Harissa
Directions:
In a large mixing bowl place all the burger ingredients and with your hands mix through. Form 4 medium size patties.
Place the patties on a large non-stick skillet and cook on each side for 3-4 minutes. While the burgers are cooking, in a small mixing bowl mix the mayo ingredients. When the burgers are done, spread the mayo sauce over the burger buns and serve the burgers with any toppings of your choice.