Halloween coconut date bites
I know Halloween is just around the corner and with that comes a lot of sugar especially for the kids! These Halloween coconut date bites are a healthier alternative. A favorite of my kids that they will end up taking to school to share with their peers.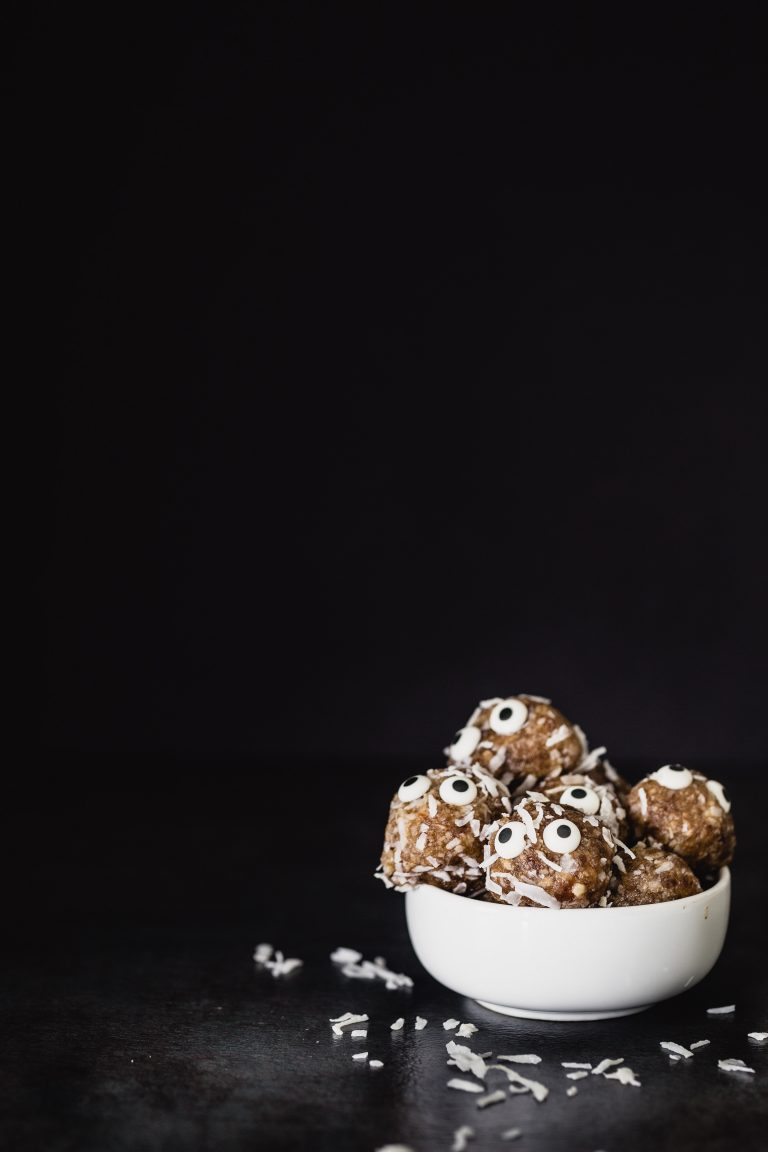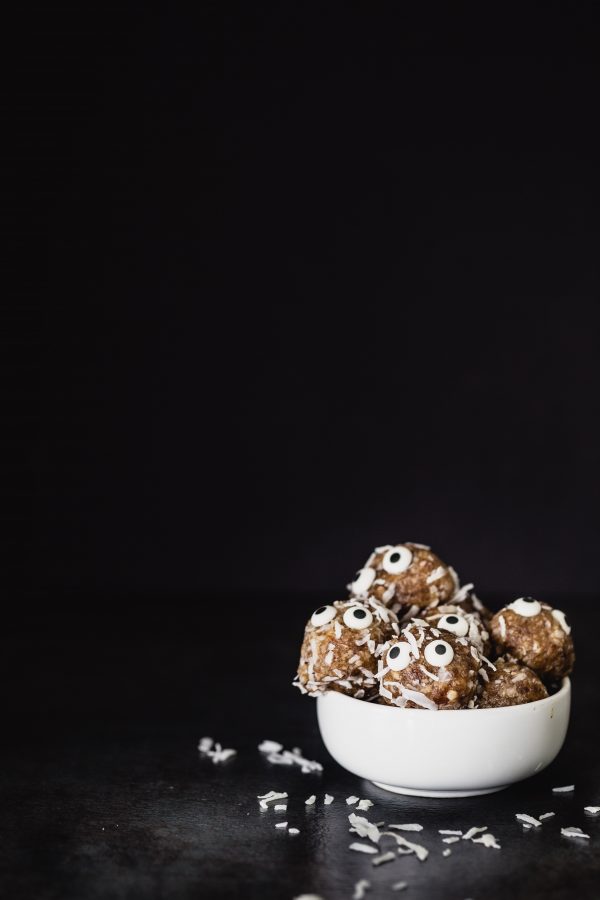 I love Halloween, however, the part that I dread the most is all of the candy my kids collect around this time. As a rule, I only allow them to keep a few and since I am able to make them healthier alternative treats they are ok with it.
During this time I also get to make them treats to take to their friends parties, which they always get super excited. Perfect for any kid between the ages 6-12.
These Halloween coconut date bites are also a great dessert to make with the little ones since it doesn't require baking and it is fun for them to roll them out. My kids often help in the kitchen and since these are easy, it is perfect for them, and lets not forget they are just 3 ingredients!
With all of the extra sugar around this time all I want my kids to drink is water. Water is the drink of choice for us most of the time since all other drinks just add unnecessary sugar which we really don't need.
These little Halloween water bottles also makes it kind of fun for the kids to drink so they are pretty happy about that. They love the little Halloween designs! They actually have 8 different designs so your kids could pick their own.
NESTLÉ® PURE LIFE® "Share-A-Scare™" 8oz water bottles are the perfect size for trick-or-treating, making it easy for kids to stay hydrated throughout the night.
In a 2015 survey conducted by NESTLÉ PURE LIFE, moms and kids revealed many surprising insights about their hydration habits.
It was found that water is one of the biggest "healthy habit" struggles moms have with their kids (38%), even more than struggles like "eat your fruit" (29%), "get enough exercise (23%), "eat your breakfast" (19%), and "drink your milk" (18%).
Today, beverages account for 47% of added sugars in the US American Diet and more than 13% of calories consumed per day. The 2015 Dietary Guidelines for Americans recommends that the primary beverage consumed be either calorie-free – like water – or should contribute beneficial nutrients such as fat-free and low-fat milk and 100% juice. Replacing a single 12-ounce, 140 calorie sugar sweetened beverage with water each day for a year can cut more than 50,000 calories from one's diet.
To learn more about NESTLÉ® PURE LIFE® and find the limited edition "Share-a- Scare™" bottles at a store near you, visit this link.
Show us how you use "Share-A-Scare™" bottles in your Halloween festivities with the hashtag #NestleShareAScare and by tagging @nestlepurelifeus.
Well I hope you like these Halloween coconut bites, 3 ingredients, super easy to make and much healthier for you than conventional treats.
Enjoy!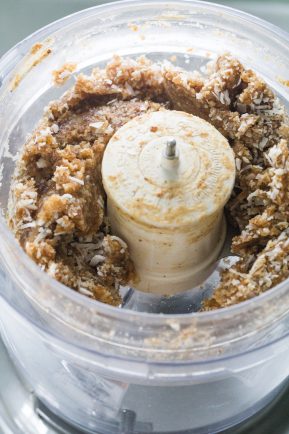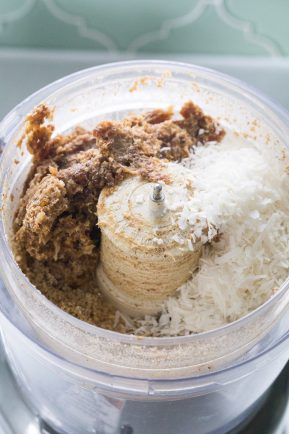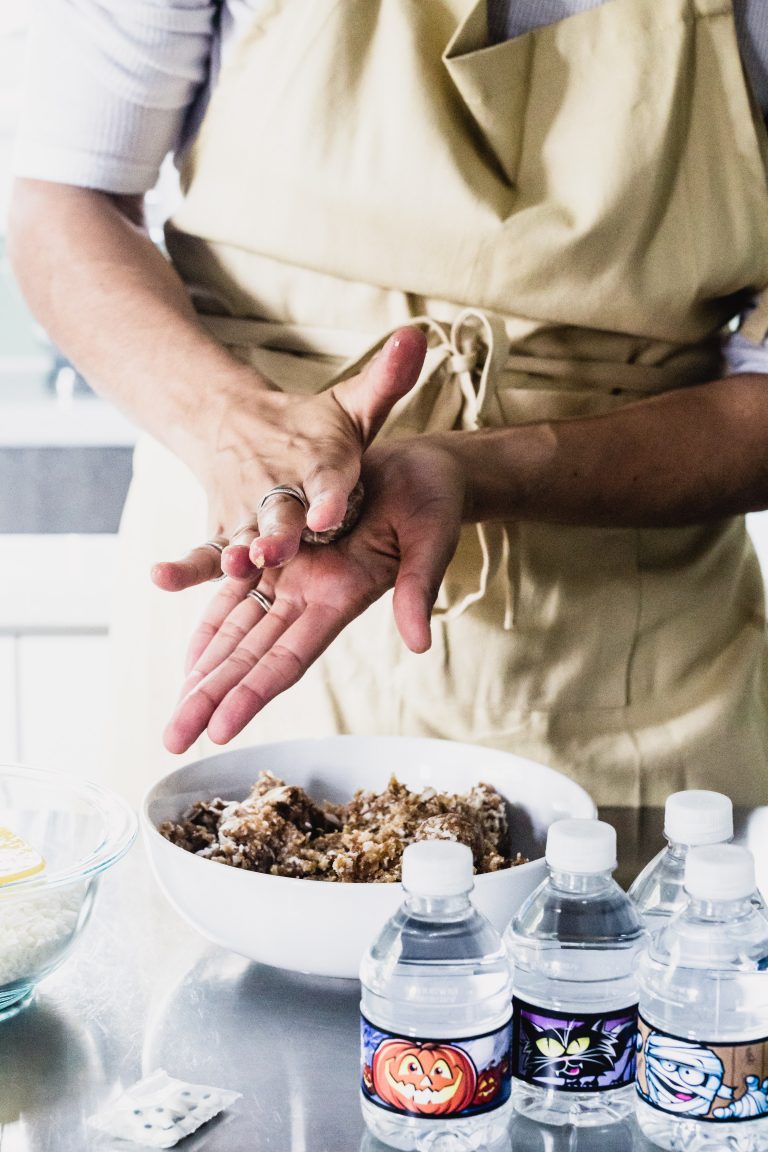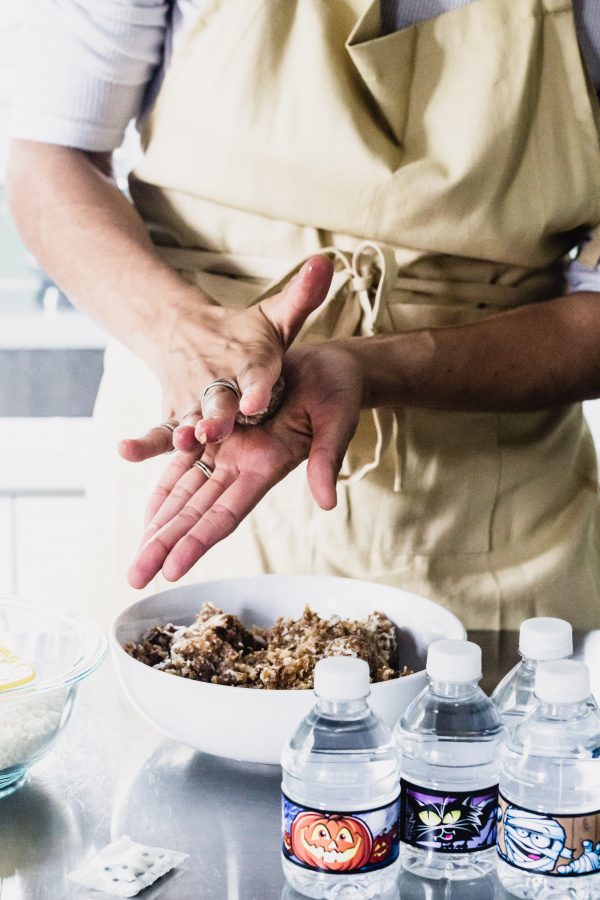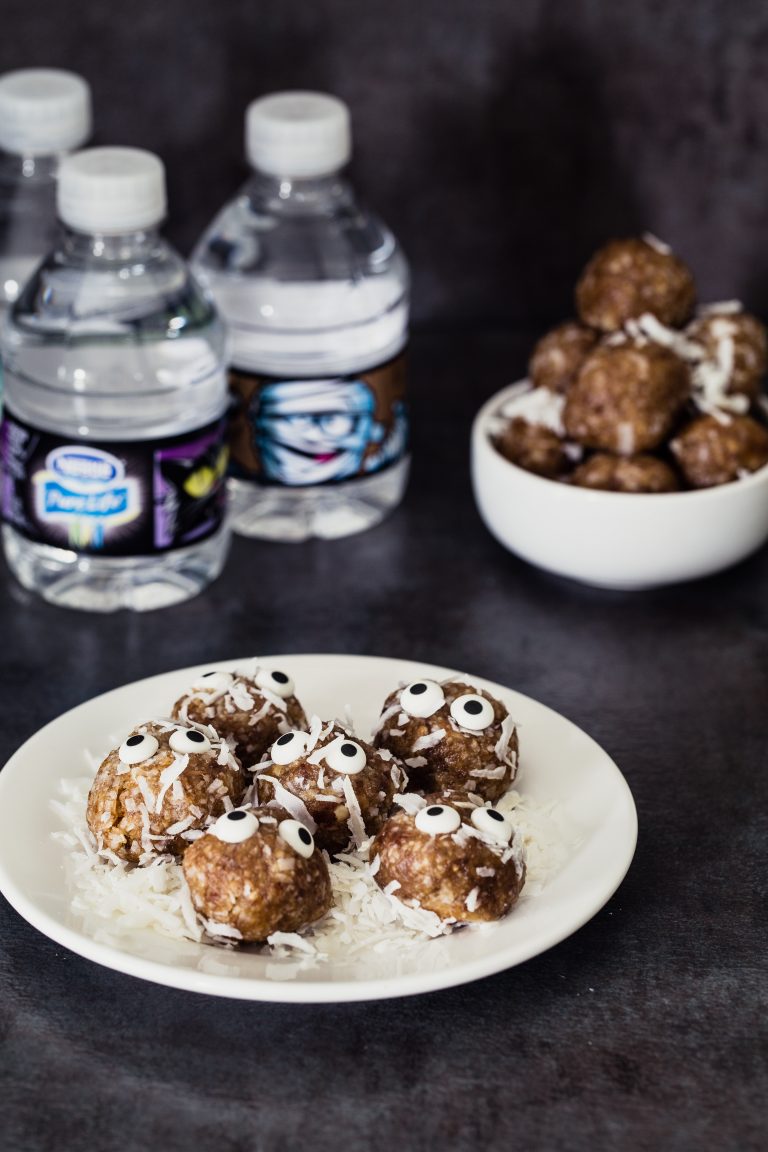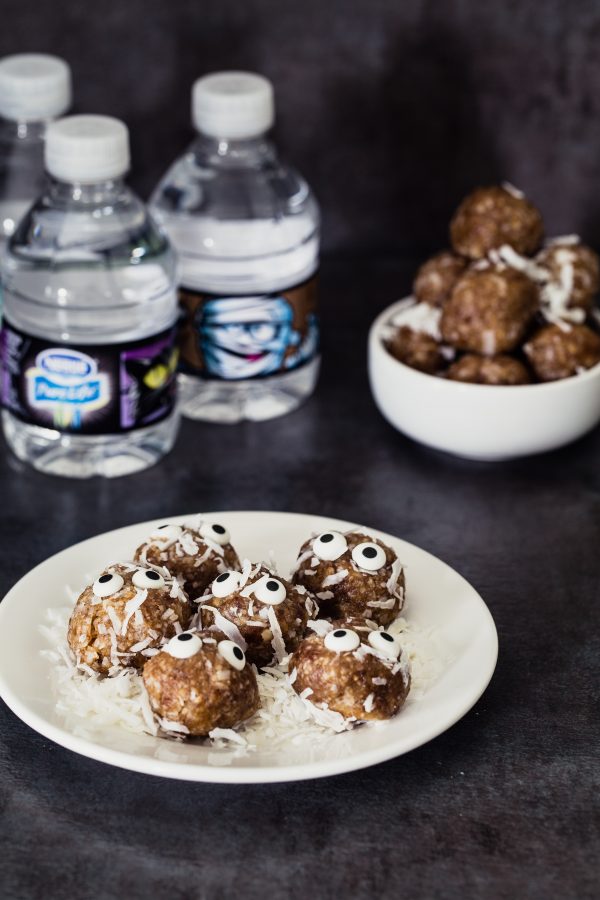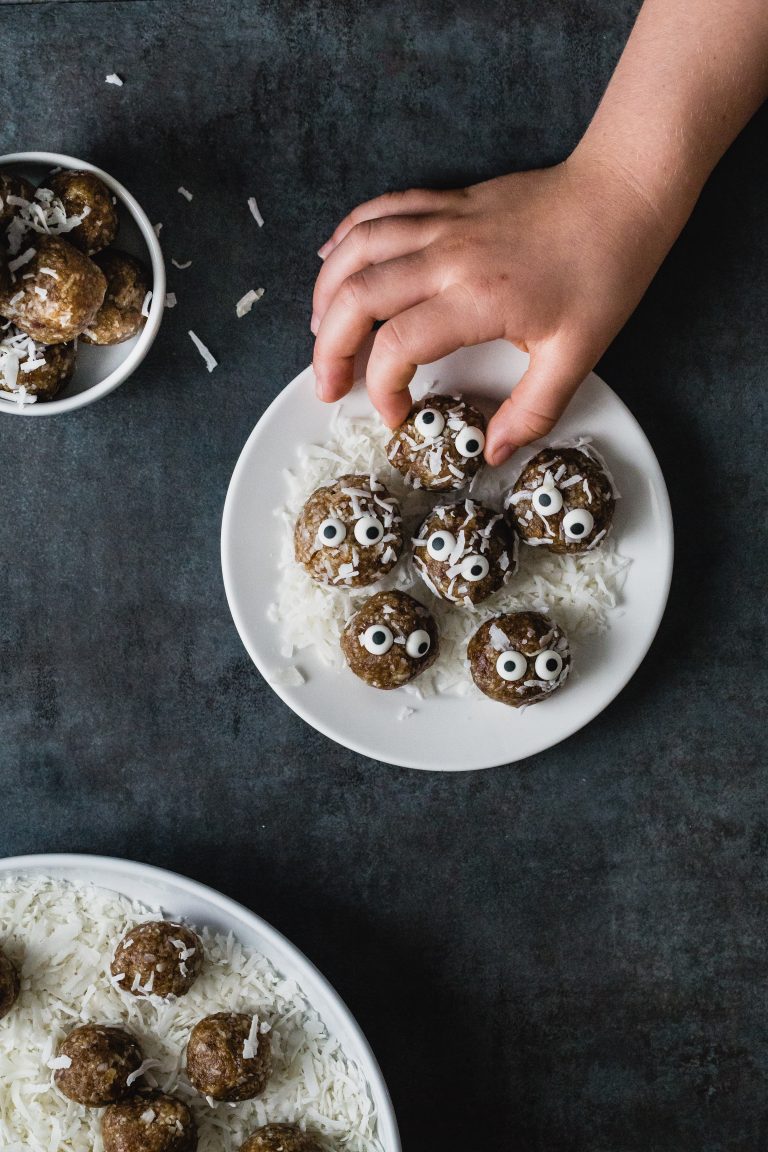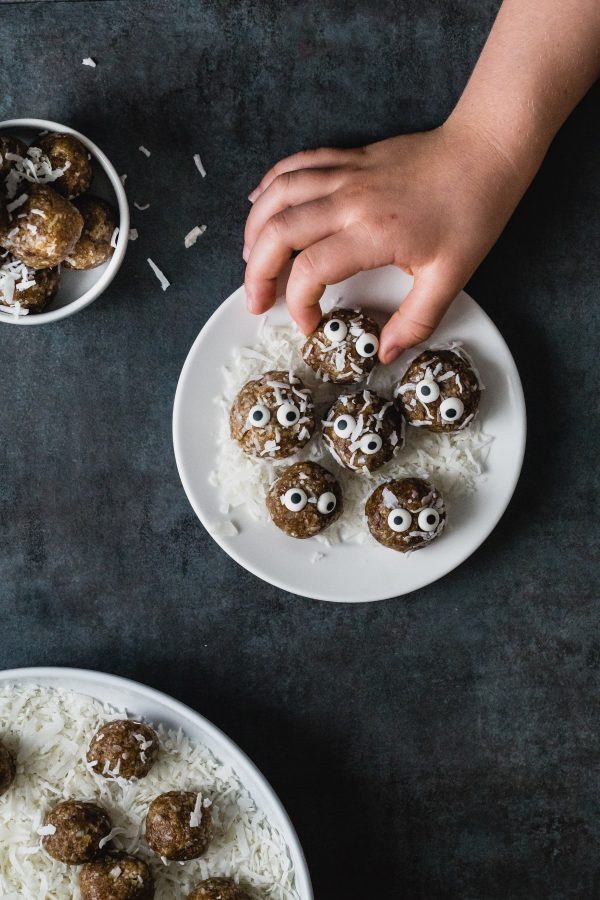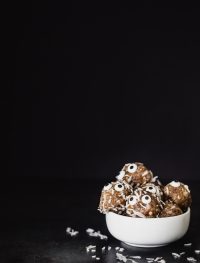 Halloween coconut date bites
Ingredients:
Directions:
Place the walnuts in the food processor and pulse until you obtain a powder. Add the dates and coconut and pulse until the dates come together and form a homogenous mixture. You may need a couple of tablespoons of water.
Place mixture in a bowl and form little ball. You can dip them in extra unsweetened shredded coconut.
At this time you can decorate them with the sugared eyes and make them more fun.
NOTE: You can use any other type of nuts if you don't like walnuts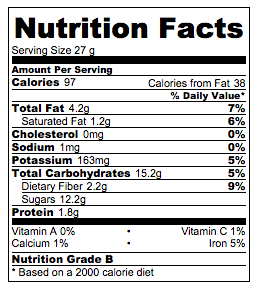 This is a sponsored conversation written by me on behalf of Nestle® Pure Life® . The opinions and text are all mine.