Guinness Chocolate Cupcakes with Creme de Cacao Whipped Topping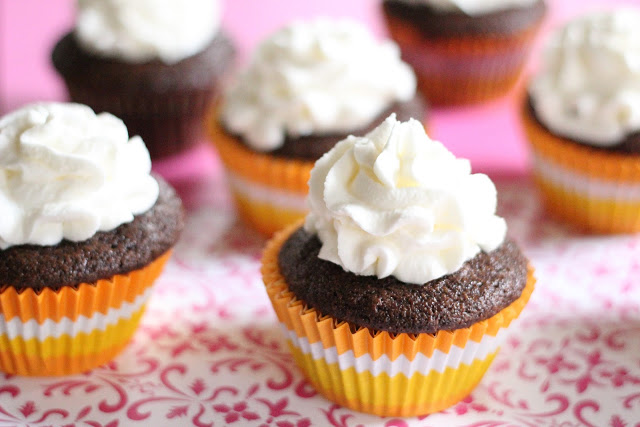 I have seen many Guinness cupcake recipes lately, especially since St Patrick's day just passed not to long ago. I decided then to put this recipe on my to do baking list and today I actually ventured to try it, my version that is, which was really good :-)
My recipe has a cup of Guinness…… I guess that is enough right?
The cupcakes themselves weren't that sweet. You could actually add an extra 1/4 cup sugar if you wish but I thought they were just perfect as is.
Once again, you can play around with the frosting. In this case I was suppose to use Baileys but I didn't have any on hand so I replaced it with creme the cacao, just as good!! You can also use any other frosting you may like.
I hope you try this recipe, it will not disappoint.
Enjoy!!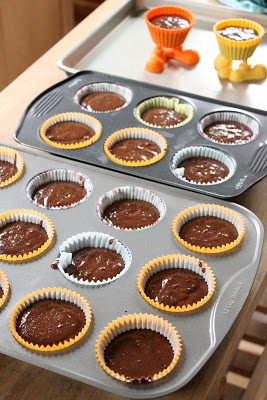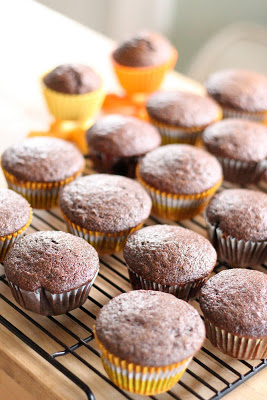 Here you can appreciate the cupcakes before and after baking them. You can frost however you like. My way was rather fast though!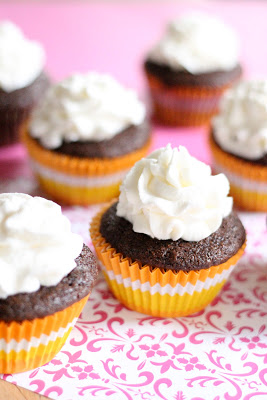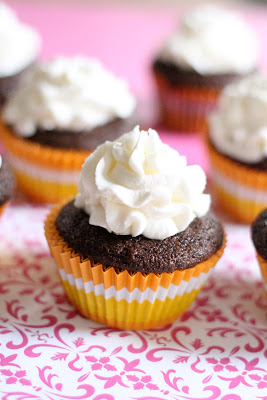 ……and the end result, just beautiful and super tasty!!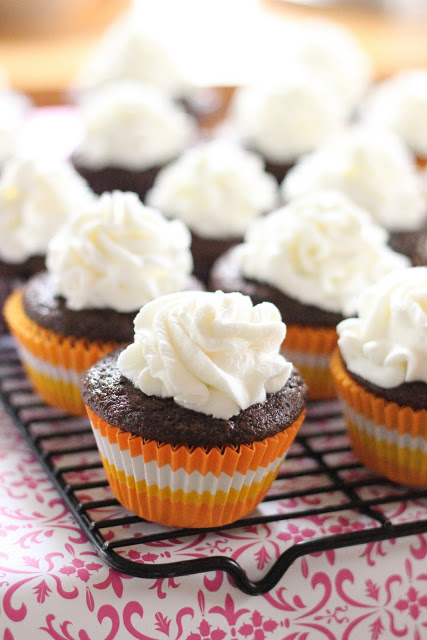 Guiness Chocolate Cupcakes with Creme de Cacao Whipped Topping
Ingredients:
1 cup Guinness
3/4 cup olive oil
2 eggs
2/3 cup low fat plain yogurt
1 1/2 cups sugar
3/4 cup unsweetened cocoa powder
2 cups whole wheat pastry flour
1 1/2 teaspoons baking soda
Topping
1 1/2 cup heavy cream
1/2 cup confectioner's sugar
4-6 tablespoons creme de cacao, Baileys will also work well
Directions:
Preheat oven to 350 F. Line cupcake pan with cupcake liners and set aside.
In a bowl, with a wire whisk, mix first 5 ingredients. Add flour, cocoa powder and baking soda and combine. Fill cupcake liners 3/4 of the way and bake for 22-28 minutes. I baked mine for 24 minutes.
For the topping, bring heavy cream and sugar to a bowl and whipped until soft peaks form. Add creme de cacao and combine for extra 5 seconds.
Decorate as desired. I used a decorative tip with a 16 inch pipping bag.