Greek yogurt raspberry popsicles
This is my first time using hemp milk for these Greek yogurt raspberry popsicles. I am in love with hemp milk.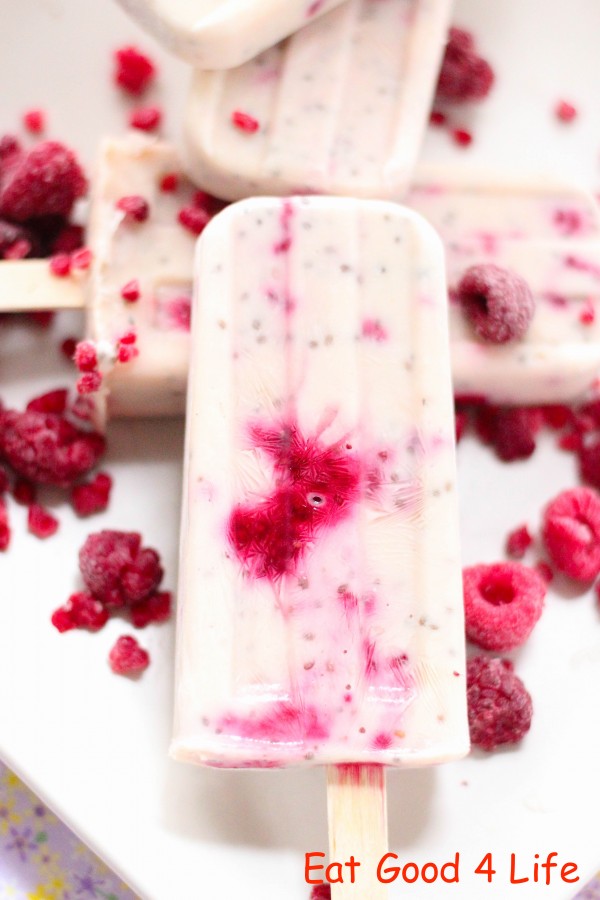 I am on a popsicle kind of making week and these Greek yogurt raspberry popsicles are just to die for. I have had my popsicle mold for quite sometime now and while I have used it somewhat the past week or so I have used it a lot. I have made a few different variations this week and even though I love this little popsicle tool, I think my kids love it even more.
What I like the most about this popsicle mold is  the fact that I can make super healthy popsicle treats and my kids think they are having the real deal. A much better popsicle treat than the ones you purchase in the store for sure.
Believe or not  I have never had hemp milk before. Oh boy do I love this milk. I have only had the Pacific foods brand thus far and I love it. It is really creamy and a little bit sweet, which is just perfect for these kind of treats. This hemp milk mixed in with the Greek yogurt and fruit was just magnificent.
I am sure you can use any other type of  milk, but because the hemp milk was really creamy I think the pospsicles turned out even better.
You can also use any other type of fruit of your choice. You can even add some protein powder to it if you like or even perhaps some nuts. The sky is the limit with the endless variations you can come up with. I think before the summer is over I will probably have an extra couple of popsicle recipes to add to the blog I am sure.
Anyhow, if you have never made your own popsicles before I urge to make some, these Greek yogurt raspberry popsicles are awesome. They are great on the go, as a snack or as a healthy treat for the kids. Get yourself a pospicle mold and start making your own.
Enjoy!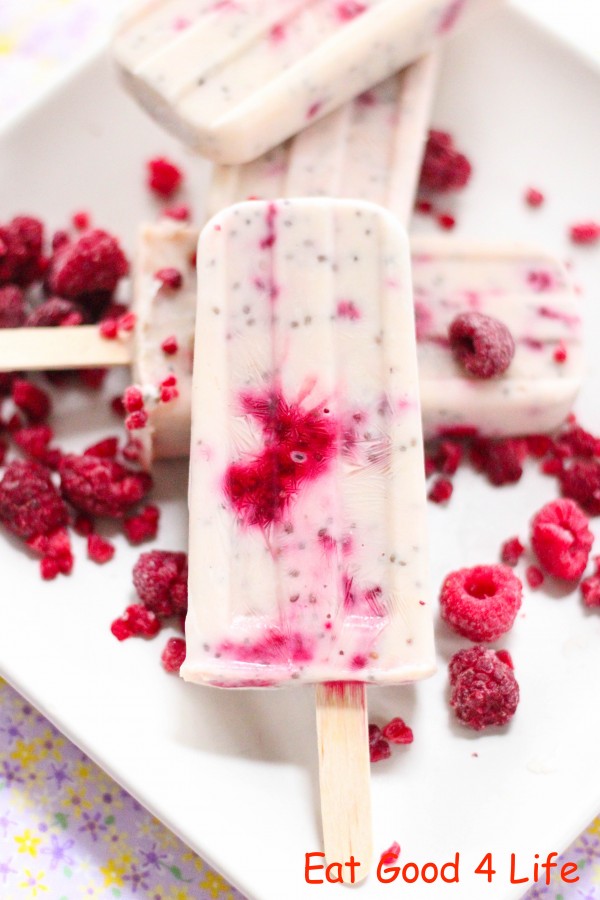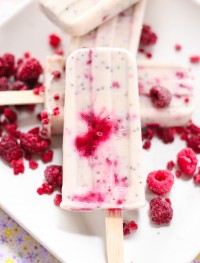 Greek yogurt, hemp milk and raspberry popsicles
Yield: 12-14 servings
Total Time: 10 minutes
Ingredients:
Directions:
Place all the ingredient in a mixing bowl and  carefully combine with a spatula until all is well incorporated.
Pour mixture to the rim of each pop in the popsicle mold and stick a wooden stick on each. The wooden stick will stay in place because the mixture is rather thick.
Freeze for at least 4 hours.