Gooey Cauliflower Mac and Cheese
I have a couple of other Mac and Cheese recipes in my blog however this Gooey Cauliflower Mac and Cheese it is one of my favorite recipe for it. Add a bit of pepper flakes for some heat and you are good to go.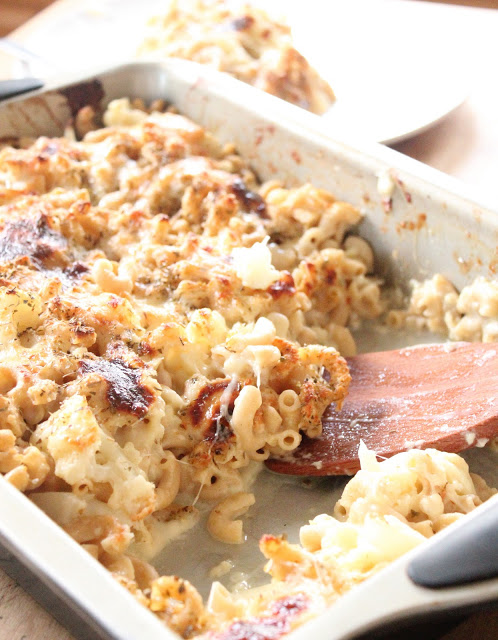 As I mentioned a few days ago my posting won't be as regular as it has been for the past 2-3 weeks. I am thinking I will probably have 2 to 3 postings per week as I am getting ready to take my entrance exam to medical school in the next few months.
I need a couple of hours of study every day and with two little kids in the house it is hard to come by thus my cooking/baking posts will have to suffer for a while. Something that I really don't like but something has to give right? :-(
Anyhow, this is my other version of Gooey Cauliflower Mac and Cheese using different type of cheeses. I still used cauliflower in this one because I simply love it plus it makes it even healthier for my kids :-). They can't even tell it's got cauliflower.
For this Gooey Cauliflower Mac and Cheese version I use mozzarella, Parmesan, and sharp provolone cheese. You can use any other type of cheese that you may prefer but for me I used what I had on hand. I also put some pepper flakes on my plate, as I like it spicy. This again is a simple, nutritious and easy dish to put together.
Enjoy!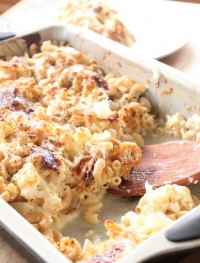 Gooey Cauliflower Mac and Cheese 2
Ingredients:
15 ounces, whole wheat elbow macaroni
1 head cauliflower, chopped
2-3 tablespoons olive oil
4-6 garlic cloves, chopped
10-16 oz reduced fat mozzarella cheese, cubed, I used 16 oz, I like it gooey
1 cup Parmesan cheese
4 slices sharp provolone cheese, chopped
1 cup low-fat Greek plain yogurt
1-2 tablespoon Dijon mustard
1/2 cup nonfat milk, maybe a little more
2 tablespoons dry oregano, optional
2 tablespoons Cajun creole seasoning, optional
1 teaspoon celtic salt
Directions:
Heat oven to 400°F.
In a large pot cook the pasta according to package instructions. When the pasta has about 5 minutes left to cook add the cauliflower. Drain pasta and cauliflower and set aside.
In a large non stick skillet add the oil and garlic and cook until soft for about 30- 60 seconds. Don't burn it :-)
Mix in the yogurt, garlic, milk, mustard, Cajun seasoning and half the cheeses in a baking  9x13 rectangular dish. Incorporate the pasta with the cauliflower to this mixture and combine. Sprinkle with the remaining cheeses and oregano.
Bake for about 20 minutes until golden brown. Alternatively you can put it under the broiler for the last 5 minutes to brown the top (this is what I do)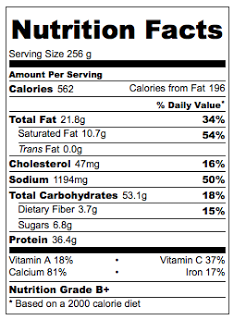 Nutrition facts calculated based on the recipe giving 6 servings. This is high in selenium.