Gluten free vanilla cupcakes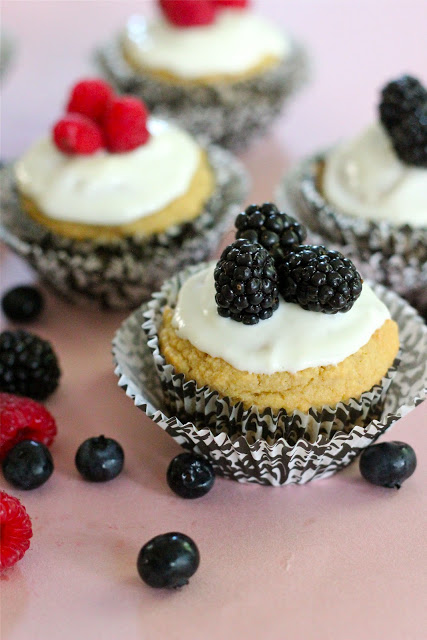 These are…….quite possibly………the best gluten free cupcakes you will ever have…..for real…..these are just out of this world.
These cupcake are:
1. Easy to prepare
2. Not that sweet at all, especially if you omit the frosting.
3. Have no weird ingredients.
Things that could be considered especial and not in a regular bakers pantry can be the coconut and almond flour, but really, these are not that weird, now are they?
In case you were wondering, I have not gone gluten free, I just want to start incorporating more desserts that use wheat free ingredients so some of my readers can have a few more recipes to browse around plus I like the fact that baking with almond flour has a really high nutritious advantage over the other flours,….. so why not bake with it?
You can really decorate the cupcakes how ever you like. If you just want to leave the cupcakes as is, and not frost them, I suggest you increase the sweetener just a little tad, since they won't have the sweetness of the frosting going for them! Maybe use 1/2 cup instead of the 1/4 of a cup.
On a different note, thanks so much for all of you that commented on the giveaway. I have really taken your feedback into consideration and I will try my best to incorporate some of your suggestions in the book, so thanks again for taking the time and letting me know.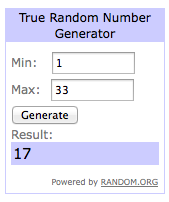 Amy Beth Marantino, was the winner of the giveaway :-)  
Contact me so that I can forward the prize!!
Anyhow, I think this is another winner recipe so I hope you get to try it because for sure this one does not taste like it is healthy at all.
For all of the gluten free people out there, this is for you…..
Enjoy!!
The mixture will be rather thick. It is perfectly normal. When you place the batter in the cupcake liners make sure you don't have any peaks otherwise they will burn while baking.
The cupcakes are really moist eventhough they appear like they don't. Next time I will use honey instead of sugar. I just didn't have any on had. I used it all for my granola :-)
When you frost the cupcakes you won't need all of the mixture. You will have a little bit remaining.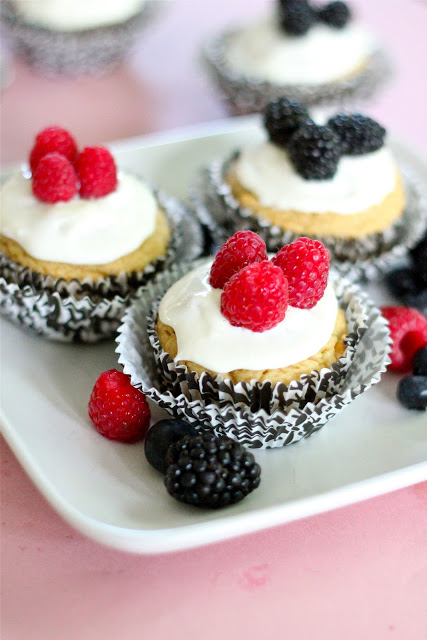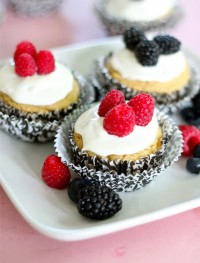 Gluten free vanilla cupcakes
Ingredients:
1/4 cup unrefined sugar, next time I will use honey
1/4 cup + 3 tablespoons unsweetened soy milk
1/2 cup olive oil
3 eggs
2 teaspoons vanilla extract
1/2 cup almond flour, not almond meal
1/2 cup coconut flour
1/2 teaspoon baking soda
Frosting You will not use all of it, I had some left over
4 oz 1/3 less fat cream cheese
2 tablespoons butter
1/3 cups confectioner sugar
Directions:
Preheat oven to 350F and line cupcake baking pan with paper liners.
In a bowl mix the first 4 ingredients. I do this with a wire whisk. Add the remainder ingredients and combine well.
Using a cookie scoop, or any other tools of your choice, place a couple of tablespoons into each liner. Fill almost to the top because they don't rise too much.
Bake for 20-22 minutes or until a tester inserted into a cupcake comes out clean. I baked mine for 20 minutes.
Remove from the pan and cool on a wire rack until completely cooled.
For the frosting. In a bowl, mix all of the ingredients. Decorate the cupcakes as desired. I used a piping bag with a decorative tip and used a few fresh organic berries.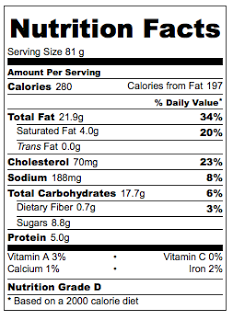 Nutrition facts calculated based on the recipe giving 9 cupcakes.