Gluten free No bake samoa bars
Have you tried to make no bake gluten free samoa bars before? If you haven't you should. These samoa bars are the bomb. Easy, delicious and much better for you than regular versions out there.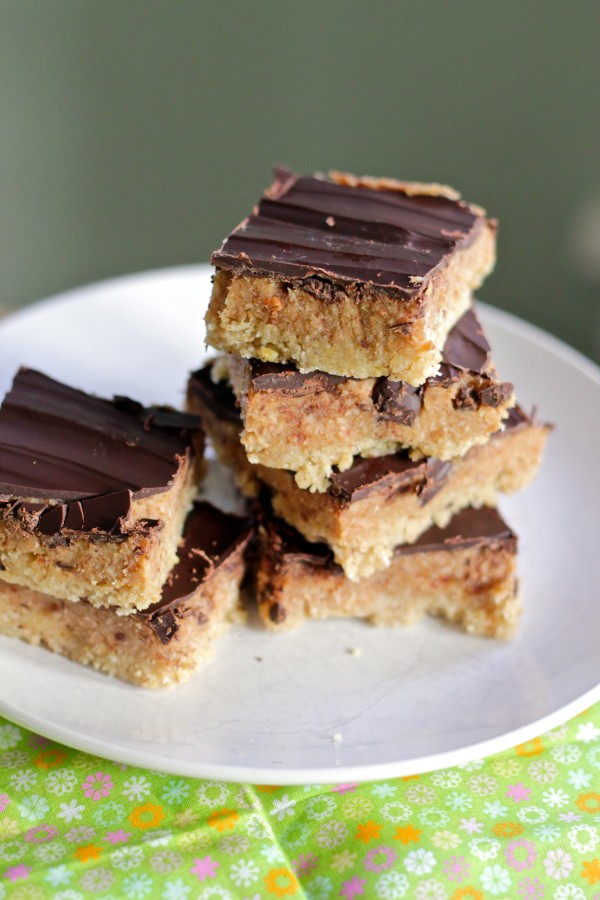 I am venturing in making quite a few new recipes lately. Prime example? This amazing no bake gluten free samoa bars.
I guess these gluten free samoa bars can be a modification of the well known Samoa cookies, that to be honest, I have no idea what they are! Seeing how good they looked and the ingredient list was enough for me to make the  bars.
I must say that these gluten free samoa bars were on the sweet side though because I added a bit more honey to the base than I was suppose to, however, the version posted here has been adjusted in a way in which less honey would be needed. A much better option.
It is also the first time I am using dates for any of my baking, and I must say, it will not be the last. I loved using them. I don't know why I waited so long. Have also found out that you can buy different type os dates. Some can be pitted while others will still have the pit in it. Either way, they are both still good.
All this week I will be posting some sort of chocolate related recipe so for the following week I will refrain from posting any sweet recipes. I will balance it out with some savory dishes, which to be quite frank, I think you are going to like, so stay tuned.
Until now, enjoy this recipe and stay safe!
Here you can see the base and the middle layers. These bars are out of this world. If you are turned of by the dates don't be because the flavor is just fantastic.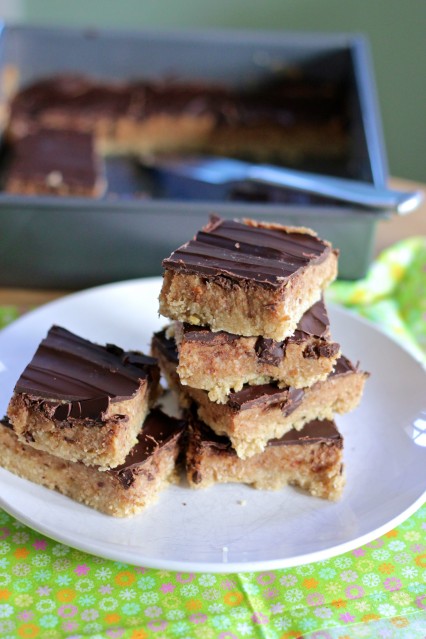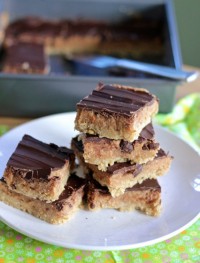 Gluten free No bake samoa bars
Ingredients:
Base
1 cup walnuts
1 cup unsweetened shredded coconut
1/4 cup maple syrup
Middle layer
1 1/2 cups dates, soaked for about 10 minutes in hot water
1/3 cup coconut milk or 1/2 cup coconut cream
1/8 tsp Celtic salt, optional
1 1/2 cups unsweetened, shredded coconut
Topping
1 1/2 cups dark chocolate chips, vegan if need be
Directions:
In a food processor, pulse the walnuts and coconut together until it resembles fine crumbs.  Add in the almond flour, honey, and salt, and process until a moist dough forms.  Press the dough into a parchment lined 8x8" baking pan.
After soaking the dates, drain the water, and pulse in a food processor until a paste forms.  Add the coconut milk, and salt, and process until smooth.  Add the shredded coconut, and pulse until just combined.  Scoop the coconut mixture out, and spread it evenly across the top of the base.  Transfer to the fridge while you work on melting the chocolate.
Place the chocolate chips in a microwaveable bowl, and microwave at 30-second intervals, stirring in between, until fully melted.
Remove the pan out of the fridge and pour the chocolate over the middle layer spreading it evenly. Place back in the fridge for about 30 minutes to an hour to harden the chocolate. Remove the mixture out of the fridge and cut into squares.  Store covered in the refrigerator.
Recipe slightly adapted from cooking ala mel