Gluten Free Godgi Berry Chocolate Chip Cookies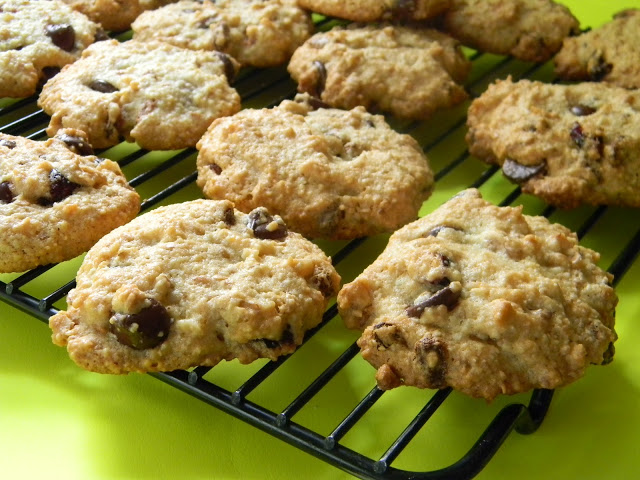 I have been wanting to experiment with other flours for sometime now. I normally use oat, barley or whole wheat pastry flour for my baking recipes. Although I have bought almond flour in the past I have not used it until today and oh boy, what a pleasant surprise.
This cookies taste awesome. I would actually love to use almond flour much more but at $8.99 a pound I really don't think I will :-)
Because I was experimenting I did not want to use so many Godgi berries in the recipe, next time I will double the amount. You can also use other type of nuts or dried fruit as well as white chocolate chips if you prefer.
If you don't have almond flour you can use other type of flour but keep it at 2 cups instead of 2 1/2 cups and see how the dough feels. It should be some what moist and a little bit wet.
Anyhow, these are to die for so
Enjoy!!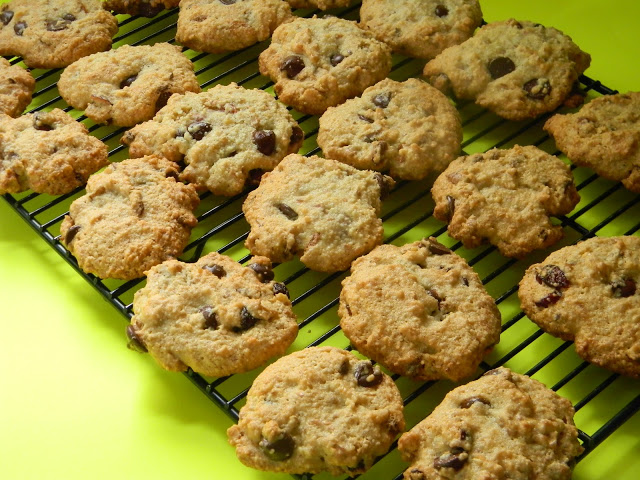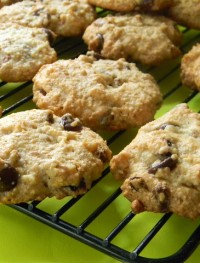 Gluten Free Godgi Berry Chocolate Chip Cookies
Ingredients:
2 1/2 cups almond flour
1/2 teaspoon salt

1/2 teaspoon baking soda
2 eggs at room temperature
1/2 cup olive oil
1/2 cup sugar

1 teaspoon vanilla extract

1/4 cup dried cranberries
1/4 cup Godgi berries
2 tablespoons flax seeds
1 cup walnuts, chopped
1/2 cup dark chocolate chips

Directions:
In a large bowl combine oil, eggs, sugar and vanilla. Add almond flour, baking soda, salt and combine. Mix in cranberries, godgi berries, flax seeds, walnuts and chocolate chips. Drop tablespoons of dough and press onto a parchment paper
lined baking sheet.
Bake at 350° for 12-15 minutes. Cool on a wire rack and serve
TIP: Make sure you pack down the measuring cups with the almond flour