Gluten free double chocolate muffins, these are the bomb!
Have you ever tried to make Gluten free double chocolate muffins. None of my family are celiac but I enjoy gluten free baking a lot!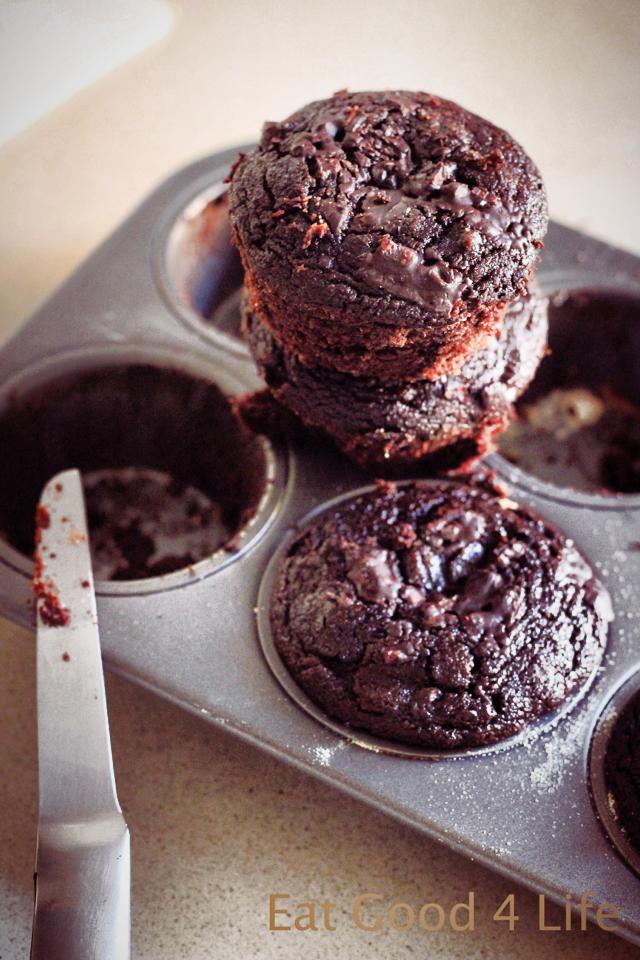 First off, just so that you know, these gluten free double chocolate muffins are the bomb.
It happens to be that I made a mistake and forgot to add the oil all together when making these gluten free double chocolate muffins. I thought they were ruined, but since I already placed them in the oven when I figured out that I forgot the oil, it was way too late to fix the mistake.
The only thing I could do at this point was to hope for the best and this recipe become a success.
I watched the chocolate muffins every minute while they were baking and they  seemed fine even after I took them out of the oven. They look perfect to me. Then I thought, I bet they taste awful, they are probably rubbery and tough. To my surprise they tasted unbelievably good, and they didn't feel as though anything was missing from them.
I think the fact that coconut flour has quite a bit of fat content is what saved the recipe. Thank goodness for me.
The only slight problem I had  was that the chocolate muffins where somewhat hard to get out of the baking pan. I didn't have any paper liners and even though I greased and floured the muffin pan I had trouble getting them out. Oh well, they were super good anyways.
So here you have this amazing recipe. Perhaps on my next batch I might add a couple of tablespoons of olive oil to make sure they come out perfect. That is, so that the muffins don't stick to the pan and perhaps they are more spongy like or something :-)
Either way I think you will like the results. My family totally approved these gluten-free chocolate muffins, that is why I am posting the recipe here today!
Enjoy!
In case you want to check out my Gluten Free eBook that is already for sale for $3.95 here is the link. You can read more about it there.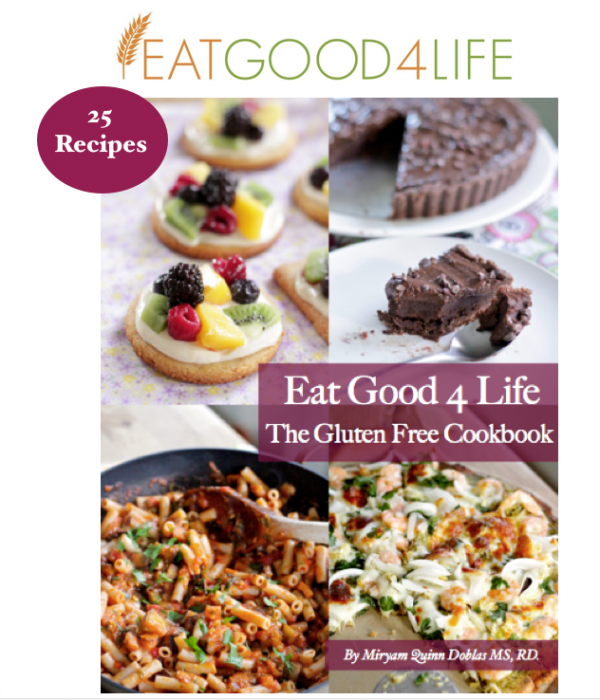 What is in the Eat Good 4 Life, The Gluten Free E-book?
A small guide on Celiac disease with some key resources.
The book contains 4 chapters of brand new recipes which includes breakfast (5), main meals (10), salads (5), and desserts (5)
Nutrition facts with carbohydrates and fat exchanges for each recipe included.
Over 35 pages of recipes and full color photographs.
Recipes that are full proof.
25 gluten-free recipes
The e-book is on PDF format which can be viewed on your computer, iPad and iPhone.
Here is a sneak peek of some of the recipe in the book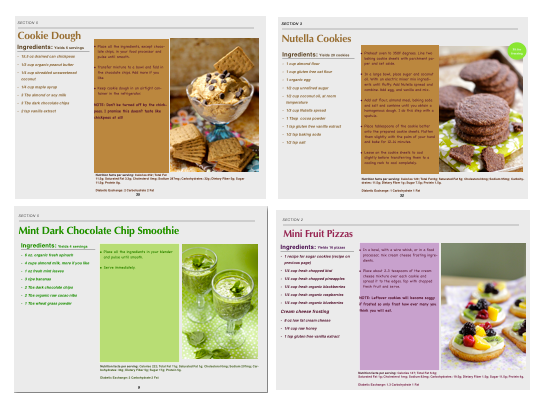 These gluten free double chocolate muffins were just awesome. I am so glad they turned out perfect even though I forgot to add the oil :- ) I am so grateful for that because I hate wasting ingredients. Let me know if you get to try these. I hope, as much as we did, that you enjoy them too.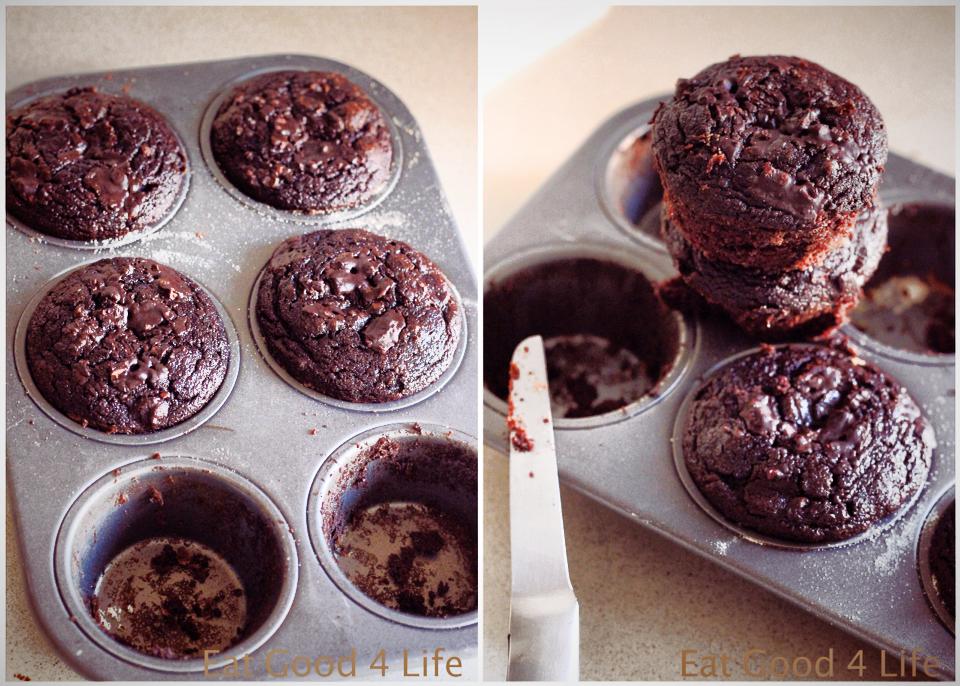 These muffins are plain sensational. I really hope you get to try them. If you do let me know how you like them :-)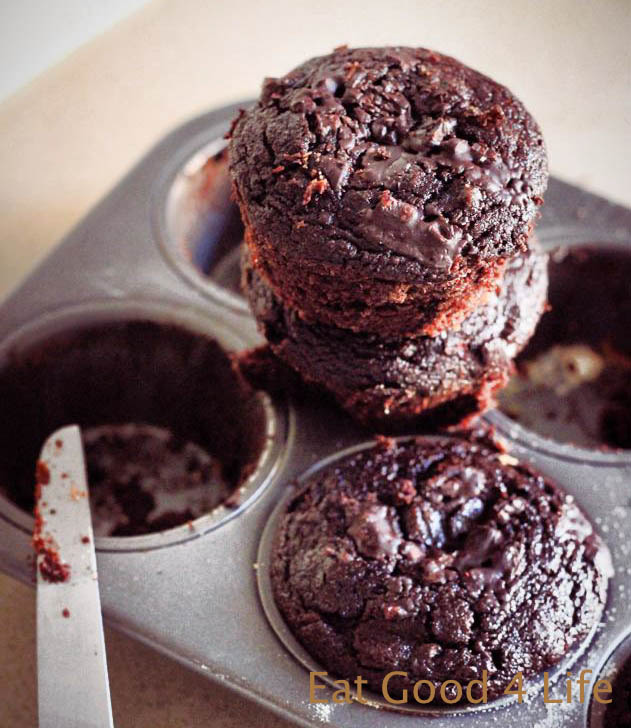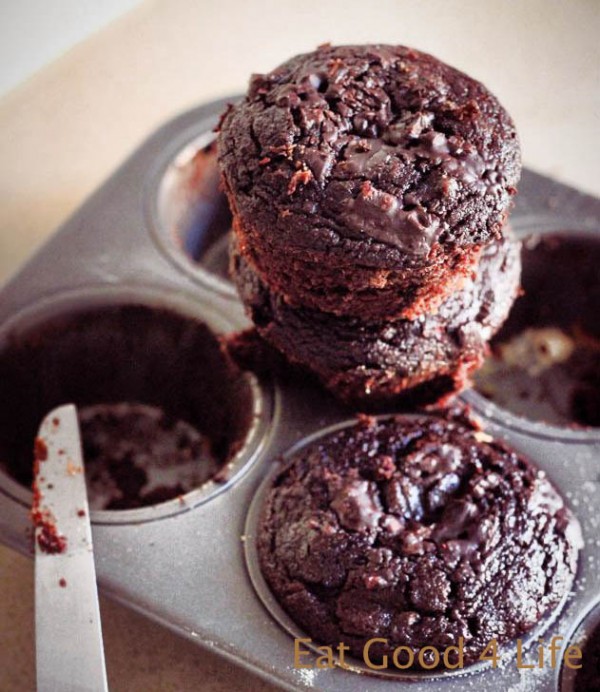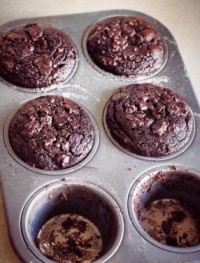 Gluten free double chocolate muffins
Yield: 6 large muffins
Prep Time: 5-10 minutes
Cook Time: 20 minutes
Ingredients:
3 eggs
1/2 cup unrefined sugar
1/4 cup almond milk
1/4 cup cocoa powder
1/4 cup + 1 tbsp coconut flour
2 tbsp olive oil, I didn't add any to mine and they were fine
3/4 tsp baking soda
1  tsp vanilla extract
2 tbsp dark chocolate chips
4 oz 72% dark chocolate, chopped
Directions:
Preheat oven to 350F. Grease and flour, I used coconut flour, a 6 muffin baking pan.  You can also use muffin paper liners which is what I will do next time. Set aside.
In a bowl, with a wire whisk, mix the eggs, sugar, vanilla, oil if using, and almond milk. Add the cocoa powder, coconut flour, baking soda and dark chocolate chips as well as half of the 72% chopped dark chocolate. Mix until well incorporated. Fill each cupcake hole and top each muffin with the remaining chopped dark chocolate.
Bake for 20-25 minutes or until a cake tester comes out clean. I baked mine for 20 minutes. Remove muffins from the oven and let the muffins completely cool on the baking pan. When they are cool, carefully remove them helping yourself with a knife to release them without breaking them if possible.
If you used muffin paper liners, remove muffins from the pan and let them cool on a wire rack. 
Store in an air tight container for up to two days or freeze them and have them on the go when needed!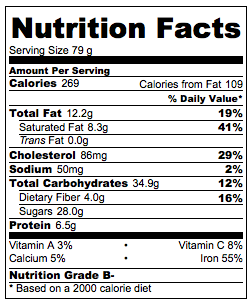 Nutrition facts calculated based on the recipe giving 6 large muffins and using no oil in the recipe.