Gluten free double chocolate chunk cookies
I think these gluten free double chocolate chunk cookies are my favorite cookies ever!! They are super healthy and good for you.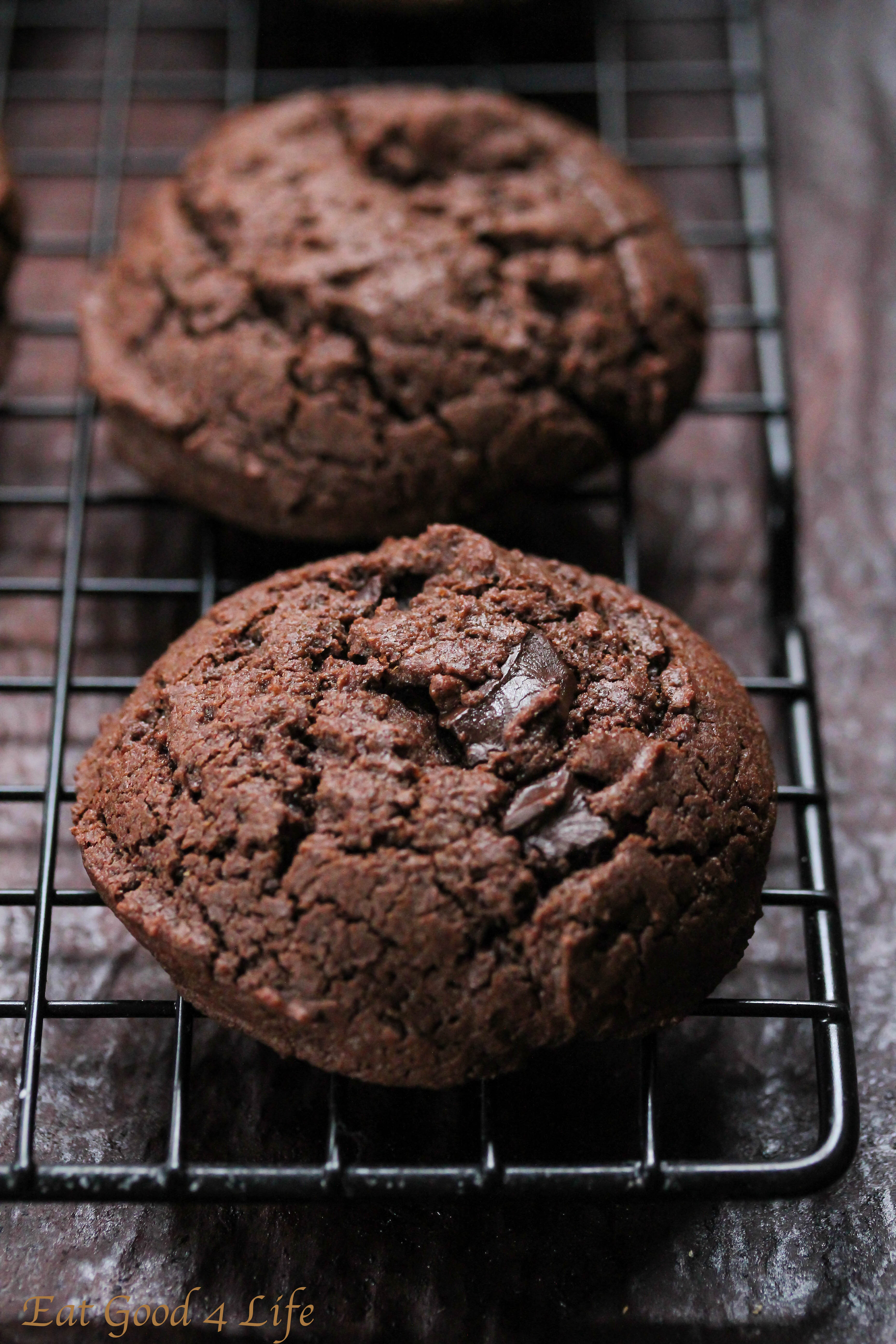 OMG, these gluten-free double chocolate chunk cookies are A.M.A.Z.I.N.G
Luckily for my friends and family these gluten chocolate cookies are going to make it to the goodie Christmas bags this year.
I don't know who it is that told me once that gluten-free goodies always taste bad. Not these cookies, and for sure not any of the gluten-free goodies I have posted in my blog so far. If it is not good, I just simply do not post it.
Now, for these gluten-free chocolate cookies I used chocolate chunks but I am sure you could also use chocolate chips. I also used brown rice flour, which is one of my favorite gluten-free flours to bake with. One thing I learn is that, you must keep open bags stored in the refrigerator. So please do that, otherwise it will spoil.
I also bake a lot with coconut flour, but this flour is more for spongy cakes and muffins than for cookies. Almond flour is another good choice for me as well as oatmeal flour. Besides these ones I don't think I have experimented with any other gluten-free flours before.
Well, there is not much to elaborate about these sensational gluten-free chocolate chunk cookies. I hope you get to make them soon. I will be making two batches of them in a couple of weeks to give away to friends and family together with other goodies.
If you get to try them, I hope you like them.
Enjoy!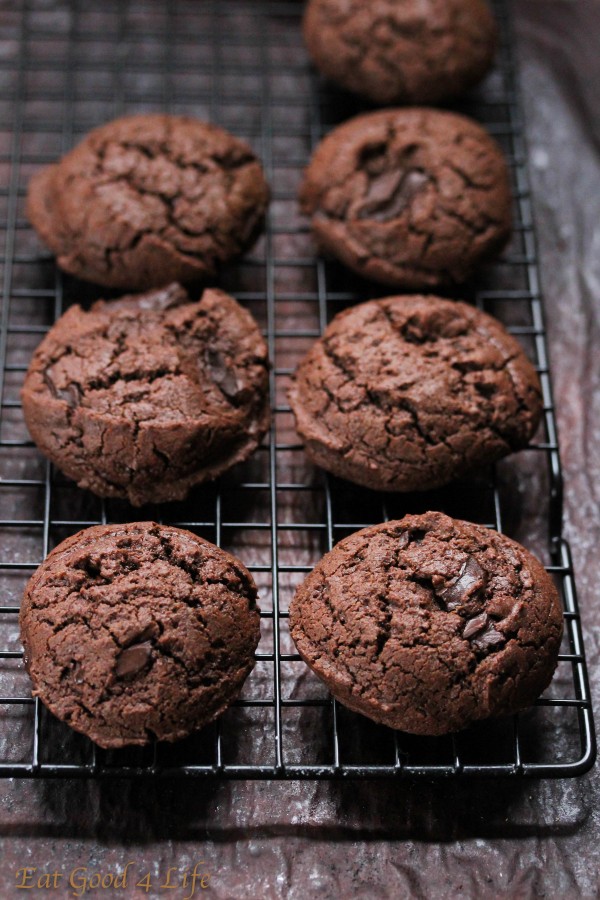 These gluten free double chocolate chunk cookies are truly out of this wold. They are so good that they will make it to my Christmas goodie bags this year. I hope you get to try them soon. You will not be disappointed.
Here you can see the batter process of mixing. Done with my rubber spatula. I don't have stand mixer and this method works fine. A tiny bit more work, but it is OK with me. The batter is nice and smooth when mixed. Just scoop it out onto the baking sheets when done. It gives about 24 cookies.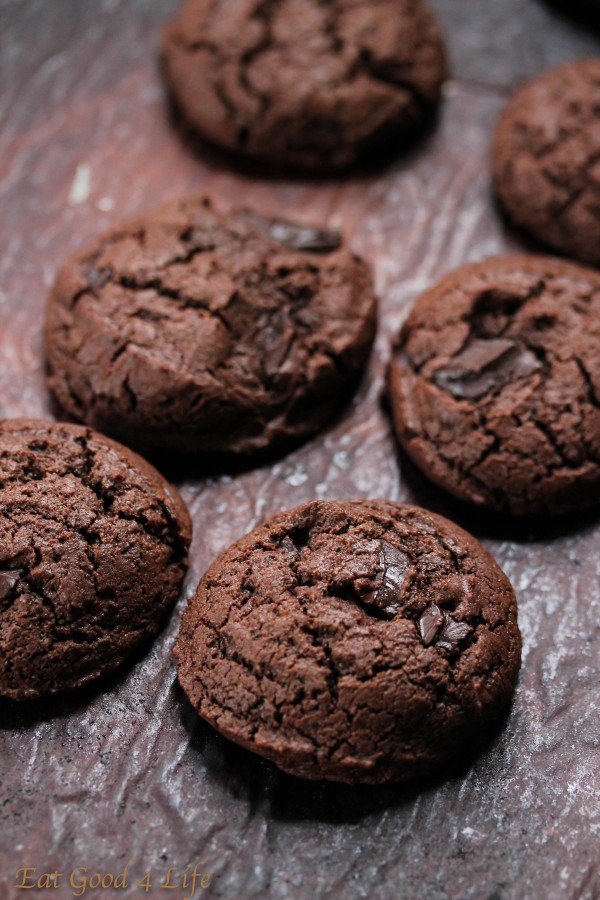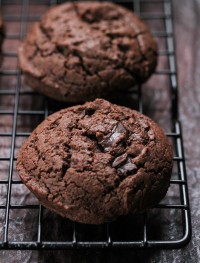 Gluten free double chocolate chunk cookies
Yield: 22-24 cookies
Total Time: 20 minutes
Ingredients:
Directions:
Preheat oven to 350F. Lined two cookie sheets with unbleached parchment paper and set aside.
In a safe microwave dish, over 45 second intervals and stirring the chocolate in between, melt five ounces of the chocolate chunks. Set aside.
In a large mixing bowl, with a wire whisk, you can also use a stand mixer, add the eggs, sugar, and oil and beat until combine. Add the vanilla and melted chocolate and beat constantly while you add it.
Add the flour, baking soda, salt and cocoa powder, and the remaining chocolate chunks (f using, add the chili powder as well) and combine. I do this step with a rubber spatula.
With a medium cookie scoop, scoop cookie batter on each baking sheet about 2 inches apart. Bake for 10-12 minutes. Cool cookies on a wire rack and store in an air tight container.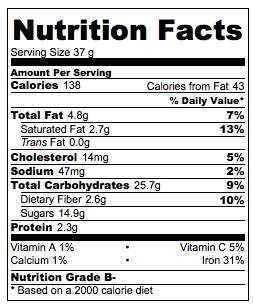 Nutrition facts calculated based on the recipe giving 24 cookies