Gluten free dark chocolate and peanut butter cookie dough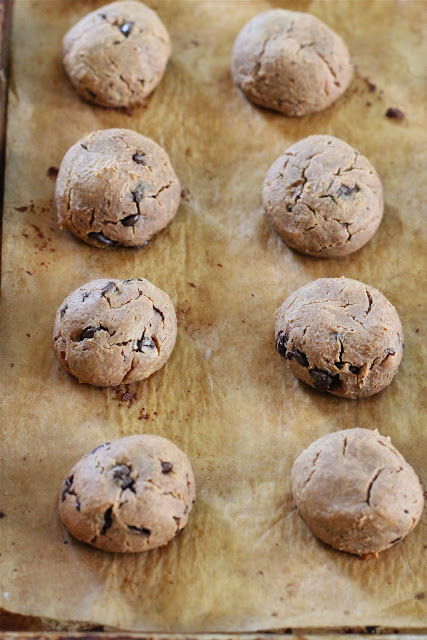 OK my friends. This is by far the best cookie dough you will ever taste.
Not only these are not bad for you, but they are easy to make, take no time to put together and the best part, they taste just like cookie dough.
The recipe comes from my fellow sweet blogger friend at Texanerin Baking. This is just a too good to be true kind of thing because these cookie balls don't have flour, egg or refined sugars. I really don't feel bad about having these at all.
I think you can even add a bit of oats to the mixture and it will still be good. However, the recipe as is, is just perfect!!
There is not much I can say about these cookie dough balls, but that you need to try them for yourself. I promise they don't taste healthy. Don't be turned off by the chick peas, you will be pleasantly surprised!!
….and if you are ok with the chickpeas go ahead and bake these brownies as well. They are gluten free thanks to the black beans in them :-)
Enjoy!!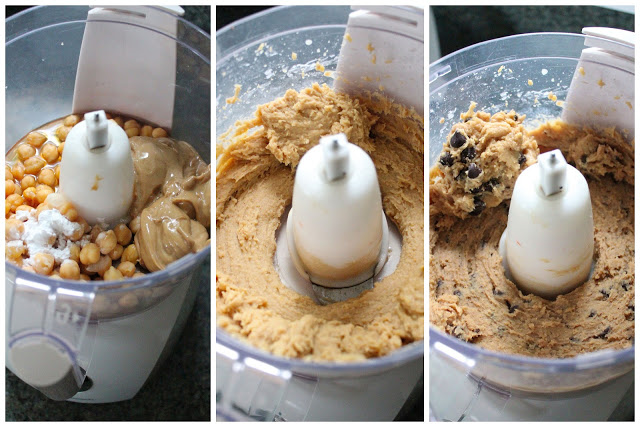 Here you can see the stages of the batter being pureed. Pulse for a couple of minutes to make sure the batter is smooth enough. It will be thick and sticky.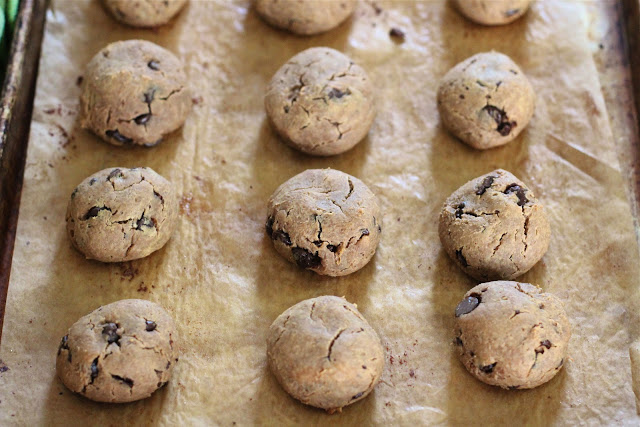 These are pictures of my second batch. They look much better, as I think I under baked the first batch. The second time around I baked them for 15 minutes instead of 10 :-)
You will be surprise what chickpeas can make. These cookie dough, TO DIE FOR!!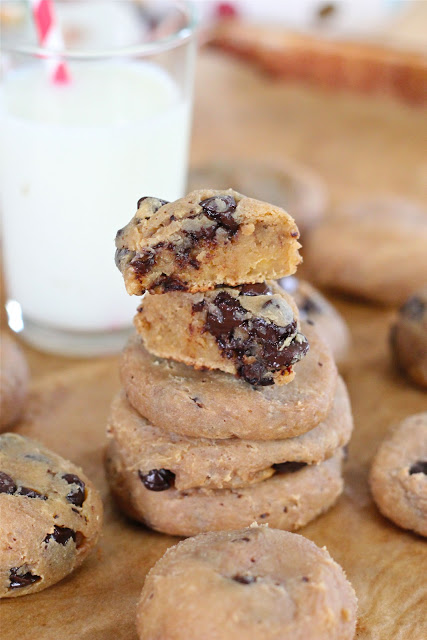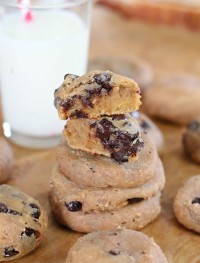 Gluten free dark chocolate and peanut butter cookie dough
Ingredients:
Directions:
Preheat oven to 350F. Place unbleached parchment paper on a cookie sheet and set aside.
In a food processor place all of the ingredients except chocolate chips like in the picture and pulse for about 2 minutes until all of the ingredients are really smooth. You may have to scrape down the sides in between the 2 minutes to get every chunk that forms.
Add the dark chocolate chips and pulse for about 5 seconds. The mixture will be very thick and sticky.
With a medium cookie scoop place balls in the cookie sheet and lightly formed them like a more perfect ball about1 1/2" in size.  Flatten them slightly with your hands if you like.
Bake for about 15-20 minutes. (I think I under baked mine a tiny bit, as they are suppose to have a crack look to these balls, you can see it here and here). I baked mine for 10 minutes so I think you will probably have to bake them for a couple of minutes longer. I guess it depends on the oven!
Eat cold or warm.
Slightly adapted from Texanerin Baking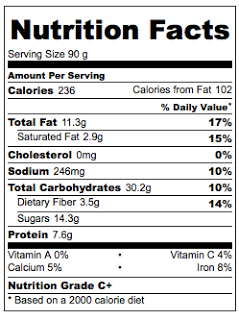 Nutrition facts calculate based on the recipe giving 16 balls. 1 serving = 2 balls